James Wright is global chairman of the Havas PR Collective and Global CEO of Red Havas. Wright joined the Havas Group in 2011 from the U.K. Prior to that, he was managing director at agency Grayling, where he led international accounts including BT, HSBC, Sony, Jaguar and Land Rover. He has won numerous awards for his leadership and vision both while at Havas and before his tenure there. In 2016, he was inducted as a Fellow of the Public Relations Institute of Australia, one of the youngest professionals ever admitted.
Wright is helming a major branding change at the agency: Havas PR became Red Havas last month. Why fix something that isn't, technically, broken? Wright said it's a rebrand in line with a new way of envisioning the work that the agency does.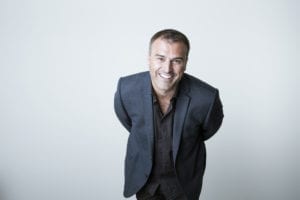 "The lines of contemporary communication aren't just crossing, they are merging. Today, media means something radically different than in the past: It is all encompassing of the outlets, platforms and various communications channels being consumed," he said. This, he refers to as "merged media."
"Our Merged Media model represents excellence across earned, social, experiential and storytelling, with content sitting at the heart," Wright said. "We believe that the future for PR is in embracing Merged Media, and we will do this through strategic investment and integration of content, social, data and brand experience expertise, all of which are crucial to achieve impact in today's media world."
Here is more about James Wright, in his own words:
My first job in PR was: At an agency in Leeds, U.K. It was a firm of around 30 people that also did some design and advertising. It was a very entrepreneurial culture, and I'm still in touch with many of the talented people I worked with there. Many of them have started their own agencies.
I chose PR because: I wanted to do something that enabled me to be creative and use my interpersonal, negotiation and writing skills. I also wanted to pursue a career in something fun—and in something that would challenge me every day. And it certainly ticks all those boxes.
If I weren't in PR, I'd be: Writing travel books. I have an insatiable appetite for adventure and travel. I've backpacked around the world twice, trekked across the Himalayas and Lesotho (a small country in Southern Africa that is entirely above 1,000m), skydived, bungee jumped, paraglided, luged and so on. And it's all about the people and cultures you experience along the way; I love capturing that in words.
The last great business book I read was: "The Outsiders: Eight Unconventional CEOs and Their Radically Rational Blueprint for Success." Fascinating perspective on the unusual suspects who have made a mark on our history and their approach to business.
The best personal advice I've ever received was: Once you've sold, shut up.
The best advice I've given is: Back yourself. Because if you don't, you can't expect others to.
If I could solve one big challenge for communicators, it would be: We need greater trust and transparency in society, so I would like to end the gross exaggerations, propaganda and fake news peddled by people and organizations in positions of power.
The last vacation I took was: Over Easter, my family and I visited the Gold Coast in Queensland, Australia, for a both a beach and theme park vacation. It was brilliant, but by the time it was over I think I needed another break.
The technology I can't live without is: My phone. Cliché, I know. But it's how I stay in contact with my friends and family who are scattered across the Earth as well as stay abreast of news, especially sports-related news.
The technology I could certainly live without is: eBikes. What is the point? Get a normal bike and have a workout at the same time, or simply get a motorbike.
My dream three dinner guests would be: The heroes of my childhood, and it would be very random…Ranulph Fiennes (greatest living explorer who has the best autobiography ever, "Mad, Bad and Dangerous to Know"); Thierry Henry (World Cup-winning soccer player and my Arsenal FC idol) and Liam Gallagher (of Oasis fame, legend).
And I'd serve them: A Mexican fiesta. Because why not?