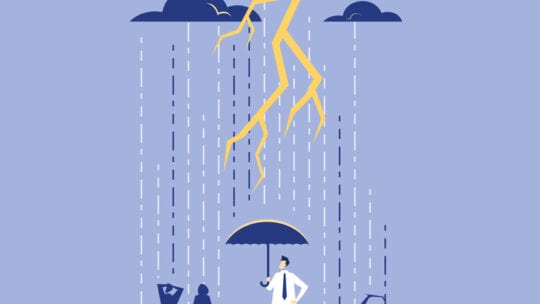 Notorious CEOs do or say things that can damage a company. In addition, a CEO's bad behavior can affect employee morale and hiring and destroy years of positive brand reputation.
Clothier Abercrombie & Fitch was somewhat of a status symbol for teenagers and college students in the late 1990s to mid-2000s. However, then-CEO Michael Jeffries' tone-deaf views did not sit well with the next generation of shoppers in the new millennium.
For example: "We hire good-looking people in our stores. Because good-looking people attract other good-looking people, and we want to market to cool, good-looking people. We don't market to anyone other than that."
A tweet, statement or leaked email from the likes of Elon Musk, Mark Zuckerberg and former CEOs John Schnatter (Papa John's) and Travis Kalanick (Uber) could make or break a company's reputation.
Regardless of your organization's size, preparing for leadership gaffes is an essential part of any PR pro's job.
Where to Start?
It's always better to get ahead of a potential situation. However, human activity can be unpredictable. Fortunately, communicators can do a lot to prepare to handle leadership gaffes. It starts with a simple act: research.
"Knowing [about] skeletons from the past is the best way to prevent the possibility of them becoming an issue in the future," says Red Banyan CEO and founder Evan Nierman. "Most companies have neglected to perform a preventive crisis PR audit, which can play a vital role in keeping the organization out of harm's way."
A preventative crisis audit, adds Nierman, is something PR pros do for companies or those they represent. It's a deep dive into a company's operations, leaders and potential vulnerabilities.
"Part of the value of the crisis audit is that it can uncover potentially damaging pieces of information," says Nierman. "If you can identify weaknesses, then you can be proactive to develop messaging and a plan of attack should it become the focus of negative press attention."
Jenan Matari, founder & CEO of ZAYTOUN Publicity, starts background work with a simple Google search at the beginning of any client relationship.
"You must absolutely know all there is to know that is publicly accessible about the clients you are working with. It's how you can also protect your brand," Matari says. "No one wants to be known as the PR firm who covered up or got a client out of muddy waters for a seriously harmful move by that client that causes public uproar."
Matari also suggests looking into potential trending issues that may resonate in the current climate.
"If you're worried about certain social justice issues, you can curate the search a bit," she says. "If the [executive] has a history of bouncing around from agency to agency, it might be a good idea to find out why."
And don't forget to audit personal social media accounts, which can reveal a host of red flags for any public figure.
Connect With the Perpetrator
Whether you find a potential problem or are already in the storm of crisis, it can be delicate to approach the CEO whose tweet or statement has caused an issue. However, confronting the person is necessary, unless the leader is stepping down or the board is working toward a forced resignation or removal.
"Every situation is different, but you can't tiptoe around serious allegations or controversy," Nierman says. "A leader accused of wrongdoing often needs to provide context and his/her side of the story. Acknowledging an issue is typically the first step to addressing it and moving past it."
Nierman also believes more facts equal a better strategy.
"You can't prepare if you don't know the facts...and that means including the [leader] in discussions," he says. "To successfully overcome a crisis, you need to fully understand the situation. Much of the day-to-day tactical work can be done while leaving the [CEO] out of it, but it's usually necessary for discussions at the strategic level."
Matari agrees, particularly if the company plans on keeping the leader on board.
"If the leader...is going to continue acting as the face of the company, then I absolutely believe he or she should be a part of the crisis strategy and take the steps toward publicly acknowledging the problem, along with any added steps to show that he or she is re-educating themselves and unlearning the harmful biases they hold onto," she says.
Creating Partnerships
Communicators should not work in a silo during an incident or a crisis because the CEO's actions can affect so many areas within a company.
Strategist Eric Koch, who has handled crisis work for elected officials, Fortune 500 companies and high-profile individuals, says, "It's very important for a crisis communication team to work closely with legal and HR since their work in large part will guide whatever internal steps the company is taking. In many instances, the communication team will have to follow a legal strategy, so it's vital to have both groups in total alignment."
Matari acknowledges the importance of working with HR, particularly when it comes to the well-being of employees.
"For example, if a company CEO is caught on camera using racial slurs, PR teams should work closely with HR departments to ensure that all BIPOC employees of the company understand that appropriate actions are being taken to ensure that employees of color feel safe and are not discriminated against."
Nicole Schuman is senior editor of PRNEWS.