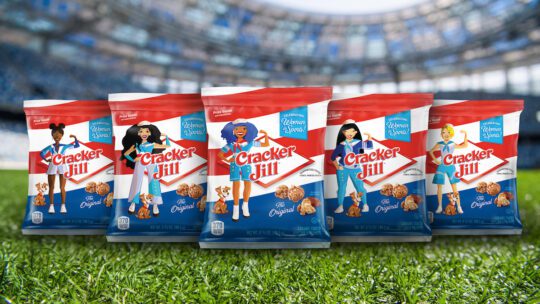 Today (April 7) marks Opening Day for Major League Baseball. Fans dust off their favorite team cap, don sunglasses (or a rain jacket) and emerge into spring with best hopes for a new season. 
Cracker Jack believes fans also will embrace the new amidst tradition with the introduction of Cracker Jill. A ballpark favorite for 125 years, Cracker Jack is using Opening Day to celebrate women who break barriers through sports. Parent company Frito-Lay is launching a series of special-edition Cracker Jill bags available only in ballparks and through a $5 donation to the Women's Sports Foundation (WSF). The sale of Cracker Jill will benefit WSF's advocacy, research and programming.
While it's not the first time an iconic product has undergone a temporary rebrand, Cracker Jill is sure to spark conversation in what may be thought of as a traditionally male product demographic. However, a study from Statista last September showed that female baseball fandom is strong. While 68 percent of men surveyed said they're fans, 43 percent of women did as well. Cracker Jack's temporary rebrand is sure to send a message to male and female fans alike. 
A statement from Frito-Lay's communication team expressed the need for recognition of women in sports, and hopes its message breaks through in coverage and conversation, while supporting inclusion.
"Female representation in sports is on a journey as it continues to grow in the United States. Given this momentum, we felt we had a platform with Cracker Jack's deep legacy in sports to create a campaign that celebrates the inspiring stories of the women driving that change and breaking down barriers in sports."
Temporary Rebrands Should Go Beyond Performative Allyship
A temporary rebrand takes time, energy and creativity, but can also be a boon for reputation. 
"Temporary rebrands can be fun and a great way to draw attention back to your brand for all the right reasons if done well," says Lana McGilvray, founder and CEO, Purpose Worldwide. "Cracker Jill is brilliant. There's not enough female mascots." 
It wasn't long ago that scotch whisky brand Johnny Walker introduced Jane Walker, a 2018 campaign championing women's rights and gender equality in business.
In 2020, the campaign partnered with women-owned business funding marketplace IFundWomen to help create more opportunities and resources for women to achieve their goals. Johnny Walker paired these initiatives with Jane Walker, a limited-edition whiskey. 
And the company didn't stop there. Showing that it takes these issues seriously, it's working to expand gender equality. In Oct. 2021, Dr. Emma Walker became Johnny Walker's first female master blender.
Not Everyone Is Going to Be Happy
However, as with any change—even if temporary—naysayers will surface. An example is the IHOP rebrand in 2018 to IHOb—the International House of Burgers. Why the company thought pancake fans would accept burgers as their new king (no pun intended) still confuses even the savviest communicator. It's definitely a story to learn from. 
IHOP quickly revealed the rebrand as temporary and part of a marketing stunt to promote burgers. In terms of publicity—IHOP won, as everyone was talking about the name change. But while the marketing industry saw it as genius, not everyone was thrilled. 
I just need let you know @IHOb that name change is the stupidest thing one single brand could do. Like whoever thought that was a good move to change your name to the "International House of Burgers" needs to be fired. Who goes to IHOP for a damn Burger? Idiots

— Justyn Skalski (@Palmetto_Bowl) June 11, 2018
Competing brands enjoyed their social media day in the Sun with this campaign as well. 
🧡

— Burger King (@BurgerKing) June 1, 2018
McGilvray acknowledged a rebrand's risks and the importance of preparation. 
"Whether a mascot is temporarily introduced or a brand plans to keep it around indefinitely, it's always best to be intentional and test…via focus groups (physical), a/b split digital campaign testing and sentiment analysis," she says. "Mascots are powerful and, given time, evoke nostalgia. Think Tony the Tiger and Mr. Peanut." 
Similarly, Adam Ritchie, principal, Adam Ritchie Brand Direction, agrees launches can be tricky and need purposeful follow through. 
"[Temporary rebrands] often don't go far enough for the causes they were intended to support," Ritchie says. "It's good that Cracker Jill's creators have indicated they'd like to have some permanence around the concept. Let's see where they go from here. The gender flip takes a lot of care. It comes with an expectation to dig deeper than the packaging."
Nicole Schuman is a reporter for PRNEWS. Follow her @buffalogal