Winner: SparkFarm and Communities Foundation of Texas  - North Texas Giving Day Raises $25.2 Million in 17 Hours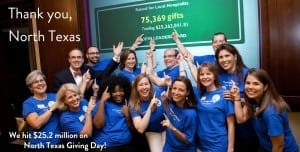 Since 2009, Communities Foundation of Texas (CFT) has presented "North Texas Giving Day," a one-day event where every $25-and-above donation made to nonprofits through DonorBridgeTX.org is amplified by bonus funds and prize money. As CFT's PR agency of record, SparkFarm is charged with raising awareness of the day and CFT using community and media relations that in turn helps raise money for more than 1,300 North Texas nonprofits. In 2013, CFT aimed to raise more than $20 million, which would set a new national giving day record.
SparkFarm and CFT focused on teaching an army of 1,300 nonprofits the art of integrated, on-message marketing and gave them marketing templates to tailor the nonprofit's name and logo. Meanwhile, SparkFarm conceptualized and planned offline "donation station" events, developed key messages and press materials and handled all press outreach. SparkFarm recruited and trained college undergrads as "PR street teams" and worked jointly CFT to secure and maximize media partnerships. Social media contests were launched to spur buzz and engagement, and the partners went hyper-local with community-level pitches and press releases that matched niche and neighborhood nonprofits with corresponding press.
Six weeks before the event, a press release was distributed to more than 200 journalists across the 16-county North Texas region. The press release was "versioned" by county with quotes and photos from nonprofits operating in those counties. Hyper-local community papers received releases that listed participating nonprofits from their communities.
A week before the event, media alerts were distributed to press, highlighting B-roll, audio, photo and interview opportunities tailored to audiences, focusing on Hispanic and arts angles when appropriate. SparkFarm also recruited and trained a PR street team comprised of local university marketing students to do morning show donut drops and post on social media.
Texas Press Clippings reported that SparkFarm's achieved 5.8 million impressions and, most important, $25.2 million was raised in 17 hours for 1,351 nonprofits. Donations unseated Minnesota as the reigning giving day champ record by a margin of $8 million.
Honorable Mention:
AARP Foundation - "Ride with Jeff Gordon"