Winner: Weber Shandwick on behalf of the National Women's Law Center – This is Personal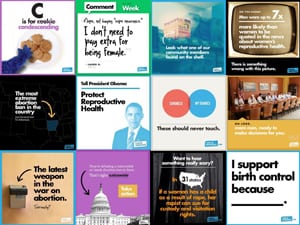 The National Women's Law Center tasked Weber Shandwick to create an integrated digital campaign to equip women ages 18 to 35 with the facts and tools they need to mobilize at the state and national levels against real threats to their reproductive rights. The campaign, titled "This is Personal," was launched to coincide with the peak of the 2012 election season, capitalizing on women's issues being at the forefront of the national debate. But the PR campaign strictly focused on the issues revolving around women's health, without politicizing the message by naming names or mentioning voting in any capacity.
 "This is Personal" primarily lives online via its website and Facebook and Twitter pages, with the content heavily catering to sharing and dialogue. In addition to the social channels the website offers a non-linear interface to promote engagement and drive visitors toward action, such as joining the campaign and sending letters to lawmakers. Visitors can track their actions, of course, to see exactly how they've contributed to the success of the campaign. The campaign is credited with getting into law the Shaheen Amendment, an amendment to the National Defense Authorization Act that allows women in the military to receive healthcare coverage for abortion in the cases of rape or incest. "This is Personal" led the initiative, helping to generate more than 30,000 letters to Congress, nearly half coming from Facebook alone.
Honorable Mentions:
• Airlines for America  - Don't Ground America
• Consumer Electronics Association  - I Am Innovation
• Impact Public Affairs  - A Victory for Veterans: A Twelve Month Campaign with 100% Results
• Proof Integrated Communications - Moving America Out of the Red: Fix the Debt's Campaign to Build a Groundswell of Support for Reducing the National Debt
• The Partnership at Drugfree.org  - Stop Urban Outfitters from Promoting Rx Drug Abuse