What's the proper protocol for brands when an event like today's attempted terrorist attack in New York City occurs? Should a brand go silent or is it best to send out thoughts and prayers in a show of solidarity?
Unfortunately, terrorist attacks and mass shootings, such as the one that occurred in Las Vegas Oct. 1, are a fact of life. And these events need to be built into a brand's crisis communications plans, which should also include aggressive monitoring of news and social media as well as the ability to rapidly assess the situation in the moments that follow.
"It all starts with a crisis plan and rapid assessment," says Andy Gilman, president and CEO of CommCore Consulting Group. "Brands need to have a crisis plan with protocols and processes for response. And the team members need to gather quickly, often on a conference call, to assess what they know and make decisions."
Such a crisis plan should highlight the need to halt social media posts that may have been scheduled far in advance. For instance, just minutes after the mass shooting at a church in Sutherland Springs, Texas, Nov. 5, the National Rifle Association sent out a likely pre-scheduled tweet linking to evergreen content about commonly misused firearm terms.
While the NRA's gaffe was probably the result of a Twitter scheduling tool like Hootsuite or TweetDeck, some brands have committed more preventable errors. In a classic case of what not to do following a tragedy, the food outlet Epicurious sent out two tweets that used the tragedy as a hook to promote recipes.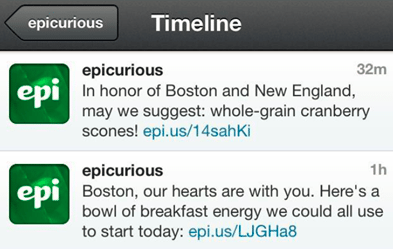 A much more respectful response is to either offer a show of solidarity or just delay any promotions for a respectful period of time. After the Las Vegas shooting earlier this year, the Hollywood Bowl showed its support with the following Instagram post, for example.
But it all begins with having a plan in place, which should include the ability to monitor social media and news (and set up alerts for the managers of a brand's social media sites) as well as protocols for the social media team to evaluate the situation soon after it happens, Gilman says.
Follow Jerry:@Jascierto