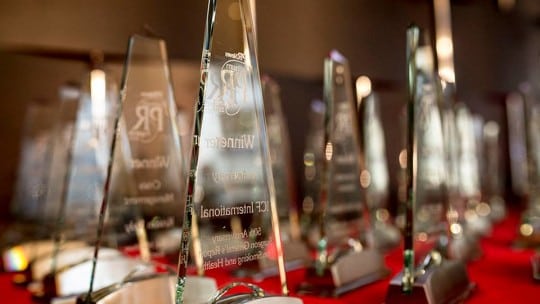 At a time when information travels at the speed of light, when the words "fake news" have become ubiquitous and social media posts are routinely weaponized for good and ill—when both heated and inspirational messages come at you from every direction—brand communicators have never served a more critical role in shaping our culture, our values, our everyday lives. And for a moment in December, we'll separate the signal from the noise and pause to celebrate the heroic PR and marketing leaders hiding in plain sight, who routinely inspire their colleagues and serve as beacons of determination, grace and creativity as a matter of course.
At the PR People Awards luncheon, which will be held Dec. 5 at the historic National Press Club in Washington, D.C., PR News will announce the winners of categories such as Crisis Manager of the Year, Digital Leader of the Year, Marketer of the Year, PR Intern of the Year and Media Relations Professional of the Year, among others. And as we celebrate these champions, we also raise a glass for the future and shine a spotlight on the 2017 Rising PR Stars, up-and-coming luminaries from organizations including Revlon, Hilton, Jamba Juice, BAE Systems, Shutterstock, World Wildlife Fund, Ruder Finn and Edelman, among many others. PR News will also honor this year's inductees into its PR Hall of Fame at the luncheon.
See all the Rising PR Stars and PR People finalists and nominees.