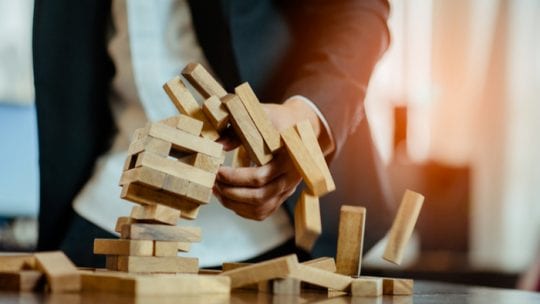 It's difficult to know whether the Whoopi Goldberg-Holocaust story remains an issue or eventually gets bigger. It's news today, but will other stories overtake it? Perhaps the Olympics, which begin later this week? Or the rising tension in Ukraine? It's possible the story smolders, eventually becoming a PR crisis, an existential threat to Goldberg's career, ABC's "The View" and other projects. Perhaps it ends well (more on this below).
While there's no certainty how it will play out, it's doubtless the story is fast-moving. Here's a rough timeline as of 2 p.m. ET, Feb. 2, 2022:
JAN. 31: Goldberg says on that morning's "The View" the Holocaust was "not about racism." Instead, she says, it was about "man's inhumanity to man."
Social media reacts. Below is a tweet from Anti-Defamation League chief Jonathan Greenblatt.
A few hours after her remarks, Goldberg tapes an appearance for that evening's "The Late Show with Stephen Colbert." She speaks for six minutes, explaining her thought process. She does not apologize. The Holocaust "was evil...but it wasn't based on skin [color]...I see you and know what race you are," she tells Colbert. When he counters that the Nazis considered Jews "an inferior race," Goldberg counters, the Nazis "lied...it wasn't [about race]...most of them were white people and most of the people they were attacking were white people…How can you say it's about race if you're fighting each other?"
Then, several hours later, but before Colbert's show airs in most markets, Goldberg posts what seems a heartfelt apology on social. It's safe to say some Colbert viewers who read Goldberg's post were confused.
FEB. 1: Goldberg begins "The View" by apologizing for her Jan. 31 remarks. In addition, she interviews Greenblatt during the show. He tweets his appreciation. Goldberg is "a long-time ally of the Jewish community," Greenblatt tweets.
During the evening, the president of ABC News, which owns "The View," suspends Goldberg for two weeks.
What's Next?
How the situation progresses may hinge on what, if anything, Goldberg does or says during the two-week suspension. Assuming Goldberg remains quiet during the two weeks, it's her return to The View that will drive the story, says crisis expert Shannon Tucker, a VP at Next PR. "Will she address the situation on the air when she returns or ignore it?"
Carreen Winters, MWW's chief strategy officer, urges Goldberg to "speak less, listen more," during the suspension. "Take the time to read, reflect and understand the experiences" of discrimination's victims. Similar to Tucker, Winters believes Goldberg should "use her platform on The View for respectful dialogue going forward."
Apology Coordination
The Goldberg incident seems to insert a few wrinkles into traditional PR crisis communication. For one, it's an example where a person issues a good apology and still gets suspended.
In addition, Goldberg's journey could illustrate the need for communicators to consider 'apology coordination.'
While Goldberg apologized on social promptly, some considered the Colbert appearance her first apology. It "created confusion,"  Winters says.
"For communicators, this is an important lesson about the challenges of pre-taped television in the always-on world of social conversation," she adds.  She also questions the wisdom of having Goldberg do the taped interview at all.
Tucker says apology coordination isn't needed "if your message is consistent." The comedian-actor changed her message after the Colbert taping, Tucker says. The remarks on Colbert "came off as insincere...it was a non-apology apology...[and] she made a lot of mistakes" if she intended to apologize, Tucker says.
For example, while Goldberg acknowledged her remarks made a lot of people angry, she also spent a lot of time on herself. I did this damage "to myself," Goldberg said several times. In addition, "Goldberg said, 'I don't want to fake apologize,'" Tucker notes.  Indeed, other than that mention of "apologize," Goldberg never used the word.
Sky-High Stakes
Also potentially a factor in this incident is Goldberg's return as a beloved character, Guinan, on the upcoming "Star Trek" spinoff, "Star Trek: Picard." Season II debuts on Paramount Plus March 3.
Paramount Plus executives "definitely are watching" how Goldberg handles this, Tucker says. "If she says nothing when she returns to "The View," [Paramount Plus] may decide not to work with her moving forward."
No Silos
It's hardly news that America is divided politically and racism as a topic is in the town square, board rooms and offices as never before. In fact, Goldberg mentioned the Holocaust and racism as part of a breaking story about book banning.
PR problems rarely exist in a vacuum. As such, people will interpret the Goldberg episode in the context of the moment. Recently, we've seen some CEOs and celebs slapped on the wrist for their behavior. In light of those examples, Goldberg's suspension may seem harsh. And, as the tweet below implies, racially motivated.
Moreover, February 2022 is a time when anti-semitism is on the rise and hate crimes across the board are at a 12-year high. As the Goldberg incident unfolded, bomb threats were closing a slew of HBCUs on the first day of Black History Month.
Black History Month brings with it many things, including education. Perhaps Goldberg's words can teach. Goldberg's interpretation of racism as centering on skin color comes from her experience as a Black woman. Perhaps Goldberg will change her view as a result of this moment, influencing others to do the same.
In addition, maybe she'll communicate the importance of discussing racism and the importance of acting to end its evils.
Ultimately, Goldberg "stopped defending her position, listened to the perspectives of others and grew to understand an important issue in a new way," Winters says. "And she apologized...this is a good model for how to course correct a mistake."
Seth Arenstein is editor of PRNEWS and Crisis Insider. Follow him: @skarenstein