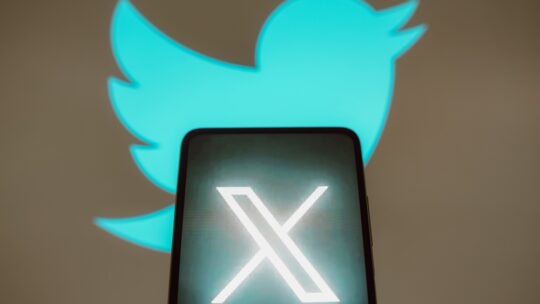 Communication news is definitely not on vacation, even though we are in the thick of summer. But maybe Elon Musk should take one and give the media a break?
In this week's PR Roundup we look at Musk's rebrand of Twitter as "X," how the Hollywood strike is crushing PR firms there and Muck Rack's latest report on PR salaries. 
Twitter Rebrands as X
What happened: Very early on July 24, Twitter leadership announced a new name and a new logo. Pioneers of the modern social media movement, the company formerly known as Twitter will now be called "X." 
According to The New York Times, owner Musk appears to have been the catalyst behind the rebrand. However, not much has changed for user functionality except the airy blue and white bird logo being replaced with a foreboding black X. Musk also instructed users that tweets now be called x's. 
However, rebrands always take a bit to stick. Look at Google and Alphabet (does anyone use Alphabet?) and Meta and Facebook. Most users are still calling X Twitter and x's tweets, and who knows what brands should do to the Twitter logos/links on their websites. As seems par for the course lately with X/Twitter, change feels rushed and comes as a surprise to many communicators. 
In addition the switch may become legally complicated. Musk may face a barrage of possible lawsuits claiming trademark infringement from large companies like Meta and Microsoft (Xbox). Trademark attorney Josh Gerban told CNN he counted "nearly 900 active U.S. trademark registrations that already cover the letter X in a wide range of industries." 
Communication lessons: Richard Dukas, a 30-year PR veteran and founder of Dukas Linden Public Relations sees the move as bold and reaffirms Musk's role as a trend-setter. 
"The Twitter brand has been tarnished," Dukas says. "The name, and all it stood for, was clearly getting long in the tooth. This move is a step in the right direction to remake the company under Elon Musk. X is mysterious, different and edgy and aligns with his goal to shake up the platform's perception."
However, any rebrand will come with some naysayers, and plenty have voiced their concerns since the switch. 
Adam Ritchie, principal at Adam Ritchie Brand Direction and author of "Invention in PR," says having a passionate user base may cause severe pain during any rebrand.  
"No diehard fan ever said, 'This new name is great!' or 'This new logo is so much better!'," Ritchie says. "Nearly every rebrand looks stupid when it's first unveiled. The name sounds ridiculous, the positioning sounds clunky, the whole exercise sounds unnecessary and expensive."
But if a product or service is good, eventually complaints will die out as people continue to use the product. Where brands get into trouble, Ritchie says, is when the thing being rebranded is core to a user's identity. 
"Concert venues and sports arenas are good examples of nearly unwinnable rebrands," he says. "When the historic Boston Garden was rebranded The FleetCenter, hardcore fans weren't happy until TD Banknorth purchased the naming rights and at least brought the word "Garden" back to its name."
Hollywood PR Slows
What happened: While the Hollywood writers and actors strike affects creative production, it also affects the industries surrounding it. And one of those, a big one, is unfortunately communications and PR. 
This week The Hollywood Reporter published a story on how the strike is affecting PR firms who conduct publicity for movies, television and the actors themselves. 
According to THR's article, striking actors are currently forbidden from doing interviews, attending festivals and promoting any new projects, forcing many "to go on "hiatus" from their publicists." One firm reported earnings at the firm down 80 percent from before the strike. 
Communication lessons: At some point every industry faces economic downturn, whether due to factors of reputational crisis, outside factors such as recession, or internal factors such as company acquisitions and product rebrands. 
The important thing for communicators to remember is how to transition during a downturn. How can communicators be of use to adjacent industries or stakeholders? How can they hone their craft and expand services to continue to keep associates employed and the lights turned on?
Suzanne Struglinski, director at Scott Circle Communications, worked for years as a journalist, before entering the world of PR, and knows a thing or two about embracing transition and making yourself marketable. 
"PR professionals often take our amazing skills for granted," Struglinski says. "We can write, meet deadlines, quickly get up to speed on topics and make connections across our vast networks. Suddenly finding yourself out of work is not fun, but understand you have valuable skills that different companies or organizations can use."
Muck Rack Releases 2023 State of PR and Journalism Salaries Report
What happened: And last but certainly not least for this week's PR Roundup, we take a look at Muck Rack's annual report on trends in the industry regarding salaries. It looks at what PR pros and journalists are paid, as well as what impacts their salaries like senior positions and work hours. 
Some of the major findings included: 
An average brand salary is $107,000, while agencies pay around $80,000
This year there's been a 12% increase in the number of people earning $40,000 to $70,000 at agencies and a 15% increase in those earning $70,000 to $100,000.
57% of PR pros work more than 40 hours a week. 
Generally the more senior the position at agencies, the more likely men are to hold the role. 
To check out the entire report visit Muck Rack.
Nicole Schuman is senior editor for PRNEWS. Follow her @buffalogal