This week we look at the responses from Don Lemon and Tucker Carlson following their respective firings and what it means for their reputations as well as the reputations of their former networks. Plus, Joe Biden announces his re-election campaign and the PR Council issues new guidelines around the ethical use of generative AI.
CNN and Fox Terminate Star Hosts
What happened: Two of the most well-known cable media stars lost their jobs this week, following what many believe to be their respective networks' reputational calculations.
This past Monday (April 24), Fox News announced in a statement that the network and host Tucker Carlson had "parted ways."
In similarly shocking news, CNN anchor Don Lemon announced on the same day, and within minutes of the Fox announcement, that he had been "informed this morning by my agent that I have been terminated by CNN."
Shortly after making this announcement on Twitter, CNN tweeted that the two also had "parted ways" and that the network wishes Lemon "well and will be cheering him on in his future endeavors."
Shortly thereafter, CNN followed up, refuting Lemon's claims that he hadn't been offered an opportunity to meet with management.
Carlson, meanwhile, remained silent on Twitter for two days following the firing. When he did break his silence, via a video, it was not to address his firing.
Lemon and Carlson have since retained the same attorney.
Communications lessons: One of the key noted differences between the two firings on the same day was the timing of the response from the disgraced hosts.
"Lemon was more shocked and immediate in his response, while Carlson was more measured and delayed," points out Andrew Moyer, EVP, Reputation Partners. "This difference in response suggests that Lemon and Carlson have different views of their own personal brands and reputations. Lemon may believe that his reputation and career are closely tied to the network, which could explain why he was so quick to respond to his departure and why he was so concerned about having his point of view included in the initial coverage wave."
Carlson, on the other hand, "may feel less defined by or dependent on his position at Fox News," adds Moyer. "He may believe that he can stand on his own and build an audience without the network. This could explain why he was more measured and delayed in his response. He may have felt no urgency to establish his narrative immediately."
It is also possible, adds Moyer, that Carlson believes his reputation is strengthened among his audience by his removal from Fox News. Lemon, on the other hand, may see his departure as a direct threat to his personal reputation and brand. He may believe that it will damage his credibility and make it more difficult for him to connect with his audience.
In fact, while media mentions of both hosts spiked following the announcements, the coverage of Carlson has been much higher than that of Lemon, according to Muck Rack (see chart below).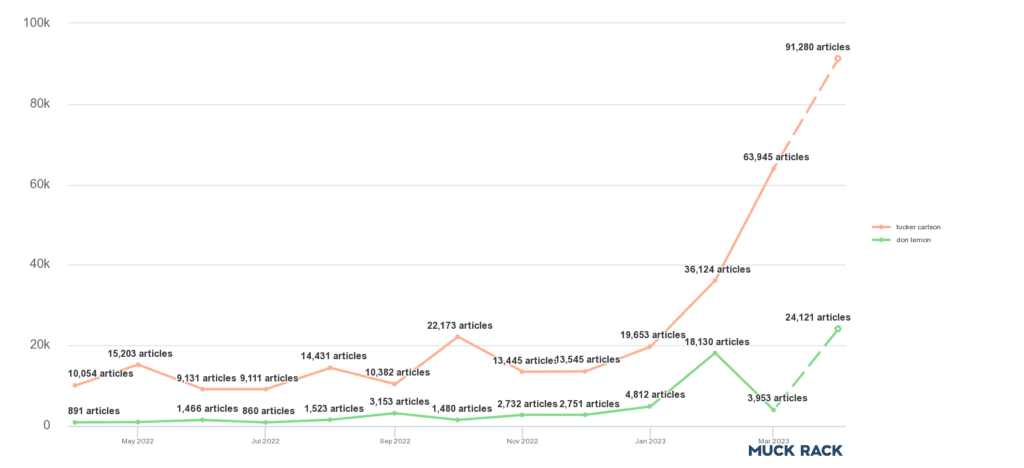 From the network perspective, "both CNN and Fox appear to be working from the same reputation management playbook," says Moyer. This includes getting the news out first "to plant the narrative flag."
Further, the underlying calculation for both networks was that the risks of further reputational harm—from both internal and external stakeholders—outweighed any continued employment or defense of Carlson and Lemon.
Brandon Lee, founder and president of Sequence Strategies, agrees. "Time will tell how these cuts impact company reputations, but CNN and Fox are betting on their established brands, not news personalities," he says.
President Biden Uses Video to Announce Re-Election Campaign
What happened: He's not done yet.
President Joe Biden quietly announced his campaign for re-election in the very early morning hours of April 25. The campaign released a video around 6 a.m. ET, posting directly to his social media and YouTube channels.
Biden's video asks voters to give him some more time to "finish the job," and features poignant scenes documenting the Jan. 6 attack on the U.S. Capitol, as well as protests from pro-choice abortion activists, book bans and LGBTQ marches. Biden leans into the theme of freedom and equal opportunities for every American. 
Biden also leads the video onto a lighter path, voicing his beliefs that Americans are still "good and decent people," and "still a country that believes in honesty and respect." 
Communication lessons: While some may envision campaign announcements as big, brash live events, confirming an election campaign with a video is not unusual at all. In 2016 former U.S. Secretary of State Hillary Clinton, announced her candidacy in a tweet that included a video announcement. More recently, former U.S. Ambassador to the United Nations, Nikki Haley, released a video throwing her hat in the presidential race a day prior to an in-person speech. 
George Haj, president of Haj Media, a strategic communications firm, says the video announcement can be quite effective and easily shared within digital media. 
"Most important for the candidates, they have full control of the messaging," Haj says. "No verbal tics, no stumbles, no ad libs that will get them in trouble."
Haj says, even though the video is three minutes long—an eternity in this fast-paced TikTok user era—it does the job. 
"It's fast-paced for a campaign piece, with dozens of images," he says. "It's designed for voters who increasingly digest content on their phones and through social media channels."
However, Haj notes, while video is an effective channel for a major announcement, it's still only one channel and follow-up is necessary. 
"Most companies will want to have a multi-pronged approach that includes traditional press outreach, a big splash on their website, social media, email blasts., etc."
PR Council Issues Ethical Guidelines for Generative AI
What happened: The PR Council (PRC) yesterday (April 26) issued ethical guidelines on the use of generative AI tools. The guidelines are based on the PRC's existing Code of Ethics and Principles, which members sign annually.
Although the Code of Ethics is mandatory, the AI guidelines are provided as guidance. They are not yet mandatory because the developments are moving at such a rapid pace, explains Kim Sample, president of the PR Council. "What makes sense today might not [make sense] tomorrow."
The new guidelines, developed by an ethics and standards task force, are available here.
Communications lessons: Sample says that ethics is "the backbone of our industry."
PRC works to keep the Code of Ethics current and "reflective of the most up-to-date issues" and updates the code accordingly.
The new guidelines as they relate to generative AI are used for "creative and overcoming the bias inherent in these tools," says Sample. The guidelines are meant to be a starting point for agencies to craft their own policies because each agency and client has its own levels of risk tolerance.
"I would suggest every PR firm, regardless of size, designate a person, or team, to stay on top of changes," advises Anthony LaFauce, Managing Director of Clyde Group."All of us out there in the comms space should be on the lookout for bad players using these tools in deceptive manners and work together to fight them."