An Embarrassment of Riches. Hostess Cupcake really hit it out of the park for its Opening Day tweet. The tweet featured a Hostess Cupcake with two red frosting swirls that make it look like a baseball in honor of the season's opening day. However, accompanying the tweet is one word: Touchdown.
Hostess got batted around a bit in the Twitterverse for confusing its sports terms, but Ellen Copaken, Hostess Brands' senior director of marketing, told The Blaze that "touchdown" was intentional. "Since embarking on the 'Sweetest Comeback in the History of Ever' nearly two years ago, Hostess has employed a strategy aimed at contemporizing the brand," Copaken said. "The bolder approach has been particularly visible in the brand's social media platforms.
The Touchdown' line was intentional; it's fun and aimed at young audiences who are in on the running joke — which, of course, is the go."
We bet the PR stunt was by design. Say what you will about the tweet being too cute by half or appealing to just a certain segment of the population (read: Millennials), but the tweet went viral. People talked about it. Mission accomplished.
---
Make Sure You Quote Accurately. When Twitter came on the scene in 2005 part of its charm was that you had to craft a message in 140 characters or fewer. That's changed, for better or worse, thanks to Twitter's revamped "quote tweet" feature.
The offering embeds a tweet within a tweet, instead of quoting text, while providing the context of the original tweet that you're replying to. It's another way for PR execs to fuel (and enlarge) the conversation and not be constrained by 140 characters.
But they'll also have to brace for more back-and-forth that the service will facilitate.
---
Beware the 'Cascade Effect. ' It may be a significant reason for the fairly constant turnover in PR and communications precincts: More than half of managers (51 percent) have "checked out" from their job, while 14 percent of managers are actively disengaged, a recent Gallup survey says.
This has a huge influence on internal communications because of what Gallup calls the "cascade effect," meaning employees' engagement is directly related to their managers' engagement—whose engagement, in turn, is directly influenced by their managers' engagement. Employees supervised by highly engaged managers are 59 percent more likely to be engaged than those supervised by actively disengaged managers, according to the survey.
The data, culled from a panel of more than 60,000 people, also found that just 30 percent of U.S. workers are engaged.
---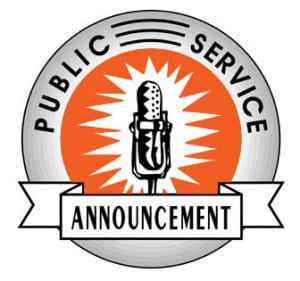 New Connection for PSAs. Connect360 Multimedia last week rolled out "PSA Good4Good" campaign, offering nonprofit organizations a no-cost opportunity to disseminate their TV and/or radio PSAs to broadcast stations across the country.
"Many nonprofits have PSAs produced pro bono, but they lack the funds to distribute them to the media," said Annette Minkalis, Partner and Executive VP of Connect360 Multimedia.
She added: "Connect360 created PSA Good4Good to do 'good,' to provide free distribution services to well-deserving organizations. The hope is for the media to do 'good' by considering the spots for potential airings."
Connect360 has created a special digital platform for "PSA Good4Good" where all the accepted PSAs from participating nonprofits will be hosted. The digital platform will be available to stations from June 1-June 30 this year. Submissions for "PSA Good4Good" will be accepted through May 8.
---
Undercover Angels. Lane Bryant launched an ad campaign last week introducing Cacique, the plus-size retailer's new lingerie line, but it was the PR supporting the ad campaign that's generated the most buzz. The campaign features the hashtag #ImNoAngel, a not-so-subtle swipe at Victoria's Secret models, who are referred to as "Angels."
The hashtag generated more than 7,000 tweets, a third of them positive, according to data culled by Crimson Hexagon (per Digiday).
The campaign points to how brands and organizations can ride the Zeitgeist; in this case, taking part in the growing movement against the perfectly proportioned models pervasive in fashion ads.
It's also a reminder that creating a unique and accessible hashtag can draw eyeballs for your brand.
This article originally appeared in the April 13, 2015 issue of PR News. Read more subscriber-only content by becoming a PR News subscriber today.