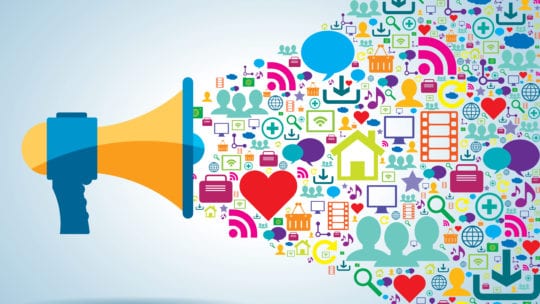 Trying to plan out or refurbish a social strategy can seem overwhelming. Gone are the days where brands can set and forget a strategy for a year. A social plan evolves with not only brand changes and promotions, but also platform innovations and announcements. 
Before you sit down and decide where to post your content, it's important to take a look at the intended audience and goals. Trying to reach teenagers can be a hefty goal, as they scatter to outlier messenger apps and platforms like WeChat, Kik, TikTok, and WhatsApp. However, when looking at GenZ, millennials and older generations, there is now a distinct social media platform for everyone. 
We took a look at the top social media platforms to provide you with a cheat sheet, highlighting the key differences among the group. 
---
Facebook

About: Building community and connections, brand presence, content sharing
Audience: Millennials and older
Some Capabilities: Video, live video, messaging, groups, stories, gifs
Paid Social: Most robust platform for paid posts and advertising
Best Platform for: Mom products, middle-age, grandparents, non profits
Pros: Establishes brand legitimacy, control of messaging, customer service
Cons: Organic reach disappoints
"Facebook is a nightmare for organic social media, BUT for paid campaigns, it is A DREAM. The targeting is second-to-none. The formats are plentiful and growing daily. And now you can even port the ad over to Instagram even if you don't have an Instagram account! If you're a B2C business, no matter what it is you're attempting to achieve, then Facebook (and Instagram, and Messenger) is the promised land. Go. Now!"—Justin Buchbinder, social media director, Finn Partners
---
Twitter
About: Short, scrollable content and opinion create conversations
Audience: Media, niche groups, breaking news junkies, customer service, all ages
Some Capabilities: Video, live, photos, threads, gifs, direct messaging
Paid Social: Available, but can be expensive with limited reach
Best Platform for: Media, consumer goods, travel, restaurants, celebrities, breaking news, important company announcements
Pros: Timely, up-to-the-minute, direct interaction
Cons: Trolls, constant monitoring
"We usually tell clients that Twitter should act as either a social newsroom—a place where they can post industry updates, links, and other press/event accolades, like we do for Anheuser-Busch's corporate comms, OR it should be a place for active conversations. However, that only works if you have someone doing community management with a focus on Twitter (like Steak-umm does), otherwise it's not the best use of resources." —Kat Lapelosa, creative strategy supervisor, Praytell Agency
---
Instagram
About: Visual communication
Audience: Travelers, influencers, youth, foodies, makeup, fashion, niche, pet owners, moms
Some Capabilities: Video, live video, messaging, groups, stories, direct messaging
Paid Social: Robust, creative paid that can be tied into Facebook advertising
Best platform for: Travel brands, restaurants, fashion, art, real estate—anything super visual
Pros: Display of truly unique creative
Cons: That creative can take time and money
"Instagram has become the new website. It's common for people to look through your Instagram feed before they do anything else to form an opinion on your aesthetic, who's following you and how you position yourself as a company or as an individual. Instagram is the best place to make a strong first impression. Since Instagram is so visual, the photos and videos that you share on your grid, in your Instagram Stories & IGTV do the talking for you, so it's always a fresh creative challenge to ensure you're telling the best brand story you can on the platform using so many mediums." —Taylor Loren, head of content marketing, Later.com 
---
LinkedIn
About: Networking for professionals, students, those looking to build networks, business news and learning
Audience: Working professionals, middle managers, interns, students, educators, marketers, business owners
Some Capabilities: Video, live video, messaging, groups, jobs
Paid Social: Sponsored post updates and jobs
Best platform for: B2B, HR, marketing, solopreneurs
Pros: Direct access to power players and hive minds
Cons: A select audience
"LinkedIn is best used as a platform to highlight your thought leadership, announce the good stuff you've got going on, and put your savvy people up front to let them shine. What's more, LinkedIn rules don't require exclusivity. If your company has a blog, you can feed directly into it."—Anthony Paonita, editor and reporter
---
Tertiary Platforms
And of course, there are those tertiary platforms to look at if you are feeling clever and creative. Maybe we will create a Platform Cheat Sheet: Part II, to take a closer look at this crowd.
Snapchat
Pinterest
TikTok
YouTube
No matter what platform a brand utilizes, it is essential to follow up on the analytics and goals on a quarterly basis, and checking in on a daily to weekly basis. See what content is working, and what should be ditched. The tools and numbers are there to guide you towards an optimized social strategy—and unlike a lot of marketing campaigns, a strategy can always be changed.