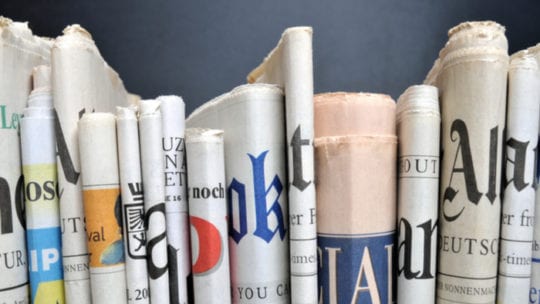 Imagine you've seen a story in a target publication, but you didn't pitch it. A journalist wrote it, but it contains your message. The article mentions your company alongside competitors. And yes, you look good by comparison. This outcome is the culmination of a PR campaign running at full speed and spotting signals.
Understanding signals is crucial when starting a campaign. It's even more prevalent when you're trying to crack geographies and industries and gain coverage from well-recognized publications and journalists who know your biggest competitors.
Even later, as your company gains acceptance and generates consistent coverage, the payoff is clear. A recent LinkedIn study highlighted that 78 percent of B2B buyers consume three+ pieces of information before making a purchasing decision.
Thought leadership essays are important, but a third-party endorsement from a top journalist in a Tier 1 publications is icing on the campaign cake.
An Overnight Success?
Remember, no new campaign will see overnight success. Yet once you select the right journalist targets, the correct mix and type of activity will help propel a PR strategy and deliver results. This requires carefully planning a strong blend of initial campaign activity.
Accordingly, below are tips about recognizing signals to quickly gain, measure and analyze that all-important momentum.
Big Announcements Don't Always Come First
Usually it's best not to start with your biggest announcement. It can get lost in journalists' Never heard of them, can't be important response.
Sometimes, announcing initiatives in a new market or the appointment of an executive, hopefully from a field-leading competitor, softens the journalist response. And it shows you're serious.
Then follow up with marquee news, such as a product launch or customer win. Couple this quickly with a thought-leadership essay positioning the B2B organization in one or many target industries.
Be Patient, Results will Follow
The rule of thumb is that a well-planned campaign should start yielding good results after three months. It's at this stage where regularity breeds trust. So, content should flow regularly to target journalists. At this point, coverage levels will pick up.
If they aren't, then it might be time to audit your output. Coding deliverables by type, message and industry focus, then gauging this pull-through in your coverage tracking should expose non-performing topics, content formats or vertical markets.
From there, tweak, adjust or redial the campaign's focus to address gaps or build on what is working.
Earn Your Success
It's easy with Pay for Play to get blinded. When company messages look at you in the face, we tend to forget we paid for this 'success.' And remember, of course, your customers and prospects know you paid for it too.
But from an earned media perspective, after strategically aligning your PR content and pitching around core topics for several months, a signal of trust and momentum is when journalists come to you for input on features they're writing. Your campaign is starting not just to rock, but to roll.
This is where timely responses to journalists' questions or a quick one-on-one interview are keys to accelerating the influence of subject-matter experts and cementing your B2B organization's position.
Priceless Organic Coverage
Now let's take this is a step further. The campaign is in full swing. The next signal: When journalists are covering your company without being pitched means your B2B is becoming a trusted leader.
Think horizontal technology journalists who regularly pen reviews of business software–there is huge value to inclusion in those articles. Even better when your company is mentioned favorably alongside larger competitors with vast PR and ad budgets.
Go back to the scenario at the beginning of this essay. This is nirvana for any PR campaign. Money can't buy that kind of organic exposure. Only truly earned media, cultivated through a carefully planned pattern of activity that sends correct signals to targeted journalists, can catapult a brand from market entrant to industry leader.
Simon Woolley is an engagement specialist at IBA International