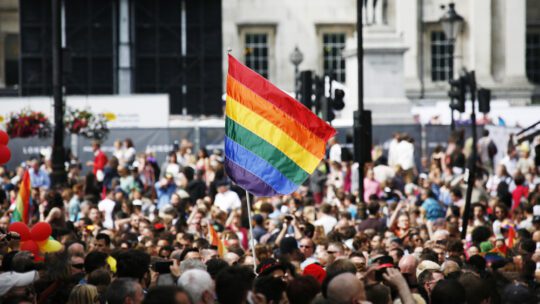 This week's Roundup takes a look at how brands can prepare for backlash during Pride while still owning their values, as well as Diddy's DEI battle and AI woes. 
Pride and Brand Safety
What happened: Happy Pride…or is it? 
As today marks the start of Pride month across the U.S., you may see many brands rebrand with rainbow colors for the month, acknowledging their allyship with the LGBTQ+ community. Of course, in recent years, more consumers can be seen calling out performative marketing and rainbow washing, holding brands to much higher standards of purpose and progress. 
However, we've seen another side emerge just in time for Pride. One that is not interested in tactics of inclusion, but rather conservatism. It seems every week a new brand is getting roasted by right-wing media—first Bud Light, then Miller Light, then Target and now Chick-fil-A and North Face. Threats of violence have forced some organizations to roll back their Pride merchandise and messaging. 
But it's not all bad news. Many companies are standing their ground, affirming their allyship as places for all. Lifetime TV network announced their Pride month movie schedule today across social media. NASCAR also displayed a show of support, as did many other organizations.  
Our #PrideMonth movie schedule is officially here, featuring encore presentations of 5 acclaimed movies throughout June! 🌈🎥 Don't miss these extraordinary stories that celebrate love and the courageous spirit of the LGBTQ+ community 💛 pic.twitter.com/abxelP0oWz

— Lifetime (@lifetimetv) June 1, 2023
We celebrate the LGBTQ+ community during #PrideMonth and beyond. pic.twitter.com/cVi0Ieuuyw

— NASCAR (@NASCAR) June 1, 2023
Communication lessons: Anne Green, Principal / Managing Director, G&S Business Communications, says it's clearly a challenging environment for brands, as a wide range of issues become increasingly politicized, and it's not going to get any easier, which is why it is critical for all organizations to double down on established best practices and counsel.
"Understand the roots and the 'why' of your company values," Green says. "Revisit what those values actually mean to leadership. Consider the real-world implications for a given value. For example, a healthcare entity with a value of ensuring access to better health for all Americans will face criticism if it acts in ways that restrict access to services based on political pressures."
Green says it's also important for organizations to stay the course on values-driven initiatives if they truly matter to your team.  
"If outside pressure, especially tactics that are more bullying or confrontational, are deemed successful, they will only intensify," she says. "If a company believes in support for, and allyship with, a given community, it should lean into the courage of its conviction to see that through. This can, in the long term, reap greater benefits with employees and a majority of customers than shrinking back from a marketing program that may not have felt fully authentic to begin with."
Green also notes the importance of looking at data to determine how employees and customers feel about key societal issues. 
"This includes consistently surveying your internal stakeholders and holding focus groups," Green says. "But it also means seeking credible external research. As one example, GLAAD's Accelerating Acceptance 2023 survey documents that a majority of non-LGBTQ Americans now believe that LGBTQ people should have the freedom to live their life and not be discriminated against, and that schools should be a safe and accepting place for all youth. This kind of data-driven insight can help build confidence when smaller groups are leveraging social channels to amplify a perspective that may not be widely shared."

Diddy Disses Diageo
What happened: Diddy (Sean Combs) is suing Diageo, noting that the spirits company does not give his brands (Ciroq vodka and DeLeon tequila) as much love and promotion as they do other brands, such as George Clooney-owned Casamigos and Ryan Reynolds-owned Aviation Gin. 
According to the Associated Press, Combs and his legal team claim, "Diageo leadership told him his race was one of the reasons it limited distribution to urban neighborhoods." 
"Cloaking itself in the language of diversity and equality is good for Diageo's business, but it is a lie," the lawsuit says. "While Diageo may conspicuously include images of its Black partners in advertising materials and press releases, its words only provide the illusion of inclusion."
Diageo responded with a statement: 
"This is a business dispute, and we are saddened that Mr Combs has chosen to recast this matter as anything other than that.
Our steadfast commitment to diversity within our company and the communities we serve is something we take very seriously. We categorically deny the allegations that have been made and will vigorously defend ourselves in the appropriate forum."
Communication lessons: Meredith LeJeune, Owner, Thought Bubble Communications, says proving unfair bias can be extremely difficult and an emotionally charged situation; adding a high-profile celebrity makes the spotlight on the brand even bigger. 
"In instances like this, both sides must remember the old journalism adage: 'just the facts,'" LeJeune says. 
"Mr. Combs' team must communicate the powerhouse that is Sean Combs and the impact he has on culture, while at the same time, offer up valid facts and numbers that prove his brand is no longer getting the same support from Diageo as other high-profile, celebrity-backed brands are receiving."
LeJeune says a goal for communicators is to open up the minds of consumers and supporters to question Diageo's intentions. 
"Why would they NOT offer the same level of support to a proven brand?" she asks. "He also has to prove Diageo treats 'urban' brands as sub-tier, and that despite Mr. Combs' track record of success, they are limiting this ability by not providing the financial backing needed to elevate the brand to the next level due to their own biases."
LeJeune also notes the role Diageo must play to protect its reputation.  
"Diageo must communicate from a place of compassion and neutrality while they work with Mr. Combs' team to bring the issue back in-house," she says. "Being accused of bias or neglect will be a public stain on Diageo. Continuing to make additional statements publicly could make them look worse. They have already made one statement. The next statement from the brand should be one of resolution between them and Mr. Combs—hopefully with mutually beneficial outcomes."
AI Chatbot Yanked
What happened: AI is still very new. And as it continues to weave its way into more businesses, we are seeing more instances of the technology failing, where it should probably not be substituted for a human touch. 
This week the National Eating Disorder Association shut down its AI chatbot after learning it may have given out harmful information to those seeking help. The NEDA announced plans to replace its human helpline staff with AI chatbots earlier this week. 
The announcement came at an ill-decided time—soon after the staff chose to unionize. 
According to Fortune, "the problems with [the bot] were made public by an activist named Sharon Maxwell, who said: "Every single thing Tessa suggested were things that led to the development of my eating disorder." NEDA officials initially called those claims a lie in a social media post, but deleted it after Maxwell sent screenshots of the interaction."
Communication lessons: TJ Winick, SVP, Issues Management Group, says expecting AI to take over such tasks from real employees was a tough one from the get-go. 
"How do you replace real human empathy with AI when callers aren't just looking for information but for real caring and moral support?" Winick asks.
He follows by saying NEDA made the right move by immediately shutting down the program and launching an investigation into what happened. But he also notes that the organization should have included an apology in its initial statement, particularly for those inconvenienced by the inaccessible service at this time.  
Winick also notes the importance of timing and the union representation. 
"If NEDA did roll out the chatbot due to the recent unionization of their helpline associates, it's clear that the union now not only has the upper hand, but that it has focused public attention on how the chatbot is currently inadequate and clearly not ready for primetime."  
Nicole Schuman is senior editor for PRNEWS. Follow her @buffalogal