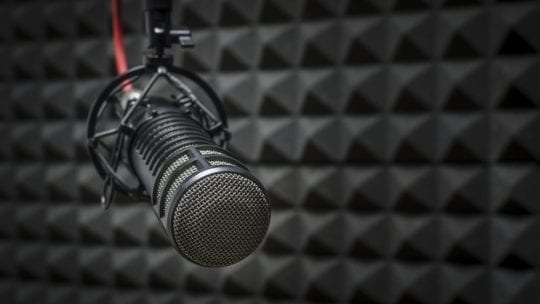 In 2019, The New York Times published a piece about the success of brand-produced podcasts. Author David Yaffe-Bellany focused on McDonald's Gizmodo-produced "The Sauce," a three-part "investigative" podcast that "examined the 'mystery' of how McDonald's underestimated demand for a popular dipping sauce, enraging thousands of its customers," he wrote. "The twist? The hard-boiled investigator scrutinizing that sauce shortage was McDonald's itself."
"While it's no exposé, the show offers a vivid illustration of how companies are increasingly using the tropes of popular podcasts in their own audio projects," Yaffe-Bellany continued. "These are not advertisements, exactly, but subtle brand-building efforts intended to entertain as well as persuade."'
That distinction between advertisement and brand-building effort must not be understated. The article offers more examples, including Facebook's "Three and a Half Degrees" entrepreneurship-focused podcast, shows from tech companies like Microsoft and Lyft, and a collaborative podcast about sneaker culture from New Balance and podcasting company Gimlet.
"You get to catch that busy person where you couldn't normally get them," Rob Walch, a vice president at podcast distributor Libsyn, told The Times. "They're listening with earbuds, and you're literally inside their head."
A look at why these branded podcasts are working provides many strong lessons for communicators about the merits of the medium. Here are some ways to keep audiences listening.
Your branding can't be too on-the-nose
"In general," writes Yaffe-Bellany, "companies have had the most success with shows that are not explicitly about their own products or services." He cites a 2015 General Electric science-fiction podcast called "The Message" that drew millions of listeners, and briefly reached number one on iTunes, as a great example of this.
"What makes for a successful branded podcast are a lot of the things that make for a successful podcast period," Matt Lieber, managing director of Gimlet, told the author. "If a brand wants to make a commercial that's 20 minutes long, it will fail." Moreover, Yaffe-Bellany writes, a podcast that's too clearly a giant advertisement risks being perceived as propaganda.
Position your story around your podcasting goals
Figuring out how to tell a story that both serves your brand and isn't too much of an advertisement, may not be as easy as it sounds. When Noah Leavitt, Assistant Director of Strategic Communications and Marketing, Harvard T.H Chan School of Public Health, helped the school launch its first podcast in 2015, he learned that starting with brand goals is the best way to make sure your podcast comes off as authentic.
"Take some time to think about the best format to achieve these goals—it may be a simple one-on-one interview format, or you may decide to invest time in a 'Serial'-style narrative podcast," he told PRNEWS. "The answers to these questions will drive fundamental decisions including your production schedule, the equipment you'll need to buy and how you'll host and share your podcast."
"This is also a good stage to determine how often you'll release episodes. I think monthly is probably a good start for most podcasts—it's regular enough to build an audience, but is not an overly demanding schedule. Another option is to release your podcast in seasons or mini-seasons, possibly around a particular theme."
Guests should create an organic conversation around the subject matter
"As far as getting guests on who maybe have social followers that can help promote your podcast, you have to think if it's organic to your podcast,"Allison Goldstein Lebovitz and Amanda Goldstein Marks, co-hosts of the "Sis & Tell" podcast, told PRNEWS.
"We've had people approach us about being guests and it just didn't make sense to our storyline. And we've also brought in guests who we thought would be organic and it just didn't work, and we heard from our listeners that they didn't want to hear from them. So, you have to take a step back before you bring them on and say, 'is it part of who we are?'"