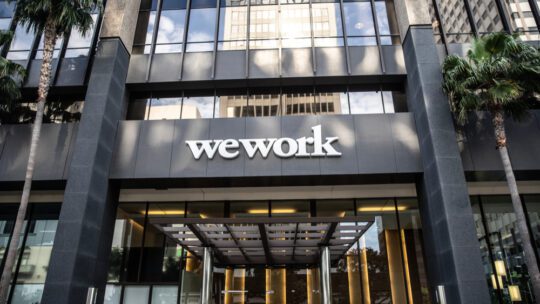 In this week's PR Roundup we take a look at how to communicate bankruptcy and financial issues, how not to take the stand and how to get Americans back to caring about the news.
WeWork Planning for Bankruptcy
What happened: After several years of financial turmoil, The Wall Street Journal reported this week that WeWork, the coworking space juggernaut, was preparing to file for chapter 11 bankruptcy in the coming days. 
At one point during its ascension, the brand, which refreshed the coworking industry's philosophy of space and experience, became valued at close to $47 billion. 
According to securities filings, as of June 2023, "WeWork maintained 777 locations across 39 countries, including 229 locations in the U.S.. [According to public filings these locations account for] an estimated $10 billion in lease obligations due starting from the second half of this year through the end of 2027 and an additional $15 billion starting in 2028." On Oct. 2 the company missed interest payments owed to its bondholders.
According to WSJ, WeWork "declined to comment on what a spokesperson called 'speculation'."
Communication lessons: Josh Galper, Co-Founder and Partner at Trident DMG, says that when any company hits rough financial waters, it's a common mistake to think of the moment as primarily a media issue. Instead, he says, it's a stakeholder issue and media is only a delivery mechanism to reach them. 
"Companies need to first develop communications for the stakeholders closest to them internally and externally," Galper says. "In general, that means—after the executive team leadership and board members—employees, investors, customers, partners and others." 
Galper also commented on the importance of getting the tone right in messaging when it comes to a financial crisis for a brand. 
"While being nothing less than honest, transparent and fact-based will suffice, these messages should also sound like they come from a human being and have empathy, especially for employees," he says. "Be prepared for the emails to leak as soon as you hit send, and write them with that in mind."
Galper notes that in the case of a bankruptcy, messaging needs to be consistent with legal filings.
"Make sure to stick close to the lawyers, but don't stick so close that the empathy gets deleted," he says. "As you follow the lawyers' lead about what's accurate, they will follow yours on hitting the right tonal notes."
Pew: Americans Following News Less Closely
What happened: A recent report released by Pew Research Center states that the number of Americans following the news continues to decrease, dropping from 51% in 2016 to 38% in 2022—quite a decrease in only 6 years. 
The greatest decline comes amongst those in the 30-49 age group, which fell 19%.
For many this may not come as a surprise. It seems every day is filled with news of new wars or mass shootings. Continued violence, climate issues, and political and financial strife are not always topics someone wants to spend their spare time following. 
Also, with many public figures acknowledging their distrust in the news (whether or not their statements may be true in themselves), it's become more of a public phenomenon to question journalists' intentions when reporting. 
Communication lessons: With the next U.S. presidential election only a year away, these stats can be troubling for news organizations. It surely may also cause some concern for public relations professionals, whose job is to work with the media to deliver messages to appropriate audiences. 
Alex Rosenwald, Senior Director of Communications at news outlet The Hill, says this study is another humbling reminder of the work needed to be done in rebuilding trust in the news and communications businesses. 
Rosenwald notes drumming up interest in news may require a repackaging of message delivery and audience engagement. 
"If we want to make news more interesting, we should be thinking outside the box on the new products in the market that will keep consumers more engaged and involved with brands," he says. "For instance, The Hill just synced up with Decision Desk HQ (DDHQ) on a new partnership, which will include a whole new product experience for The Hill brand, such as user-generated polling averages and a new co-branded polling average for later this year." 
Rosenwald also points to the importance of events—live and virtual—to connect with the public in 2024 and beyond.
"Brands should take full advantage of how to use [events] to get to know their users—what brought them to the event, how did they consume it (in-person or virtual), how they can be more involved in the future, etc. It can be a really meaningful way to get to know your audience and keep them more connected."
Former FTX Founder Takes the Stand
What happened: Over the past week followers of the FTX saga witnessed the prime defendant and former founder of the cryptocurrency exchange, Sam Bankman Fried, take the stand to testify in his own defense. 
It's a risky move for any defendant, especially a disgraced business leader, and according to an analysis from National Public Radio, it did not go well. NPR reports that Bankman-Fried rambled on the stand, as well as received notice from the judge for not paying attention. On the stand he also passed the blame to Caroline Ellison, his former girlfriend and CEO of Alameda for mismanagement. 
Communication lessons: Regardless of what verdict Bankman-Fried receives, damage has already been done to the cryptocurrency industry's reputation. 
Crypto/web3 public relations expert, Anouk Morin, Web3 PR Lead at Ditto PR, believes that industry messaging must be aligned moving forward.
"In the next few weeks, and after the trial's conclusion, crypto companies must be strategic in their external messaging," Morin says. "The crypto world comprises diverse communities, from Bitcoin maximalists to Ethereum evangelists. For the greater good, they must all collectively move beyond the FTX controversy and project a message of unity." 
Morin notes that strong communication is essential in bearish markets and amidst scandals.
"[It] show[s] the public that the space is still holding strong and actively building."
Nicole Schuman is senior editor for PRNEWS. Follow her @buffalogal