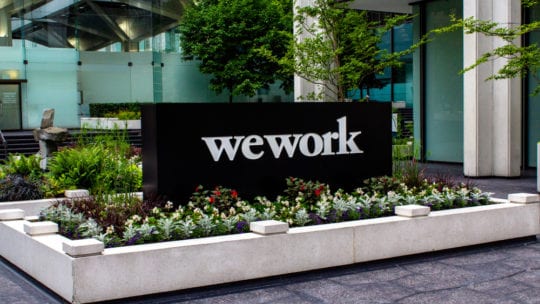 The real-estate gobbling workspace company WeWork (officially listed as The We Company) had a rough summer.
Since filing for an Initial Public Offering (IPO) on Aug. 14, the company's finances became widely scrutinized, as did its path to profitability and its eccentric cofounder/CEO Adam Neumann. When the IPO was officially delayed a month later, reports about Neumann's unusual behavior started leaking out.
Neumann stepped down from his role as CEO on Sept. 24, and less than a week later, on Mon., Sept. 30, WeWork's IPO was halted indefinitely. For PR pros working in a startup environment, WeWork's very public fall from grace holds many lessons to take back to the open office. Let's look at a few things that communicators at any startup can take away from WeWork's problems.
A tough board is a resilient board
PR pros often find themselves tasked with having to explain the blunt, bottom-line decisions made by boards of directors to other brand stakeholders—both internal and external. Neumann's "resignation" as CEO is refreshing, then, because WeWork's board actually practiced PR listening tactics, heard its investors (or lack thereof) loud and clear, then spoke to the media about its planned ousting of Neumann before it happened.
All communicators should be so lucky to have executive boards that make decisions with respect to optics and audience sentiment—both of which supported the decision to remove Neumann. While we may not always like the decisions boards make (especially if we're tasked with framing their difficult decisions to other stakeholders), there is a clearly demonstrated mindfulness on behalf of WeWork's board for all potential consequences of its decision.
All investors should approve of how their money is being spent
Responding to the news of WeWork withdrawing its planned IPO, The New York Times wrote, "The move is the clearest sign yet that investors are increasingly wary of ambitious young companies that have run up huge losses and might not become profitable for years."
Indeed, looking back to WeWork's name change earlier this year reveals what some of those investments would have been. In a January piece that analyzes the relationship between WeWork investor Softbank and Neumann, Bloomberg revealed how some of Softbank's large, multi-billion dollar investment (scaled down then and again since January) would be spent.
"Softbank has clauses and subclauses that are intended to protect its investments and oversight of WeWork," the story read. "In return, WeWork gets a true-believer investor and the money to expand its real estate empire, create a fancy children's school, spread grain bowls to the world, provide financial services and bring killer surfing waves indoors. (Side note: These appear to be things that WeWork is doing with investors' money. Is that OK with everyone?)"
These investments all showed the writing on the wall for WeWork, as did the numerous listicles about all the crazy things that Neumann was doing with the money he received. Communicators can take from this a reminder that all investors should be onboard with how their money is being spent, and large investments made by the company should be communicated to them plainly and directly in quarterly reports (and ideally, as they occur).
A rebrand does not automatically fix all of your problems
When WeWork rebranded to "The We Company" in early 2019, it was coming off a year when, for the first three quarters of 2018, it generated $1.25 billion in revenues but lost $1.22 billion. Meanwhile, its investment from Softbank had been renegotiated and drastically reduced, and leasing prices in all but two of the cities it operated in were declining.
So what did WeWork decide to do? It changed its name and rebranded into three sections—the "WeWork" office rental company, a "WeLive" short-term residential brand, and a "WeGrow" educational arm, including a coding academy and entrepreneurial-minded elementary school in New York that The Daily Beast called "a hippie school for the hyper-rich."
Of these initiatives, The Wall Street Journal writes that "some of them stalled soon after We announced them. The company has scaled back the expansion of others, former employees with knowledge of the businesses say. WeLive manages only two apartment buildings, with a third one planned, compared with more than 500 locations world-wide for the core co-working business."
Startups fall into this rebranding trap all the time, as the Silicon Valley mentality of iterating and "failing fast" while trying new things until something works brings diminishing returns until all investors eventually jump ship. Hence, it's the role of any responsible communications executive with a seat at the table to question whether rebranding just for the sake of it will ultimately fix a deep problem with their company or just put a bandaid on a much deeper wound.
In the end, we can make anything sound good to our audiences and stakeholders. When new makeovers fail and other people's money is at stake though, no cleverly-worded statement or deft positioning can spin the facts that your brand is in trouble.