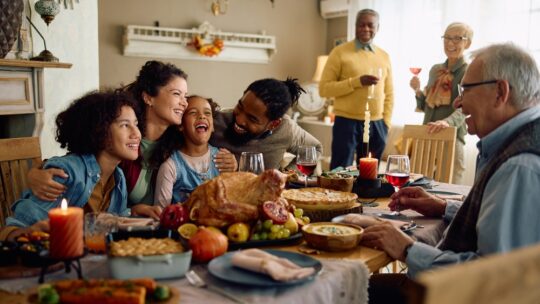 This week PR Roundup looks at Thanksgiving content trends, a new AI and PR report from the University of Southern California, and how The Washington Post delivered a grisly story on gun violence without holding anything back. 
Muck Rack Reveals Thanksgiving Trends
With turkey day only a week away, content and search surrounding the Thanksgiving holiday is becoming more prevalent. 
Muck Rack, a public relations management and connecting platform, decided to take a look at popular words and topics associated with the holiday using Muck Rack Trends, a research tool that analyzes and visualizes the global media conversation around any given topic. 
And the results are somewhat surprising. While you might think "turkey" would be the hot topic, "family" has received the most press coverage this month, with 66,175 total articles, followed by "turkey" with 39,154 and "pie" trailing well behind with 15,426 articles.
Linda Zebian, Senior Director of Communications and Community at Muck Rack, says research and data such as these can help with content ideation and topical pitching. 
"Communications pros can use the Muck Rack Trends tool to determine if a topic is relevant and newsworthy, or can leverage the data in their pitches to support a claim," Zebian says. "It's also useful to compare multiple topics or search terms over time, to see how they compare and how they're pacing over a specific period."
And as an FYI–PR Roundup will be on break next week as we enjoy our tryptophan haze in front of the TV.
USC Center for PR Releases 2024 Relevance Report: 'Welcome to AI'
Fred Cook, director of the USC Center for Public Relations, predicts that the 2024 USC Annenberg Relevance Report won't be relevant for long, but today, it is. The USC Relevance Report is a collection of forward-looking essays authored by public relations leaders, academics and students about the use of AI as a tool in public relations, corporate communications and marketing.
"Everyone in communications is talking about Artificial Intelligence (AI)," writes Cook. "This was not the case in 2019 when the Center for PR surveyed professionals and found only 18 percent thought that AI would be an important part of their future business. In 2023, in a survey developed with WE Communications, that number grew to 80 percent."
From companies that are experimenting with its use, to students who are actively using tools to enhance their creativity output, the Relevance Report examines how communicators can incorporate AI into their everyday work, while addressing ethical and legal issues that accompany every new technology, like cultural bias, misinformation and job loss.
The report includes four sections: The Quest, The Trials, The Wizard and The Knowledge. Essays within each section include examples such as "We All Need a Personal AI Learning Plan," "AI Meets PR: The Emergence of the Communications Engineer" and "Navigating the Ethical Minefield of AI in Communication," amongst others.
"This year's Relevance Report isn't intended to be a map for our AI journey," Cook says. "Right now, no one can accurately predict which road our future will take. Think of it as an invitation, inviting you to enter an uncharted territory and explore its possibilities."
The report's intent is to share tips—and cautions—and highlight ways that others are embracing the use of AI to help provide ideas for those working in or studying our industry.
Ron Antonette, Chief Program Officer, USC Center for Public Relations, responded to follow-up questions by alerting us that they were using a ChatGPT-4 chatbot, created by a student, to deliver answers about the report. That can be utilized here: https://chat.openai.com/g/g-F5FtDrCGO-the-relevance-report-2024.
The Washington Post Publishes, 'Terror on Repeat,' a Ghastly Look into Gun Violence 
Journalism is never for the faint of heart. And some of the most important stories come from an examination of difficult subjects.
On Nov. 16, The Washington Post delivered a multimedia investigation titled, "Terror on Repeat," the latest story in a series examining the role of AR-15's in American life. The story includes graphic images, including photographs and video taken during and after some of the nation's deadliest mass shootings.
It's a risky move—one that's possible to anger families affected by gun violence, but also necessary to divulge important information and knowledge to Americans on how mass shootings impact communities. 
The Post explained its process and reasoning in a lengthy Editor's Note titled, "Why we are publishing disturbing content from AR-15 mass shootings," from Executive editor, Sally Buzzbee. 
"Our decision to publish this story came after careful and extensive deliberation among the reporters and editors who worked on it, as well as senior leaders in our newsroom… In the end, we decided that there is public value in illuminating the profound and repeated devastation left by tragedies that are often covered as isolated news events but rarely considered as part of a broader pattern of violence."
Dan Rene, Strategic Communications Counselor, says journalists have a challenging responsibility to balance informing the public, while minimizing disruptions and maintaining empathy for victims or their families. He acknowledged the importance of providing an explanatory note to help the public understand the thinking and process surrounding this sensitive piece. 
"The Washington Post did their best to explain the details and reasoning for their reporting," Rene says. "While a nice move, it will likely do little to comfort victims or calm critics. This is a dilemma that comes with the territory and is part of the job."
Rene also had a word for those who think the organization lacks a sense of empathy for publishing this piece. 
"While some may argue that reporting only involves the facts and that sensitivity to victims plays no role, I'd argue that they should get their news from AI."