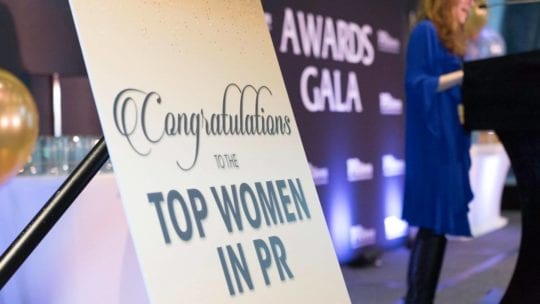 Each year, PR News recognizes outstanding female communications leaders at our Top Women in PR luncheon. The 2019 event, hosted at the Grand Hyatt in New York City on Jan. 25, saw nearly 300 top female communicators celebrate the 2018 accomplishments of their colleagues.
---
View the full list of winners and profiles of each Top Woman in PR 2019.
---
Comedian, writer and U.S. Marine Corps Reserve veteran/current communications strategy officer Justine Davie kicked off the luncheon as keynote speaker. Following Davie's keynote, PR News staff took the stage to honor the day's winners and honorable mentions. Joining the staff were guest presenters Brandi Boatner, social and influencer communications lead for global markets at IBM, Gabby Cohen, SVP of Communications and Business Development for Rent the Runway, and Elianne Ramos, international committee member at Women Leaders of the Americas.
Once announced, winners from brands like Barclays, Nissan and Comcast offered insights into their exemplary campaigns from the stage. In an inspiring opening keynote, Davie spoke about being one of the 8% of women in the Marines, how she turned to stand-up comedy as a means of group therapy and her advice for PR pros on how to live a life of authenticity and deterrence.
Tell Your Story
What resonated most with attendees, though, was her insight about how telling other people's stories also means not being afraid to tell your story. "Social media has helped us hear brave stories of survival and pain," said Davie, "and a wave of women writers continue to intimately share their realities. In stories, there is always a rise and fall, but it's the everything in between that truly resonates."
"My role is to help tell the Marine Corps story," she said, "but also to tell a Marine Corps story that is my Marine Corps story. Here's the thing about telling your own story: the stories we have and the ones we are hearing about today, about the amazing things that women are doing in business and politics and beyond, they are not the same sort of stories that we heard growing up."
Davie shared an example of the power that all in the room have to reframe their own narrative, recalling an instance when a man at a bar asked Davie what she did for a living. After telling him, the man asked if she wanted to arm wrestle.
"Ordering my gin martini should not be an exchange for a physical confrontation with an insecure stranger," she said. "If that was the case, I should just have been vague and said, 'Marketing' and been done with it. But doing this, doing comedy and being a Marine helped me be a better communicator, a better storyteller, and more aware of who I am."
Attendees shared their excitement for the day on Twitter, celebrating  and fostering the communal spirit of the day.
Celebrating the amazing women of the industry with my @ProcterGamble family at the @prnews "Top Women in PR" ceremony! Love these bad ass ladies I get the honor of working with. #prnews pic.twitter.com/VlhOeB1Ggy

— Maggie (McD) Malek (@MagsMac) January 25, 2019
Key noting - US Marine Major #JustineDavie #prnews #topwomeninpr event ????#ownyourmagic pic.twitter.com/FemX40DdDH

— The Museum of PR (@museumofpr) January 25, 2019
Congrats! RT @CHPA: Congratulations to our Senior Vice President, Communications & Public Affairs, and Executive Director, CHPA Educational Foundation @AnitaBrikman for being named one of @PRNews 2019 Top Women in PR! #PRNews @KnowYourOTCs pic.twitter.com/nvL4DmMUSl

— R.S. Mehta (@RikMehta_DC) January 25, 2019
@hw_bettina honored as one of #PRNews Top Women in PR 2019 today! pic.twitter.com/tM46x61NkC

— Hotwire (@hotwireglobal) January 25, 2019
The first black woman to own a PR agency. Wow!!! Amazing! #PRNews #topwomeninpr pic.twitter.com/UGdbEtZFwX

— Kick Lee (@ProducerKickLee) January 25, 2019
Proud day for the house! Congratulations to our Top Women in PR Honoree, @JennyMayfield!

Jenny – thank you for working tirelessly to serve millions of neighbors around the world as Head of Communications at Nextdoor. #PRNews @PRNews pic.twitter.com/aSzE6Vx28W

— Nextdoor (@Nextdoor) January 25, 2019
Wear your armor.

No win is your own. You have a tribe around you.

— Kim Stockham #PRNews @PRNews #TopWomenInPR

— Justine Davie (@Justine) January 25, 2019
For a list of PR News' 2019 Top Women in PR Awards winners, visit the 2019 Top Women in PR Awards site.