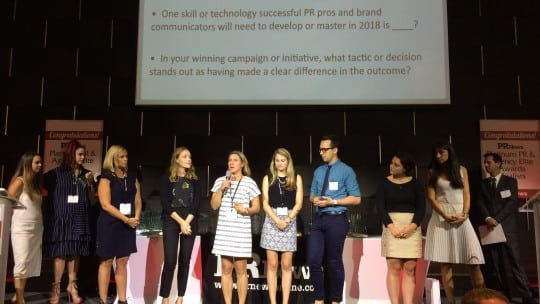 Nearly 500 top brand and agency communicators gathered at the Grand Hyatt in New York City on Sept. 14 to celebrate the past year's crowning achievements in communications and marketing at PR News' 2017 Platinum PR Awards luncheon.
The annual event, which sold out this year, benchmarks top communications campaigns and leaders in a wide array of categories such as branding, advocacy, social media, and PR Professional of the Year, among others. PR News also inducted five new campaigns into its Platinum Hall of Fame, as well as announcing winners and honorable mentions of its 2017 Agency Elite Awards.
Ryan Serhant of Bravo's "Million Dollar Listing" kicked off the ceremony, leading attendees in a lightning round of "Platinum Dollar Listing," in which participants guessed the price of New York real estate properties. Along with Serhant, Tatiana Holifield-Arthur, senior director of social media marketing strategy at BET Networks and Jon Sullivan, director of corporate communications at Aflac (who was also named a PR Professional of the Year), joined PR News' editorial staff on the podium to announce the day's award winners and honorable mentions.
Once announced, winners offered insights into their winning campaigns from the stage. In a moving speech penned by Pat Quinn, co-founder of the ALS Ice Bucket Challenge, Brian Frederick of the ALS Association served as a spokesperson for Quinn, who joined Frederick at the podium.
"ALS has taken my ability to speak to you today," wrote Quinn. "This campaign changed the world forever and changed the trajectory of this disease. ALS' Ice Bucket Challenge showed the power of social media and the power of good people. And when your campaign is driven by passion and the hard work of people who refuse to be average, [your] power has no limits." (Quinn and Frederick received a standing ovation.)
In keeping with the communal spirit of the day, attendees took to Twitter to share their Platinum experience and congratulated their teammates:
CRAFT brings home a 2017 Platinum PR & Agency Elite @PRNews award! Congratulations team! #CRAFTDC #PRNews pic.twitter.com/r7G5XxXAth

— CRAFT Media/Digital (@CRAFTdc) September 14, 2017
?? @RyanSerhant of Million Dollar Listing NY - Thanks for hanging with the PR world at the #PRNews awards today pic.twitter.com/urA6VnLXwS

— Dana Taormina (@Dana_Taormina) September 14, 2017
For a full list of PR News' 2017 Platinum PR Awards winners and honorable mentions, visit the 2017 Platinum PR & Agency Elite Awards site.