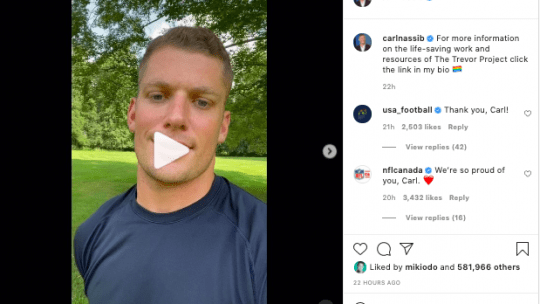 Yesterday (June 21), Las Vegas Raiders defensive lineman Carl Nassib made history, becoming the first active NFL player to come out publicly as gay. Far from simply a feel-good Pride Month PR story, Nassib's statement signals a new era in sports communication and DEI messaging.
Nassib made a video statement on his Instagram account, while the NFL's official brand accounts mirrored and amplified the message.
View this post on Instagram
Simplicity and Solidarity
Like any good press statement, Nassib's delivery was clear, simple and concise.
"I just want to take a quick moment to say that I'm gay," he said in the video. "I'm a pretty private person, so I hope you guys know I'm not doing this for attention."
Key to the statement was a focus on visibility and setting a precedent for future generations. "I actually hope that like one day videos like this and the whole coming-out process are just not necessary, but until then I'm going to do my best and my part to cultivate a culture that's accepting," he said.
Nassib then announced he'd donate $100,000 to The Trevor Project, a nonprofit focused on crisis intervention and suicide prevention for LGBTQ youth.
So far, LGBTQ advocates have celebrated Nassib's choice to go public, with Sarah Kate Ellis, CEO and president of LGBTQ rights organization GLAAD, saying: "Carl Nassib's powerful coming out is a historic reflection of the growing state of LGBTQ visibility and inclusion in the world of professional sports, which has been driven by a long list of brave LGBTQ athletes who came before him."
[Speaking of which, Washington Spirits' forward Kumi Yokoyama came out publicly as a transgender man June 20.]
Ellis added, "As an accomplished athlete who is now the first out gay active player in the NFL, Carl Nassib's story will not only have a profound impact on the future of LGBTQ visibility and acceptance in sports, but sends a strong message to so many LGBTQ people, especially youth, that they too can one day grow up to be and succeed as a professional athlete like him."
Instagram-as-podium
As ever, the medium was crucial to the message. "Carl Nassib's choice to come out on Instagram, where he has 207,000 followers, was a powerful one," says Justin Buchbinder, social media director at FINN Partners. "Doing so through a video made it human and real. Including text afterward with further information was likewise effective," he adds. The video has as of this writing racked up more than half a million likes.
NFL's social media posts were coordinated and timed to amplify and send a message of support. The league's four Instagram grid posts dedicated to the historic moment included a statement from NFL Commissioner Roger Goodell.
View this post on Instagram
Like the official NFL account, the Raiders' Instagram account coordinated a statement in support of Nassib, with a simple "proud of you" caption on a note from Nassib certifying that the team's response was a positive one.
View this post on Instagram
Buchbinder likes the impact the network of NFL representatives had on amplifying and buoying positive sentiment around Nassib's coming out. "The chorus of his teammates, his team, and the NFL rallying to his side is inspiring and wonderful, capping off a historic moment in the middle of Pride month."
Inconsistency In Practice
It's also a golden opportunity for the NFL to practice what it's been preaching on DEI, which in the past has been only marginally impactful, according to The New York Times' Ken Belson.
"In recent years, the league has publicly supported Pride Month through promotional efforts like changing official social media avatars to include rainbows and supporting the You Can Play Project, which provides resources to encourage inclusivity in youth sports, even as some players have made derogatory statements about gay people with little penalty or supported groups that oppose gay rights," Belson writes.
The Times' piece links to a Dec. 2020 Outsports article that called out NFL players for failing to support LGBTQ causes in the league's annual "My Cause My Cleats" campaign, which raises visibility for charitable organizations on players' footwear.
The article notes that three NFL players chose to support the Fellowship of Christian Athletes, which "continues to include specific anti-gay language about marriage and sex in the core statements-of-faith of its leadership." The PR prerogative then becomes one of consistency: Why did the NFL lend positive support to Nassib, without decrying the lack of LGBTQ support within its ranks or vetting its charitable partners?
Buchbinder shares the sentiment.
"I would love to see the NFL move from this wonderful moment to a commitment to champion LGBTQ rights, and equality, within the organization," Buchbinder says. "So, that one day a video like this will not break the internet and make the headlines, much like Carl, himself, hopes for in the video."
Public Philanthropy Serving as Call-to-Action
Nassib's donation to The Trevor Project is a major step that could make a difference for many, says Gabrielle Gambrell, marketing and communication consultant and New York University professor.
"Nassib's donation demonstrates a clear call-to-action on many fronts, including raising donations for the great work of The Trevor Project, acceptance of members of the LGBTQ+ community, and igniting the pivotal conversation about professional sports becoming a safe space for everyone to be their authentic self," Gambrell says.
Like Buchbinder, she pinpoints Instagram as an ideal place for announcing charitable gifts.
"The strategic use of Instagram also advances The Trevor Project, bringing needed awareness and donations to the lifesaving work done by the organization."
Bringing the NFL brand on board "further amplifies the Pride Movement by championing both Nassib's announcement and The Trevor Project," Gambrell says. "It is a tremendous help when brands promote organizations that are committed to fostering diversity, equity and inclusion. We must acknowledge that philanthropy and financial resources truly go a long way" in advancing DEI initiatives, she adds.
What's Next?
Time will tell whether or not the NFL's vocal support of Nassib translates into a long-term career in the league—or whether he, like former quarterback Colin Kaepernick, finds success as an activist, but is boxed out as an athlete.
The Times' Belson recalls Michael Sam, an erstwhile Rams 2014 NFL draft pick, who announced he was gay before being drafted. Sam was cut at the end of training camp. The Washington Post also revived the story.
In contrast to Sam, Nassib has been an NFL player for half a decade, indicating that the league has indeed reached a significant milestone—a communication precedent that many will expect the brand to uphold when future athletes inspired by Nassib reclaim the visibility they have been denied.
Sophie is senior content manager for PRNEWS. Follow her @SophieMaerowitz.