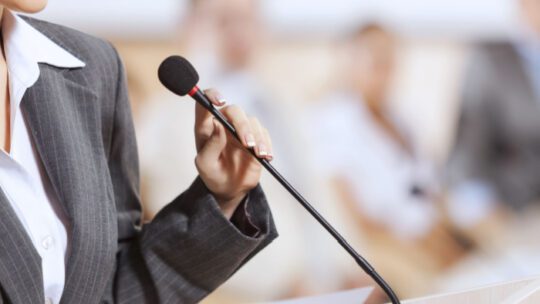 Recently, the people who founded the Executive Communication Council unveiled the winners of the inaugural Executive Communication Awards. It was the latest development in the fastest-growing, most profoundly changing specialty in corporate communications.
If you wonder whether you're quite up to speed on modern exec comms, there's a good reason—and a few clear steps to take.
The development of exec comms over the years has been a marathon, and then a sprint.
The term "executive communication" was originally a discreet, euphemistic job title meaning, "CEO's speechwriter." Gradually, it became a fancy term for one or more communication staffers who ghostwrote speeches, op/eds and other corporate correspondence for the CEO, and various leaders of an organization.
Whatever it was called, most of this work meant helping leaders say the things they were expected to say, on the appointed day, in the usual way.
And of course, some exec comms is still mired in such mediocrity. Some corporate leaders still don't see their personal communications as an essential part of strategic corporate messaging. And some exec comms pros still think that the only proper measure of exec comms success is a beaming boss, relieved that one more obligatory speech is over.
But many leaders and their executive communication professionals are challenging one another to achieve profound results through innovative and provocative and deeply authentic media and messaging.
Why, all of a sudden? Employee activism. Stakeholder capitalism. The pandemic. George Floyd and January 6. All those developments have encouraged, and in some cases forced leaders to use innovative social media platforms and formats to express human thoughts and emotions that corporate statements could not convey.
Which accelerated the development of exec comms, driving the formation of an Executive Communication Council. And the first formal study of executive communication, the Executive Communication Standard. And an annual Executive Communication Summit, attended by communicators inside the exec comms specialty and beyond.
And now the Executive Communication Awards, whose winners' best work is showcased in a free anthology, The Standard of Excellence '23: The Best of the Inaugural Executive Communication Awards, filled with best practices that show what modern exec comms looks like, and what all exec comms should strive for—and, hold themselves accountable to achieve.
Modern Exec Comms
The pioneering communication measurement guru Angela Sinickas once told me she was judging an awards program, and someone had entered a speech into an executive communications category. The program required a quantitative measure of success. The speechwriter wrote, "CEO gave me a dozen roses (12)."
That's not going to cut it anymore. Reading The Standard of Excellence '23, you will learn that modern exec comms are:
Ambitious. The result of Intel CEO Pat Gelsinger's leadership communication campaign last year? Only the passing of the CHIPS and Science Act and the European Chips Act, which Intel's exec comms chief Kari Aakre points out is "the most seminal piece of industrial legislation the United States has passed since the Second World War."
Creative. It's innovative to have your CEO interview other companies' executives. It's creative to have that CEO conduct those interviews over beers and amid a big crowd in the corporate HQ bar. That's what T-Mobile does, on the regular. (And we won't even try to describe a winning T-Mobile event that involved gamification and executives as holograms.)
Authentic. A hilarious, candid and heartfelt remembrance of the late University of Wisconsin Chancellor Rebecca Blank by UW executive communication director Amanda Todd helped to heal a whole community.
Measurable—by event attendance, YouTube views, increased social subscribers and engagement rates. That game T-Mobile created? More than 400,000 people played it, resulting in an astonishing 8,700% increase over a more conventional event the year before.
The old days are clearly over in executive communications. And its leading practitioners are already working on plans for thrilling new days to come.
David Murray is founder and executive director of the Executive Communication Council. He's also founder and executive director of the Professional Speechwriters Association.