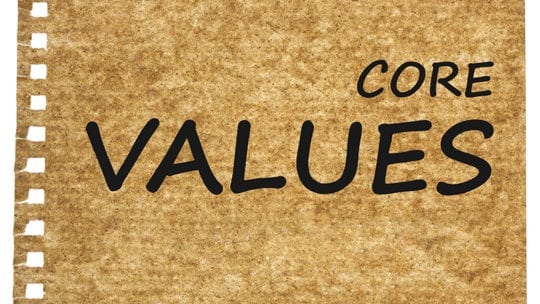 It's not a surprise people prefer working for companies that care about the same issues they do. A recent PWC study found that's the case with nearly 90% of workers. It's ideal when employees use their time and talents to contribute to something other than their paycheck.
In addition, employees expect corporate leaders to speak up on critical issues and be more visible, especially when the stakes are high. In a challenging economy, organizations that don't meet changing employee expectations are at risk of alienating people who are crucial for growth and success.
Meeting these expectations takes on increased significance in a marketplace where talent is at a premium and employees are more in control. The next generation of workers is diverse, passionate about equity and empowered to make choices based on values. Today, people are paying closer attention to how an organization acts and if it is using earnings to do more than turn a profit.
Companies that meet this moment can differentiate their brand and deepen trust with employees.
Putting Values to the Test
Critical social issues are the ultimate test of meeting employees' rising expectations. To ensure there is action and accountability, organizations should consider:
Are we clear about our values and what we stand for?
Do we act authentically and consistently even when there could be controversy?
Are we willing to stand by the commitments we've made on civic, social and equity issues?
Once answers to these questions are established, it is essential to define and communicate commitments. Progress must follow.
Aligning Strategy to Purpose
Strong communication strategies that authentically fulfill promises are especially important as employees, partners, customers and communities expect transparency and accountability. Effectively activating and aligning organizational strategy could include one or more of the following:
Updating corporate purpose
Purpose defines why an organization exists. Purpose-driven businesses work toward something greater than profit and shareholder value. They deliver impact to a community broader than just those directly affected by their business (e.g., customers, employees, shareholders).  
Developing an employee values plan
Organizational values create a powerful framework for decision-making. Values, or guiding principles, company principles or company beliefs, are what an organization believes and the behaviors it agrees to live by daily. Values guide employees  on how they do their job and interact with customers, colleagues, partners and the broader community.
Environmental, Social and Governance (ESG) is one way an organization can illustrate the responsibility of its operations. In addition, it's become one way for investors to assess whether to invest in companies that demonstrate responsible operations related to Environment (e.g., water usage, carbon emissions, plastic waste), Social (e.g., treatment of employees, diversity, equity and inclusion, alignment to human rights issues) and Governance (e.g., transparent reporting, ethical decision making).
Activating sustainability marketing strategies
Partner with your corporate responsibility or sustainability team or organizations specializing in environmental and social impact measurement to apply to third-party ratings. Share this verification as part of your organization's ESG story.
Pursuing B Corp certification
B Corp certification evaluates the impact of a for-profit company. B Corp companies are legally required to balance profit and purpose. They alter their governance to support decisions and practices that weigh not just shareholder value but the holistic impact on all stakeholders, including employees, customers, society and the environment.
Today, there are critical opportunities for organizations to stand up for their values and beliefs. Confidently communicating a values-based position will meet rising expectations of employees, partners, customers and communities. In addition, it will strengthen the trust needed for long-term business success.
Nicki Gibbs leads strategy and services development at Beehive Strategic Communication
[Editor's Note: The writer's views do not necessarily reflect those of PRNEWS. We invite opposing essays from readers.]