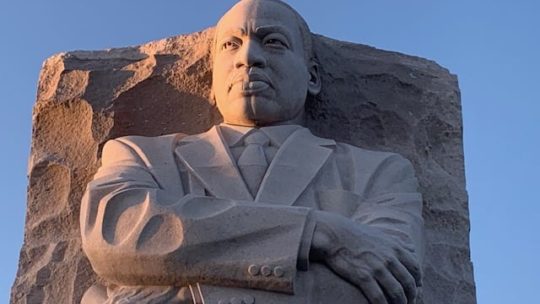 You might think nearly everyone except essential workers and retail staff is off today (Jan. 17) in observance of Dr. Martin Luther King Jr Day, a federal holiday since 1986.
However, about half the country's employers consider it a work day, a 2019 Bloomberg survey revealed. Yet that's better than 2009, when some 70 percent of companies were open.
Similar to PR's lengthy journey to meaningful DEI measures, the road to making MLK Jr. Day a federal holiday was difficult.
It began with Rep. John Conyers. He rose to introduce a bill making Jan. 15, Dr. King's birthday, a national holiday. Conyers introduced the legislation just four days after Dr. King was killed, in 1968. A federal measure was signed 15 years later. The federal holiday began in 1986.
It took until 2000 for all 50 states to recognize MLK Jr. Day.
Voting Rights
This year's MLK Jr. Day is particularly noteworthy.
King family members and 80 groups are urging supporters forego celebrating the Day unless there is action on voting rights legislation. "No celebration without legislation" was their slogan.
A CNN report made the point succinctly: "Martin Luther King Jr.'s family has a message for Democratic lawmakers who refuse to stop their Republican counterparts' voter suppression efforts yet intend to shower pious praise on the slain civil rights leader's legacy this holiday weekend: Save it."
Pundit Ana Navarro also crafted an effective message, targeting elected officials.
The King family joined rallies and marches throughout the country urging passage of a voting rights bill in the run up to today. Earlier today, the Kings marched in Washington, DC, to highlight Dr. King's connection with voting rights.
Late last week, it appeared the John Lewis voting rights package was in trouble. The Senate was unable to approve its version of a voting rights package. The House passed an omnibus bill that included voting rights earlier in the week.
The Clutter
PR pros are familiar with the difficulty of breaking through noise. It seems that's what happened with the King family's wishes about avoiding celebrations this year.
Also receiving little media play was the hunger strike of 25 faith leaders in support of voting rights. The strike began Jan. 6, just 11 days prior to MLK Jr. Day.
Instead, the messages and activities of companies, brands and organizations dominated.
For example, MLK Jr. Day has evolved into a cavalcade of sports, particularly pro basketball, which had a connection with Dr. King and has one with the MLK Jr. holiday. There are 12 NBA basketball games scheduled. They began today at 12:30pm ET and run through the final tipoff, set for 10:30pm ET.
In addition, there's an NFL playoff game this evening and "Monday Night Raw," the professional wrestling telecast. All these events will include mentions of Dr. King.
 A Tribute from WWE
For example, in a note to media last week, WWE's chief brand officer Stephanie McMahon unveiled the company's tribute. It's a two-minute, 48-second video of footage featuring scenes from Dr. King's life. John Legend performs the background music.
McMahon's note reads, "Please join WWE as we pay homage to a man who had the courage to stand against injustice, shout from the mountain tops and encourage all of us to judge based on character not the color of our skin."
Dr. King was born in Atlanta. As such, the Atlanta Hawks of the NBA will unveil the MLK Wall, a historical exhibit honoring Dr. King, before tonight's game. The Wall is located inside State Farm Arena, where the Hawks play home games.
Some of the Hawks' activities feature sponsorships.
Examples include the special Nike-made MLK uniforms the team wore 10 times last season; they won nine of those games. Presumably they'll wear the MLK uniforms tonight, too. Proceeds from sales of the MLK jerseys last year were donated to the Women's Entrepreneurship Initiative.
In addition, the initials MLK are prominent on the State Farm Arena court.
Moreover, the Hawks, along with Chase, an arm of JPMorgan Chase, will host a panel for tonight's ticket holders prior to the game called Advancing the Legacy: Realizing the Dream. Panelists will discuss Dr. King's wishes for economic equality.
Interpretation and Speculation
In addition to sporting events, retail and online sales coincide with MLK Jr. Day. Notice how this USA Today story from last year walks a fine line between shopping on MLK Jr. Day and a more thoughtful observance. There are obvious PR takeaways.  For example, the NFL has just two team owners of color and its mistreatment of Colin Kaepernick remains.
Moreover, Apple, which is dedicating its site to Dr. King today, allegedly has DEI issues (more on this below).
And a slew of cable networks is highlighting films about Dr. King and Black history. Moreover, Showtime made its documentary "Attica" available for free viewing through February, Black History Month. The film is short-listed for an Oscar.
Day of Service
Given Dr. King's belief in acting on one's beliefs, though without violence, it's fitting MLK Jr. Day is the only federal holiday also designated a day of service.
In 1994, Congress approved the King Holiday and Service Act, which designates the Day as one of national service. The associated motto is a Day On, Not a Day Off. A quote from Dr. King is apt: "Life's most persistent and urgent question is: What are you doing for others?"
This aspect of MLK Jr Day fits perfectly with something PR pros emphasize often. Uttering the right words on social and racial issues is important, but they're empty without action. Moreover, companies should begin their DEI work before talking about it.
Indeed, Apple, mentioned above for its MLK Jr. Day site dedication, allegedly is guilty of failing to marry its words about diversity with action. Media reports indicate Apple shareholders are concerned with the company's slow progress on diversity. Apple's diversity report says 4 percent of its leadership in 2020 was Black, up slightly from 3 percent in 2014. Hispanic leadership in 2020 was 8 percent, up from 6 percent in 2014.
In a tweet, actor/comedian Yvette Nicole Brown offered a useful reminder for communicators at companies, brands and organizations to walk the talk.
Seth Arenstein is editor of PRNEWS and Crisis Insider. Follow him: @skarenstein