For myriad reasons, many communicators choose to avoid measurement. If you find yourself in a culture that doesn't measure, what can you do?  We asked measurement guru Katie Paine. Her advice was practical: test assumptions with surveys. But first, buy Starbucks, cookies and perhaps alcohol for senior managers. "Whatever it takes" to get time with them so you can understand upfront "what leaderships' goals and objectives are for communications."
Step two, offer the same treatment, Starbucks, cookies etc, for those who manage Google Analytics, web analytics, CRM, finance and accounting. "You'll need them to talk to you and give you information," Paine said.
Armed with the C-suite's goals and objectives and knowledge of where company data resides, communicators are ready to do a relatively simple thing: survey target audiences. What should you ask?  "Find out what's keeping your sales and marketing people up. What's keeping the CEO up...[surveys] don't cost much."
Test Assumptions: Measurement as a Problem Solver
Then, start thinking about measurement as a way to solve those problems. "If you've done research up front to learn about what the problems are, your solutions are much more likely to work."
For example, a company "absolutely knew" its customer service was top notch. A second company was "totally convinced" its products were industry leaders, Paine said. She got both to test those assumptions through surveys.
The results shocked. The public didn't see company one's customer service as world class. Not even close. Similarly, company two found customers were not as fond of its products as it thought.
The takeaway: test assumptions.
Big Tech Assumptions Tested
We were reminded of Paine's advice when another Katie, APCO Worldwide's senior director, reputation research & strategy, Katie Sprehe, told us how she'd tested assumptions about big tech's reputation. She surveyed 1,000 US adults.
"Everyone knows the headlines," Sprehe says. "The news coverage about big tech is negative, negative, negative." Based on numerous media reports detailing tech companies' data breaches, the spread of misinformation via social and what seems to be unscrupulous use of customer data, you'd assume the public has low regard for and low trust in tech companies.
The first question (chart 1, below) was, "How concerned, if at all, are you about the influence of technology companies on people's day-to-day lives?"
A healthy majority (62 percent) is somewhat or very concerned. This seems natural given the negative media.
Surprise Result: Big Tech Respects Your Data Privacy
Responses to the second question, in chart 2, though, surprised. Slightly more than half those surveyed (55 percent) are very or somewhat confident that tech companies will protect users' data privacy. And 53 percent are very or somewhat confident that tech firms will work to stop the spread of misinformation. Similarly, 52 percent are very or somewhat confident that tech will be transparent about how customer data is used.
Responses to the first two questions on chart 3 indicate nearly half of those surveyed don't have an inherent bias against big tech.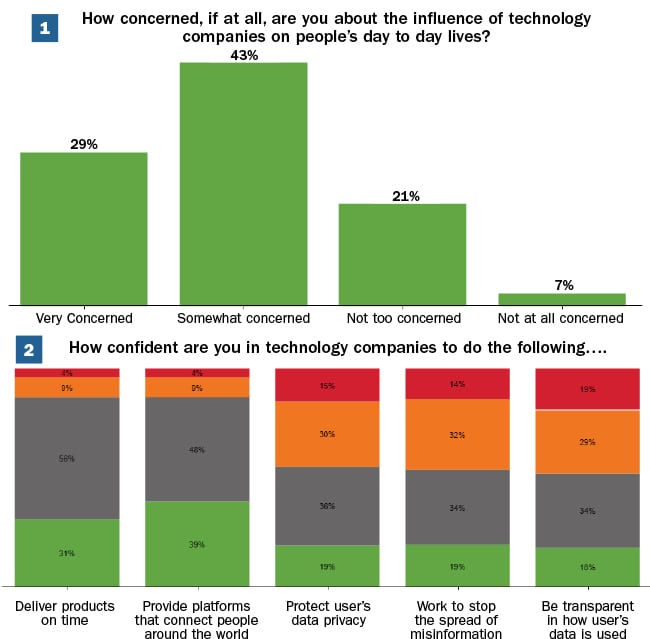 Tech at a Crossroads
The data indicates tech companies are at a "crossroads," Sprehe says. "All is not lost." Their reputation is not nearly as bad as one might think, but "they must be concerned." Whatever tech companies do to bolster their reputations, she says, needs to be genuine, "not window dressing." Sprehe adds, "there's an opportunity here" and the first companies to take action will have an advantage.
The takeaway for communicators across all industries underscores Paine's "test assumptions" mantra. Do your homework and measure your target audience before acting on what you think is its state of mind. "You really need to know your audience and keep constant track" of what it's thinking, Sprehe says.
The prevalence of bots spreading fake information makes regular audience measurement even more important, Sprehe adds.
Notes: A version of this story appeared in the July 2019 edition of PRNEWS. For subscription information, please visit: http://www.prnewsonline.com/about/info   
Katie Paine will be speaking during PRNEWS' Crisis and Measurement Summit in Miami, Feb. 25-26, 2020. 
Seth Arenstein is editor of PRNEWS. Follow him: @skarenstein