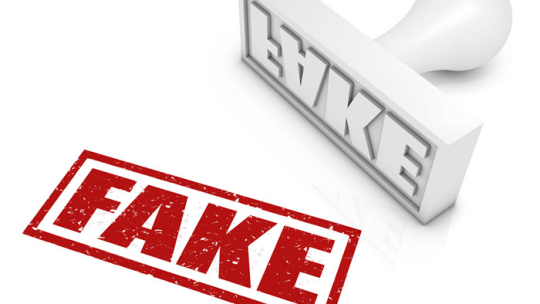 With the indictments of 13 Russians and 3 companies last week in the special investigation into foreign meddling with the 2016 U.S. presidential election, the topic of fake news on social platforms such as Facebook likely will dominate the news this week (see related item in the Week in PR).
While fake content on social platforms is a major portion of the story, online advertising also plays a large role. A survey from the Society for New Communications Research of The Conference Board shows few marketers know where their ads are running (see pie chart).
The culprit, they say, is programmatic advertising, or ad tech, which tags and follows consumers across the internet.
In addition the survey of more than 100 advertisers, marketers and social media managers, conducted between August and November 2017, shows marketers are aware that their ads could run adjacent to fake news. The survey also seems to show marketers understand having ads appear near fake news could tarnish their brand.
The issue is few maketers know what to do about this potential issue and are reluctant to change their business practices, says Jeff Pundyk, an SNCR Fellow and author of the survey.
When asked who should lead in solving the problem, the marketers said publishers and the social media platforms (see bar graph below).
To help survey participants understand the meaning of fake news and assist them in making their responses to the questions more accurate, SNCR used the following definition of fake news for survey purposes: "Content that lacks trusted sources and often uses sensational headlines to encourage the consumption and spread of unverified or false information. It can be left- or right- leaning. Such content typically masquerades as legitimate news reports—and is often supported by ads, sometimes without the knowledge of the advertiser."
Some 80% of respondents say they would "probably" or "definitely" reduce their level of spending with partners that include unreliable sites, yet they are ambivalent about joining private markets, closed exchanges that include only known and vetted sites.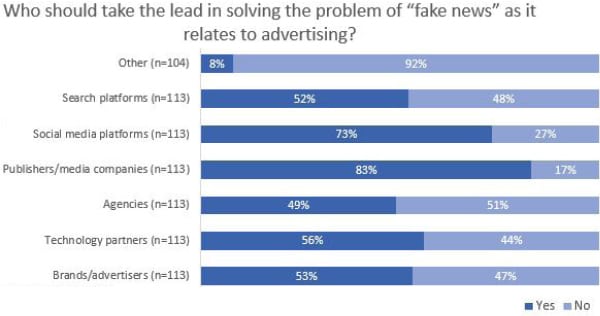 Reluctant to Change
The respondents were nearly 50-50 on returning to direct relationships with brand-safe publishers, with 46% saying they "probably" would return to premium publishers and 30% saying they were unsure.
"Advertising models...have created a murky underbelly of misinformation that is threatening our most valuable brands, communities, and democratic institutions," says Jen McClure, SNCR's founder. and chair of the Advisory Board. It's critical to understand the negative consequences before the problem can be addressed, she adds.
---
Fake News and Marketers
87%: Respondents who believe it is moderately likely to very likely that programmatic advertising could place sponsors next to fake news content
88%: Respondents who believe adjacency to fake news could be problematic for an advertiser, with 95% of those marketers believing it erodes customer trust in the brand
59%: Cite native advertising or paid content marketing as the source of fake news
Nearly 70%: Those who say they have seen fake news on digital or social channels within the past month of them taking the survey
More than 80%: Those who say if their ads appear adjacent to fake news, their brands will be harmed by the affiliation
70%: Those who have a negative or very negative impression of the advertiser in those positions
Source: SNCR Survey, The Conference Board (Dec. 2017)