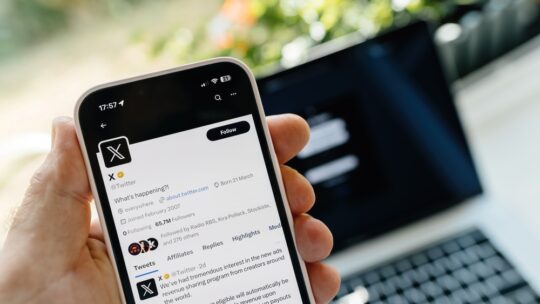 It seems X, formerly known as Twitter, always finds a new way to make headlines despite increasing user departure from the app. Most recently, Elon Musk confirmed a change in the feed algorithm to deprioritize posts with external links. Meaning, posts that have historically driven user traffic back to company websites will now be buried by long-form content without links or posts from users with X Premium.
The algorithm change isn't the only thing prompting companies to abandon the app. Confusing subscription updates, threats of a paywall and apparent misinformation have potential to impact usage. What used to be a go-to platform for companies wanting to share external updates, media coverage and internal resources with their loyal audience has now become a perpetual head-scratcher for communications professionals.
Many brands are questioning: Should we get off the platform? Should we change our X strategy if we decide to stay on? Here are things to consider when developing your future X strategy (or exit):
Your Business Objectives
The first item to consider is why your company is on the platform to begin with. Clearly define and align on your business objectives for being on the channel—brand awareness, web traffic, audience engagement, etc.—then evaluate the metrics that show how X is supporting those efforts.
Several organizations have noted an insignificant impact on total web traffic since strategically departing the platform. NPR, for example, has only seen a 1% decrease in total web referral traffic since it stopped posting on X in April 2023. If your metrics are unimpressive and don't reflect the effort you're putting in, an exit from X will also allow you to allocate more resources toward platforms that drive better results, like LinkedIn for B2B brands and TikTok for consumer brands.
In addition to looking at metrics like referral traffic and engagements, assess whether your industry still has an active presence on the platform. Evaluate competitor, influencer and reporter profiles to determine if your audience is still present. If key players are actively engaged and relevant conversations are happening on the platform, consider maintaining your presence and pivoting your strategy to account for the platform updates.
Redirecting Your Audience
If important conversations in your industry are still happening on X, you still need to accommodate for changes to the algorithm to ensure your continued efforts aren't totally fruitless. Consider updating your bio to include a link management tool, like Linktree, to coordinate external links with your posts.
And rather than including the link in your post copy, change your call-to-action as you would with an Instagram feed. For example, "Check out the link in our bio for more," so users know where to find your content.
The Soft Exit Approach
In October 2023, Apple suspended customer support through X. Users now receive an automated message encouraging them to seek help through Apple's other channels.
If the assessment of X's ROI has your organization ready to make a swift exit, don't hit the delete button quite yet. Instead make it clear where your audience can follow or find information on your organization. Update your bio to include the company website or pin a (final) post to your profile with your organization's other, active social handles. Should X align with your business objectives and goals in the future, the soft exit strategy allows your organization to return without having to rebuild your presence.
After considering your options and making the most strategic decision for your organization, continue tracking how your presence, or lack thereof, impacts your business goals and results. The future of X is uncertain, so evaluate your platform strategy often and be willing to pivot when necessary.
Emma Cline is coordinator at Next PR.