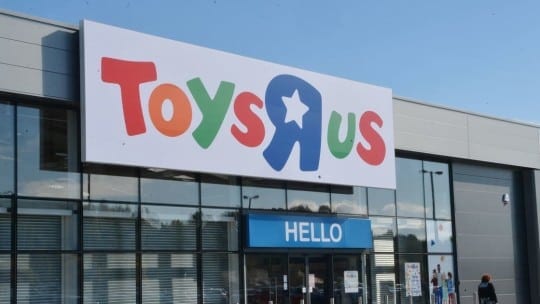 It's hardly a surprise that Toys R Us plans to close nearly 200 stores. Online vendors as well as video games have hurt the retailer for years. In addition, Toys R Us filed for chapter 11 bankruptcy protection in September 2017, although it kept stores open for the busy holiday season. Certainly much of the surprise factor was gone at that point. Employees had to expect changes would be coming.
On Jan. 23 the company's leader, chairman and CEO David Brandon released a letter to customers that removed much of the doubt. We hope, of course, employees were briefed on its contents in advance. More about this below.
Brandon, in the letter's fourth paragraph (a bit late for our taste), writes Toys R Us plans to "close a number of stores." Five paragraphs in, he urges customers to "take full advantage of the deep discounts and deals available" at "store-closing sales" beginning next month and running through April.
His letter doesn't mention the number of stores to be shut. Somewhat "un-transparently," you can't find that information at the media section of the brand's site either. After searching the site, though, you can find a sub-tab called "Restructuring Information," which is under the "About Us" tab. There you can find a list of stores the brand plans to close, updated daily. At the moment it's about 20% of 879 U.S. outlets.
Brandon's letter says nothing about job losses. On the other hand, it's a letter to customers, not employees.
What the letter includes, though, seems encouraging and authentic. Brandon sounds like he's looking to the future while acknowledging the present. Early in the second paragraph he writes, "We want to make it easier for you to shop with us, whether online or in our stores."
Next comes an authentic part: "This past season we were successful in accomplishing this objective for millions of customers. However, there were also far too many transactions where this wasn't the case—due to our operational missteps…I want you to know that we can and will address the gaps in the experience that you may have had when shopping this holiday. My team is already hard at work to make the improvements necessary to ensure that we have the products you want, when, where and how you want them."
We find that self-critical section of the letter encouraging because Toys R Us communicators will need authenticity when discussing a slew of issues with employees and (probably) soon-to-be former employees.  Brandon's authenticity at this point leads us to be optimistic about the tone of the brand's internal communications.
We asked Toys R Us to let us in on how it's handling employees' concerns internally. As of this afternoon we hadn't received a response.
In interviews with internal communications pros, timing and respect were cited as priorities when communicating layoffs or large job losses to employees. Here are a few best practices:
Respecting the workforce should be paramount. This includes departing and remaining staff.  While severance is important to departing employees, remaining employees will watch carefully how a firm treats their former colleagues as an indicator of how it might treat them in the future. In the case of Toy R Us, where employees at the 600 or so stores that remain will be walking on eggshells, this seems like a crucial lesson.
If possible, tell employees about restructuring news before rumors or factual stories reach the media.
Having an established reputation for credible communications with employees before a restructuring gets underway is crucial. A restructuring is not the time for management to begin building its reputation.
What employees [who still have jobs after a layoff] want to know is how will this change their lives, their workload, their team and the company, in that order.
Avoid using jargon and business-speak in restructuring communications.
Restructuring communication is best when it's a multi-functional effort between nearly all parts of a company, though the main relationship should be between HR and internal communications.
Follow Seth: @skarenstein