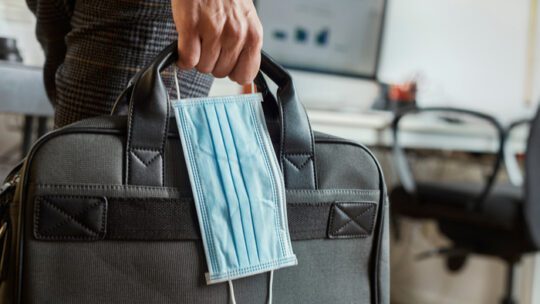 Due to the Delta variant, companies are cancelling or delaying return-to-office plans. Managers are scrambling to revise schedules. Employees are disappointed, confused and frustrated. Many were looking forward to in-person interactions with colleagues.
In the face of lingering uncertainty and frustration, human resources and internal communication teams will have their work cut out for them. How and what they communicate will play a key role in motivating employees.
It's especially important for leaders and organizations to prioritize communication now. Between 30 to 40 percent of employees are considering leaving their jobs, and many are already quitting. There are many reasons for this, but one is a lack of effective communication.
This late in the pandemic, company leaders know how vital effective communication is.
Consider Frequency
As a general rule, communicate until it starts to feel like you're over-communicating. In most cases, that is when you're hitting the amount employees need now. For the average company, there's a far greater tendency to under-communicate, so pushing the boundaries of what typically feels normal or comfortable is needed for balance.
What to Say
Next, what should be the content of communication? The key words here are: values, humanization and transparency.
Let's start with values. Millennials are the largest generation in the workforce and, together with Gen Z, they make up nearly half of that workforce. Millennial and Gen Z professionals strongly value working for organizations that share their values.
Not surprisingly, the pandemic intensified concerns around organizational values. These generations want companies and leaders who care about their well-being, that are ethical, and that are transparent.
Therefore, what HR and internal communication teams need to do is lean in and convey these values. Organizations can stress how the importance of protecting employees' safety and well-being was behind the decision to delay return-to-office plans.
Choosing Values
Values-based communication will be particularly important for companies with mask or vaccine mandates. However, when communicating with vaccine-resistant employees, don't emphasize social responsibility. This can be ineffective in reducing mask and vaccine hesitancy.
Focus instead on values that these employees can better relate to, such as the need to continue providing for their families during a time of uncertainty. Move the focus away from the a change they dislike and toward going back to "the way things used to be."
At the same time, don't make the mistake of focusing communication on employees who are mask or vaccine-resistant. For employees who are vaccinated and/or are willing to wear masks, this is another opportunity to convey your organization's values and remind them why you are a good match.
Multimodal Approach
In addition to the question of what to communicate, there's also the how. As much as possible, use a multimodal approach: written communication, asynchronous video, visual infographics, and even things like an internal company podcast.
People have different ways and preferences of processing information. Cover your bases. Get individuals in the organization, at different levels, to share feelings and experiences.
This puts a human face on this period of frustration and uncertainty. Affirming this shared humanity at every opportunity will go a long way toward boosting morale, resilience and retention during this frustrating time.
Dustin York is an associate professor of communication at Maryville University