The news in February that Jimmy Kimmel Live! is the only late night show to grow in viewership this season from last season could be attested to Kimmel's younger, hip audience. But much of Kimmel's success is due to the show's YouTube channel, which is estimated to produce advertising revenue of $1 million to $2 million a year, thanks to an audience ravenous for comedy bits from the show.
Of course, deriving any direct revenue from a YouTube channel is a dream for most. But analyzing innovation within the video space and bringing new strategies and techniques onto your own YouTube channel is within reach for every PR pro. Surprisingly, the root of this innovation doesn't come from brands. According to Arik Abel, VP of digital services at PR/advertising agency French/West/Vaughan, based in Raleigh, N.C., the real innovation often comes from the lone individual experimenting with video to create breakthrough success. "It's some person in Boise figuring out how he could use the YouTube Annotations feature to make a better video, "says Abel.
VIDEO THE ANCHOR
In turn, brands are using these innovations for their own videos and channels. And make no mistake, the video format is becoming the anchor for brand stories, says Dirk Shaw, SVP of Social@Ogilvy in Denver. "It's storytelling for the next generation—content that is easily consumable and shared, thanks in large part to mobile and tablet usage," says Shaw. And YouTube has made it easier for brands to tell their stories to big audiences. Looking to drive revenue, YouTube is featuring more brand videos on its home page and less "Charlie Bit His Finger" home-produced creations.
So what is working today for brands on YouTube? Organizations that provide a rich experience for viewers—meaning interactions with the brand and their friends and family—get the most return from their video efforts, says Abel. To lure the viewer into such a world, bigger brands are pulling out all the stops with flash mobs, trick videography, and "choose your own adventure" (see "a hunter shoots a bear") techniques. But simpler tactics work too, like the "How To" video, says Shaw. "There's a guy who made a video on how to tie a tie," he says. "It's gotten hundreds of thousands of views."
The How To is the forte of BodyGuardz, a company that makes protective covers for mobile devices. "Our videos are nothing fancy," says Whitney Feller, the company's online marketing manager. Yet a stable of them have garnered thousands of views each on YouTube. Less informational and more brand awareness-focused is the official BodyGuardz YouTube channel, which currently features a "BodyGuardz vs." series—placing the BodyGuardz product on the bottom of a skateboard and putting it through the paces at a skateboard park, for example.
Just like Shaw says, YouTube is the major content hub for BodyGuardz. Feller goes to great lengths to drive people to their YouTube videos, putting links on Twitter, blogs and in their e-mails to customers. "We just sent out an e-mail focused just on our YouTube channel," she says. The YouTube URL is also on all product packaging, to take consumers to those How To's.
Here's four Video/YouTube trends from Shaw to ponder:
• YouTube as TV Destination: YouTube ultimately doesn't want to be a cable provider, it wants to be your TV, with a laid-back viewing experience. That's why Disney is developing content specifically for YouTube (see "Disney Memories").
• Snack-able Content: Videos that are one-minute or less in length.
• Searchable Content: YouTube has become a place for search and discovery, says Shaw. Take advantage of this with keyword research and other SEO tactics.
• Sociable Experience: YouTube integrates with Google+, allowing a group to watch a YouTube video via Google+ Hangout.
And for smaller organizations, production value still isn't an important part of a good video. "It's taking a strategic approach to creating content with value for a very specific audience," says Abel. Then, he continues, taking advantage of YouTube as the supreme search and sharing engine. PRN
[For more content about digital PR, visit PR News' Subscriber Resource Center.]
Innovative, Engaging Videos to Watch
If you're looking to boost your return on video/YouTube efforts, Arik Abel, VP of digital services at French/West/Vaughn, offers commentary on three compelling videos that push the innovation envelope.

Video: "Disney Memories" (www.youtube.com/user/DisneyMemories)
Innovation: The focus on the shared experiences of their audience—families who want to have fun together. It only takes a fraction of a second to realize this YouTube channel is a place for me to upload videos from Disney, and watch videos from other people that have uploaded them here. The channel is elegantly simple.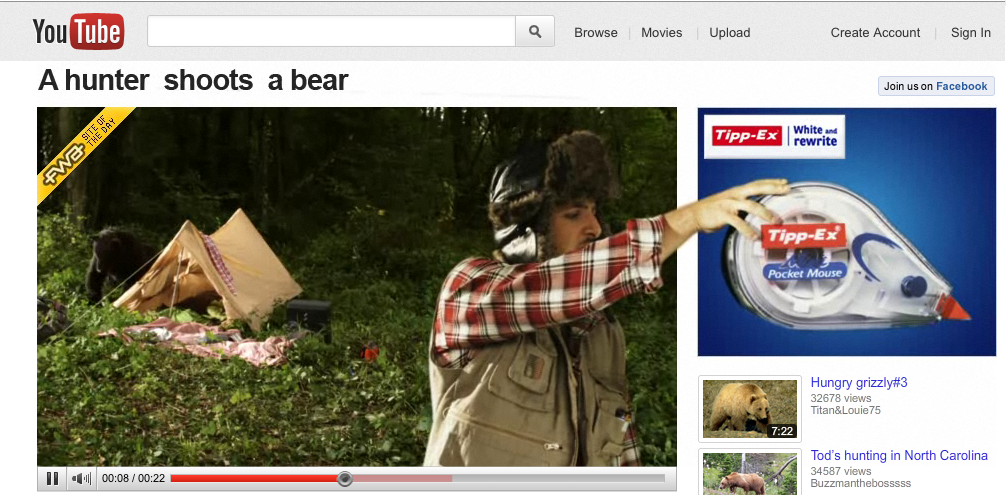 Video: "A hunter shoots a bear" (www.youtube.com/user/tippexperience)
Innovation: The viewer is tricked by the breaking of the "fourth wall" of YouTube, and then, in a masterful conclusion, the video lets the viewer control a seemingly endless series of video possibilities in a "Choose Your Own Adventure" game of "type in what you want to see."
Video: "Google Search Stories" (www.youtube.com/user/SearchStories)
Innovation: Google pulled off the amazing feat of capturing real emotion from something so seemingly sterile and functional: a search engine. Google followed up with a user-generated search story tool on YouTube, giving viewers the chance to simply and creatively launch their own search stories into the world.
CONTACT:
Arik Abel, arik.abel@gmail.com; Dirk Shaw, Dirk Shaw dirk.shaw@ogilvy.com; Whitney Feller, wfeller@bodyguardz.com.
Follow Scott Van Camp: @Svancamp01