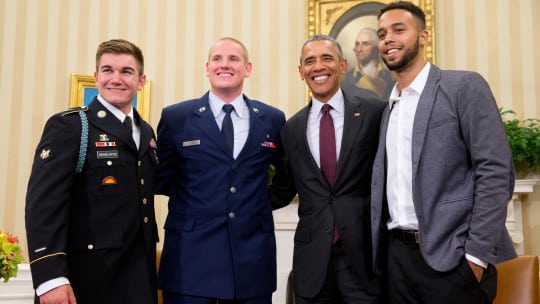 Remaining on message, acting with integrity and creating a corporate culture where every employee feels confident enough to speak up about issues that could lead to crises were some of the lessons learned from a case study discussed by PR and communications pros from the defense and private sectors April 27, 2016, during the National Summit on Strategic Communications.
Joining the main subjects of the case study were Ray Kerins, Bayer SVP, head of communications, and W2O Group president Bob Pearson.
U.S. Air Force staff sergeant Spencer Stone, now 24, was one of three Americans who thwarted a terrorist attack aboard a French high-speed train en route to Paris in August 2015. Stone's boyhood friends National Guard member Alek Skarlatos and college student Anthony Sadler were the other two. Stone, a medic, was viciously cut on his neck, ribs and hand as he helped thwart the attacker, who had several guns and box cutters. Despite his injuries, Stone helped save the life of a wounded passenger by applying pressure to the man's carotid artery for more than 30 minutes. Stone, Skarlatos and Sadler received the Legion of Honour, France's highest medal. President Obama honored them, too.
Once their story circulated around the world, the three young men were inundated with interview requests. Skarlatos and Sadler got publicists to help with the onslaught. The Air Force approached Stone with an idea to build its brand and raise morale by telling Stone's story to Air Force members, potential recruits, veterans and the general public. Lt. Col. Glen Roberts, director, Air Force Entertainment Liaison Office, was assigned to pitch the idea to Stone. "At first I didn't want to do this…I just wanted to go back to work." But Roberts sold him by "painting the bigger picture," that he could do something positive for the Air Force. Eventually Roberts was assigned to shepherd Stone through the publicity maze and later a seven-state, 60-city tour, including countless media interviews and appearances.
Stone relied on Roberts' knowledge of the media. Roberts didn't sugarcoat his assessments of Stone's performances. Bayer's Kerins said such honesty is crucial to PR success. "Surrounding yourself with [PR] people you can trust is different from surrounding yourself with those who will tell you what you want to hear," he said. "Unfortunately, [many executives] surround themselves with" the latter.
We Want Him Now: As the two jumped into the media abyss they discovered "everything was uploaded… The Today Show, Good Morning America, CBS, CNN…they all wanted him immediately…'If we can't get him this week we don't want him,' was the refrain," Roberts said. A longtime communicator, even Roberts was surprised by this "fierce competition." Roberts was able to temper some of those demands by providing Stone and the Air Force Secretary to the morning shows. Still, with a 15-minutes-of-fame subject, immediacy was the rule. "[Stone] had 30 requests to throw out the opening pitch" from baseball teams. Yet with the baseball season nearly over, they, too, were ASAP, Roberts said.
Roberts quickly realized that "every decision you make" to do an interview or an appearance or pass on one, "you create a winner and a loser." So each of those decisions was carefully considered, he said. "You have to do your research." He credited the Pentagon for excellent research support.
Stand Back: Staying on message was another issue. With Stone's fame came perks and monumental swag. Jimmy Kimmel presented Stone with a Camaro, for example. "With all that, it's easy to get off message," Pearson said. Roberts kept Stone grounded by emphasizing talking points about his message: "You can't go wrong doing the right thing." Yet Roberts admitted one of the lessons he learned was to avoid over-managing his star client. "The product [Stone] sold itself…[Stone] was mobbed everywhere…celebrities wanted to meet him," including star athletes and filmmaker Steven Spielberg, who sheepishly asked for a photo with Stone. "I just stepped back," Roberts said.
The hero's reception Stone received was in stark contrast to most corporate brand scenarios. Corporations often are seen as bad actors. To counter this, brands need to talk "with the outside world" about their culture and what they stand for…not just [financial] numbers," Kerins said. Indeed, Bayer now is #36 on the Reputation Institute's new list of most reputable brands after not being on the list in 2014.
Crisis Lessons: Taking other PR lessons from Stone's story, Kerins praised Stone's willingness to take action instead of allowing a problem to fester. Kerins noted in corporate settings sometimes when an employee spots a problem "your boss tells you to keep quiet," so it can develop into a crisis. "Communications' job is to stop things before they become a crisis," he said. Why do so many companies allow small issues to become crises? he asked rhetorically. First, some CEOs don't want to see problems. Second, CEOs may be too distracted by other things to spot a crisis forming. "That's why you need a team watching" and why a culture where every employee is watching is important ( PRN, April 18).
Pearson also praised Stone for acting. "That train was like a company. There were a lot of people on it who did nothing. You decided to make a difference. People who want to resolve issues, those are who you want in a crisis."
CONTACT: glen.roberts.1@us.af.mil bpearson@w2ogroup.com ray.kerins@bayer.com