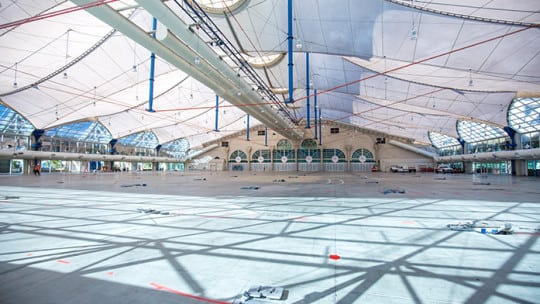 As communicators, marketers and PR pros, there isn't much we haven't been tasked to do. Whether it's providing support to launch a product, prepping the CEO for an on-camera interview or organizing a press conference, every day brings us various professional challenges.
While each assignment is important, not every one of them can be described as glamorous. For example, what happens when you're asked to spend 24 months communicating infrastructure upgrades on a nearly 30-year-old venue? That's the challenge our team faced.
After the San Diego Convention Center secured a $25.5 million loan for a series of upgrades and renovations, we began thinking about creating compelling messages about escalators, elevators and chillers. (What's a chiller, I asked? It keeps temperatures comfortable in a facility that draws nearly 900,000 attendees annually.)
The highest-profile project during the 24 months of renovations would focus on the iconic Sails Pavilion, whose white Teflon fabric roof is an integral part of the San Diego skyline. This portion of the convention center received a $10.5 million makeover inside and out, from the roof to the concrete flooring.
The challenge, of course, is crafting an engaging story about infrastructure improvements. And, in our case, doing it on a modest budget. The tactics below were accomplished with a small team—I have a staff of four—and a budget of less than $1,000.
I decided to listen to the advice of a PR colleague who said the best thing you can do is try something new. This entire effort has been organic and grassroots, because we didn't really have a "campaign" per se, but we had creativity, innovative ideas and passion to tell a good story.
Our tactics are below:
Create a Microsite
Our first tactic was to use a microsite, housed on our main website, to keep the public and our stakeholders aware of the major Capital Improvement Projects.
The microsite helped my team and our organization meet the following goals:
Communicate the importance of renovations to a facility that plays a key role in the region's economy
Uphold the transparency expected by a nonprofit under the jurisdictions of the City of San Diego and Port of San Diego
Produce creative communications and PR tactics
The microsite became a daily effort. For example, extensive photography was required. After photos were taken they needed to be catalogued and dated. In addition, project information on the site needed to be kept current.
The effort paid off. Analytics show the site's visitors include not only bloggers from our biggest convention, San Diego Comic-Con International, who take a unique interest in the building's upgrades, but also local media, generating front-page stories.
Do What We Do Best: Video & Photos
What's the best way to tell any story? We've long believed the answer is through visuals. Our goal was to try creative approaches. We have generated high-res photos and videos of each project from beginning to end.
As I mentioned earlier, the most visible project was our Sails Pavilion renovation. We produced videos featuring our board chair and CEO sharing each benchmark (see below). Combined with time-lapse images, the videos resulted in high organic reach and shares, far beyond what our team expected. A tip: Invest in a Go-Pro camera and time-lapse photography. As I noted above, the cost for the camera and editing software was less than $1,000.
In addition, we used photos taken during the projects to supplement our other social media pages including Instagram and Facebook.
BLOG, BLOG, BLOG!
I created an editorial calendar for content, allowing us to pre-plan story ideas. This includes designing infographics containing fun facts about the projects, storyboarding videos and interviewing key staff involved in the projects. From there, it was simple to create compelling content for our blog.
[Editor's Note: PR News named The Convention Center Blog a "Best Non-Profit Blog" in 2017.]
Barbara Moreno is executive director of communications, San Diego Convention Center Corporation. PR News named her a Top Woman in PR earlier this year.