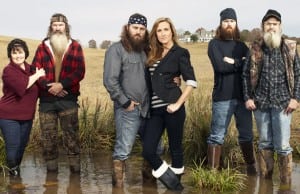 You Star Trek nerds will recall the no-win "Kobayashi Maru" test that the young James T. Kirk faced in his Starfleet training (first mentioned in "Star Trek II: The Wrath of Khan," for non-nerds who might care about the source material). A&E now faces its own Kobayashi Maru test, as it attempts to manage the media crisis sparked by comments made by "Duck Dynasty" star Phil Robertson in a recent interview with GQ.
Responding to a question from GQ regarding behavior he considers sinful, Robertson said, among other things, "Start with homosexual behavior and just morph out from there. Bestiality, sleeping around with this woman and that woman and that woman and those men."
In response, A&E this week suspended Robertson from future productions of its hit show, "Duck Dynasty." In the meantime, the network will show new episodes featuring Robertson that are already in the can.
A&E is now getting heat and boycott threats from all sides—from gay rights organization GLAAD to, as The New York Times reported, religious and conservative groups and individuals who feel that Robertson has been muzzled merely for expressing his personal and religious beliefs.
It's a classic no-win crisis situation, particularly when you take into account that "Duck Dynasty" is A&E's bread and butter. PR News reached out to a few crisis management experts to get their take on this Kobayashi Maru scenario.
Jim Lukaszewski, president of The Lukaszewski Group and author of "Lukaszewski on Crisis Communication: What Your CEO Needs to Know About Reputation Risk and Crisis Management" (Rothstein Associates Inc.): They're waiting to see what the polls say. If they're bad, they'll drop the show, if not, they'll leave it on. Identifying the victims in the controversy—whether that is based on religious beliefs or sexual orientation—is the biggest problem now facing the cable network...You can't buy this visibility. This is what cable shows do: build audiences irrespective of the content, controversy or contention.
David Johnson, CEO of Strategic Vision: Bringing Robertson back will draw attacks from those who were offended by his remarks. They will need to reiterate that while they do not support his remarks and have gone on record for doing so, he has a First Amendment right to make them...They will reinstate him and let the marketplace decide, and further decisions on the show will be based upon ratings. Finally, they should address the issue in an episode of "Duck Dynasty." A key learning point from this is that during a crisis like this in which social media is aflame and people's passions are aroused...the corporation needs a public face out there explaining in detail why they made the decision they made.
Steven Fink, president of Lexicon Communications Corp. and author of "Crisis Communications: The Definitive Guide to Managing The Message" (McGraw-Hill Education): My advice to A&E: Cut your losses; cancel the show and put on some quality programming.
Follow Steve Goldstein: @SGoldsteinAI