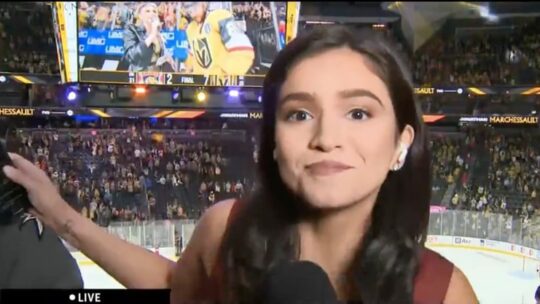 "Get the [heck] out of my face when I'm working…."
That's what CBS Miami sports reporter Samantha Rivera told the world after she now-famously stiff-armed a sports fan who tried to shove his way into her video report about the Stanley Cup. Over 12 million people have watched her keep stride as she stayed on message, went with the flow, and did her job.
The clip is only a few seconds long, but it showcases several important principles that PR pros should pass onto client and employer spokespeople to avoid having a narrative hijacked.
Know Your Message
Rivera was reporting on the NHL's Florida Panthers' game 2 loss to the Vegas Golden Knights. She was in the middle of describing the outcome as "less than ideal" for the Panthers when a rowdy fan tried to push his way in front of the camera. After shoving him back for two seconds, she went straight into the evening's highlights.
Knowing her message—the outcome of the game and the highlights—allowed Rivera to keep delivering it despite someone physically accosting her. She briefly looked at notes, but that's part of knowing your message—having resources ready in case you get thrown off track.
Practice Delivering the Message
Rivera hadn't specifically practiced delivering a live TV report from Las Vegas about a game 2 Stanley Cup Panthers' loss to the Golden Knights. But she's been in the press since 2016, and she's been a sports reporter and/or anchor for almost five years, according to her LinkedIn profile. She's practiced hundreds or thousands of variations on the message she delivered the other night.
It's hard enough for some people to do any public speaking. Practice makes perfect under normal circumstances, and it prepares a spokesperson for being thrown off course by an unfriendly question or hostile audience reactions during press conferences, interviews and extemporaneous questions in a crowd.
Be Prepared for the Unexpected
Practice is more than just memorizing a rote speech. You also have to be ready for the unexpected. One way to do that is what District Media Group President Beverly Hallberg, a TV training specialist, calls "blocking and bridging"—a way of controlling an interview without dodging by briefly acknowledging an interviewer's question before quickly pivoting to a preferred narrative, talking point, or conclusion.
Rivera literally blocked, and didn't need to bridge, because she was somehow ready to shove someone with her arm, keep her eye on the camera, and keep her balance and poise throughout the entire event. Presidential candidates on the campaign trail could learn from Rivera!
Stand Your Ground
Rivera stood her ground physically in the moment and digitally on Twitter. She probably has critics, haters, and even crude "supporters" online, but she knows that she was in the right. The digital world means that you're always going to have haters, so you can let them hijack your attention and narrative—just keep plowing forward.
Hijacking Can Happen Anywhere, Anytime
Narratives are always at risk of being hijacked, and not always on purpose. Rivera kept her balance and poise when a dog almost tripped her on-camera in 2021, and just before the stiff-arm last week she had told viewers about the "very loud crowd" at the arena.
"There can be many distractions when one is on-camera live," Hallberg told me. "From people walking by on location to a bright light or police cars with sirens blaring, you can't let any of these things take you off course. Interviewees must hone critical, basic skills like maintaining eye contact, poise, and a conversational flow regardless of chaotic surroundings."
Dustin Siggins is founder of Proven Media Solutions