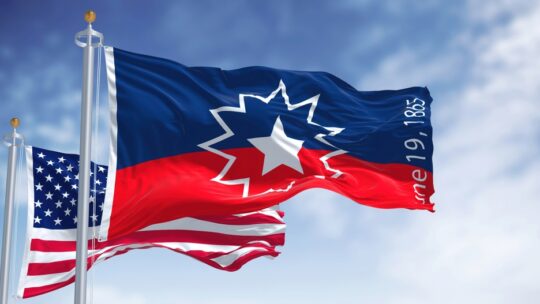 In May 2020, the murder of George Floyd catalyzed a societal reckoning that broadened awareness surrounding the treatment and culture of Black Americans. Part of that cultural uprising included a renewed interest for all Americans of Juneteenth. 
Then, communicators played a large role in explaining and delivering that information to the public. This continues three years later. However, as with any historical shift, mistakes in representation and messaging can be made. Continual education about culture can help with this. 
"Juneteenth is one of those holidays that has huge historical significance, but is not widely known or understood," says Neil Foote, President and CEO of Foote Communications and Director of the National Black Public Relations Society Board of Directors. "As communicators, we can use this opportunity to discuss how this holiday represents a pivotal moment in this nation's history and its efforts to create a more equitable Union."
According to History.com: "Juneteenth (short for "June Nineteenth") marks the day when federal troops arrived in Galveston, Texas in 1865 to take control of the state and ensure that all enslaved people be freed. The troops' arrival came a full two and a half years after the signing of the Emancipation Proclamation. Juneteenth honors the end to slavery in the United States and is considered the longest-running African American holiday. On June 17, 2021, it officially became a federal holiday."
PRNEWS, with help from PR and DEI experts, put together a list of do's and don'ts for organizations to acknowledge the holiday. 
Do: Utilize Context
Data allows communicators the ability to learn many things about audiences—demographics, income, hobbies, spending habits, etc. However, it takes extensive research to understand how much an audience—within all of its demographics and locales—knows about a certain topic. 
So, never assume your audience understands everything about a certain cultural moment. 
"Like any history lesson, it's critically important to put it into context," Foote says. "We need to clearly explain what was going on in the country, and why celebrating this day now pays homage to those who fought, lived and died for freedoms for all Americans." 
Do: Encourage Discourse and Learning
The more knowledgeable someone is on a subject, the better they can understand it, making the person a clearer communicator.
Dwayna Haley, Founder & CEO, Haley Communications Group, says a good way to commemorate Juneteenth is through internal, inclusive staff education. 
"A corporate decision to honor Juneteenth is an important signal of belonging to the Black employees in your organization," Haley says. "A few respectful ways to commemorate the moment include offering all staff courageous conversations facilitated by an expert, providing a reference guide to team leads to facilitate their own small group conversations or bringing in a facilitator to educate all about the history and importance of Juneteenth. Local higher education institutions can also be a great resource to guide your thinking."
Do: Identify Purpose for Events
While most people enjoy a company get together with free food or drink and camaraderie, it's important to acknowledge the cause for celebration when it comes to Juneteenth and that it be done tastefully.
"If celebrating via employee happy hours or mixers, do so with purpose-driven intent," Haley says. "Leaders should also tread very carefully with leveraging Juneteenth-branded décor for celebrations (e.g. cups, napkins, signage, etc.). It's a slippery slope most likely to landslide into corporate reputation issues or employer brand erosion based on today's hyper-vocal, digital-first employee."
Foote agrees and mentions that context must be provided if participating in or promoting the events of clients for Juneteenth.
"We want to avoid solely focusing on just the marches or walks that might take place on Juneteenth, but why these events are an effort to engage and educate our communities about the importance of freedom and equal rights in this country—something that many countries around the world lack," Foote says.
Furthermore, says Natasha O'Dell Archer, global executive vie president of DEI at Golin, "If you are going to commission a product or event to go to market, try to utilize diverse vendors and suppliers that represent the profoundly diverse market in which we all do business."
Don't: Commercialize Juneteenth
Who can forget Walmart's 2022 Juneteenth ice cream debacle? Walmart ended up apologizing for the ill-designed commemoration. When it comes to a delicate holiday, it's best to stay out of the commerce lane. 
"I highly recommend avoiding any desire or plans to commercialize Juneteenth," Haley says. "Just say 'no' to all sales, promotions, gimmicks or pun-filled social posts. This is a moment to commemorate, celebrate and honor, not appropriate."
Archer agrees. "Do not use Juneteenth as the one day of the year to celebrate Black people and Black culture. Do not place the burden of education on Black people. Use the day as a time to self-educate on allyship, appreciate Black culture and take time to understand the history of structural racism and how it impacts our present day lives as a society."
Maybe: Say 'Happy Juneteenth"
Holidays mean different things to everyone, and depending on knowledge base and background, Juneteenth can mean very different things to different people. While it's encouraged to acknowledge a feat like ending slavery, it may also bring pain to some who feel you may not understand where they are coming from. 
"These cultural moments really come down to trust and relationship," Haley says. "Would I recommend throwing out "Happy Juneteenth" to a stranger or someone you don't engage with often? No. Doing so can land a million different ways and people get weird quick. For someone with whom you've built rapport, they'd likely very much appreciate the kind acknowledgement and intent. AND, that relationship should afford comfort for them to let you know if it's not their thing to receive acknowledgement in that way."
Haley notes that acknowledging the commemoration of the end of slavery can be a very loaded subject. 
"Add to it the subjectivity of performative and the complexity of 'triggering' … it's certainly a field of landmines," she says. "But again, established trust and relationships are the best foundations to stand on."
Juneteenth is a time to celebrate the progress that has been made in the fight for racial justice, but it is also a time to acknowledge the work that still needs to be done. By following these dos and don'ts, you can help to ensure that Juneteenth is a meaningful and respectful celebration for everyone.
Nicole Schuman is senior editor for PRNEWS. Follow her @buffalogal