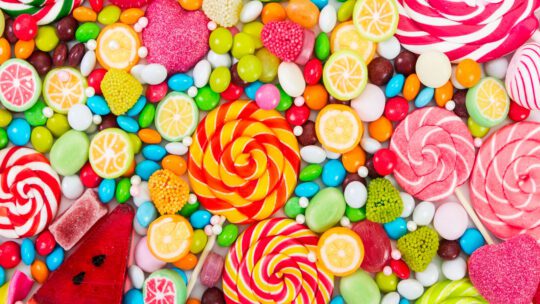 [Editor's Note: With the school year ending, it makes sense that June is National Candy Month, bridging the candy gap between Easter and Halloween. Yet the candy business is much more than child's play. Indeed, during our Q&A with Carly Schildhaus, senior manager of public affairs, National Confectioners Association (NCA), she emphasized the group's data-driven approach to communication.  In addition, while NCA's 25th annual Snacks & Sweets Expo, held late last month in Chicago, featured 4.5 acres of candy, she touts the business its 700 exhibitors and 16,000 attendees did. Not to worry, she spilled the candy in response to our final question, as you will see below.
However, before that she discusses how NCA's media relations' pros took an offbeat pitching path during the pandemic. While there was a plethora of stories about the awful situation, NCA pitched a slightly upbeat story. It centered on how locked-down Americans embraced chocolate and candy, easing some of their anxiety.
On the other hand, the candy industry, like many others, faced pandemic hurdles. Fortunately, media relations intervened, helping save Halloween 2020 from cancellation.
Her responses were lightly edited for space and clarity.]
PRNEWS: Unlike many other industries that experienced decline during the pandemic, chocolate and some other candy categories saw tremendous sales growth. Did that growth in the midst of decline elsewhere change your pitching tactics?
Carly Schildhaus: Yes. The resilience of the chocolate and candy category during the pandemic was precisely why it was such an appealing story for media outlets, especially in the context of the environment we've been in for more than two years.
Chocolate and candy are, and remain, an affordable treat, with options for every taste preference, every budget and every occasion. In a similar way to how chocolate and candy can lift your spirits and brighten your mood, a news story covering a candy moment or the confectionery industry can lift viewership and increase engagement for any newscast.
John Downs at #SOTIC22: "Some call it future nostalgia; we prefer the term newstalgia. It's the idea that we crave familiar, comfortable things that are also new and fresh and innovative. A lot of industries are just discovering it. The chocolate and candy industry invented it!" pic.twitter.com/HLU7UghhRV

— National Confectioners Association (@CandyUSA) March 14, 2022
PRNEWS: Tell us about a victory you've had in the communication space?
Schildhaus: During the 2020 Halloween season, our industry faced a unique challenge. People were questioning whether we would be able to celebrate Halloween, which extended beyond individuals making choices for their families and into public officials making declarations.
We worked to share the message that Halloween could be celebrated safely and creatively–and in most cases, without sacrificing longstanding traditions.
PRNEWS: What did you do?
Schildhaus: Our work included an extensive media-pitching effort that spanned the country, rapid response on social media, engagement of thought leaders in a range of influence spheres, development of external resources and much more. Soon enough, the conversation shifted from if we could celebrate Halloween to how we could celebrate Halloween.
PRNEWS: What's something that you do as a communicator for NCA that might surprise our readers?
Schildhaus: We take a data-driven approach to all of our communication, and activate integrated 360-degree campaigns at key candy moments–we actually call this strategic enabler the Candy360 model of communication.
It's important to us that we work closely with our colleagues across disciplines within the association and at the companies and brands in a way that engages all of our key stakeholder audiences efficiently and effectively.
At every opportunity, we share our message with everyone from nutrition professionals to members of Congress to our retail partners so they can see the work we're doing and understand our message–and tailor it to both the audience and the moment we're promoting.
PRNEWS: You've just returned from the 25th annual Sweets & Snacks Expo, in Chicago. Besides being educational and great places for networking, trade shows are known for show floor giveaways. Was it like Halloween for attendees at Expo?  What were some of the fun and creative things you saw?

Schildhaus: We were thrilled to celebrate 25 years of the Sweets & Snacks Expo in person with our entire industry–and of course, sample the newest and most innovative treats coming to market!
PRNEWS: But there's a serious side.
Schildhaus: Yes. This is a business-to-business show where retailers meet with manufacturers to do the majority of their purchasing for the year, with innovative new products and flavor trends on full display at the show before they hit store shelves.
PRNEWS: What product trends will we see?
Schildhaus: Big trends consumers can expect to see this coming year are extreme flavors (think: hot, sour, etc.), s'mores-flavor-inspired treats, nostalgic favorites reimagined in new forms and  manufacturers' continued focus on offering products in a range of package-size options.
PRNEWS: Again, on Expo, we see the show includes speakers we'd expect, ie, from Hershey, See's Candies, Mars Wrigley, Bazooka and Mondelēz. But you also had the global head of business marketing at TikTok speaking about the so-called 3rd shelf. We assume social media is top-of-mind for many attendees.
As a communicator, what were some social media trends you saw from members during Expo? And tell us about NCA's social media approach. 
Schildhaus: You couldn't ask for better social media content than at the Sweets & Snacks Expo. Innovation and creativity were brought to life in big, over-the-top ways.
First, the scale is tremendous, vibrant and photo- and video-friendly. Consumers love our category and we have recognizable products, which allows us to engage in a fun way. Our brands do a great job of engaging consumers–sometimes through entire campaigns on social media; other times, they'll tie a social media campaign into a real-world activation.
At Sweets & Snacks, we saw some dedicated spaces for creating social content–and NCA even had an Instagram space, just outside of the show floor.
I'd be remiss if I didn't mention that we are proud of what we have built [on social] in terms of a solid reputation as a trusted source for our key stakeholder audiences, including consumers.
PRNEWS: It's a mix of fun and serious material.
Schildhaus: Yes. We combine the fun and unique nature of the products, brands and companies with important information about the category, which results in an entertaining and educational follow on our social channels.
What does the future taste like? VP of Marketing Kelli Heinz and Senior Director of Marketing David Banks are live today on @SWEETSandSNACKS' Innovation Stage from 11:30 AM - 12:20 PM, sharing tasting of flavors of the future ✨ #SweetsAndSnacks #Flavor #Trends

— Bell Flavors & Fragrances (@BellFandF) May 25, 2022
PRNEWS: June is National Candy Month. From a communication point of view, why is it important? It's not like candy and snacks are out of mind much. Halloween, Thanksgiving, Christmas and Valentine's Day are heavily associated with candy. Is a fifth tentpole needed? What are the Association's goals for the month, and how does communication support them?
Schildhaus: We like to call those special times throughout the year candy moments–the seasons and holidays when people are thinking about confectionery a bit more because chocolate and candy have become such a meaningful part of the sharing and gifting associated with those traditions.
National Candy Month has really taken off in the past few years–it started as a small advocacy effort spearheaded by NCA and has ballooned into a much larger consumer-facing initiative for the entire industry, including a new engagement this summer with a major Midwest retailer across their stores.
Another key piece of our communication effort is NationalCandyMonth.com, which offers consumer resources and content related to this up-and-coming candy moment.
PRNEWS: Let's get to the fun stuff. Looking at your site we see serious content addressing candy's ingredients, but also humorous touches around your staff. Prior to COVID, what was your office in Washington, DC, like? I recall you have a candy room, right?
Schildhaus: It's fair to say that we have the sweetest office in Washington, D.C. You're right that we have a candy room–we keep it stocked with treats from our member companies. Beyond the candy room, the rest of the office is filled with Instagram-worthy decor: plenty of neon signage, dresses made from candy wrappers and a gummy bear chandelier (my personal favorite piece)!
That said, as a staff we define what it means to be flexible and nimble–and we've been able to drive and deliver impressive results, even while working from remote locations outside of our fun and unique HQ.