Co-Winner: NYU Langone Medical Center Responds to Unprecedented Natural Disaster in NYC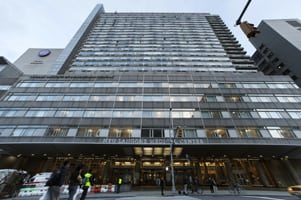 Hurricane Sandy was an example of a situation where communications were essential to help maintain the reputation of the NYU Langone Medical Center, a world-class medical center, during an unprecedented crisis situation in New York City. The center needed to provide timely updates to internal and external audiences; assure the public that executive leadership was deeply involved in evacuation & recovery; protect the medical center's world-class reputation in clinical care, research, and education; promote the excellent work of those critical in safely evacuating patients and the hospital's reopening; and make the community aware of phased reopening and that the medical center was back in business.
The hurricane presented numerous challenges, including misinformation, a negative tone in media coverage, and the loss of basic utilities and lack of public transportation that prevented many team members from effectively performing their duties.
Internal and external communications strategies were geared to key audiences: media, patients, physicians and staff, students, researchers, and trustees. Three to five communications staff members remained on-site prior to and throughout the duration of the storm and the remainder of the week. During the recovery period, the communications team successfully divided into two groups: proactive media and crisis media. The situation was continually reassessed as it unfolded and the communications strategy was adjusted accordingly.
The team was successful in proving updates to internal and external audiences. Dean Grossman's interview with CBS the night of the evacuation restored confidence among our community that senior leadership was on-site, leading the evacuation, and that the medical center's main priority was the care of its patients. Via strategic interviews and consistent messaging, rumors were dispelled and the medical center's reputation was protected.
Co-Winner: The Heart Rhythm Society and BRG COMMUNICATIONS: Arrest the Risk: Raising Awareness of Sudden Cardiac Arrest in African Americans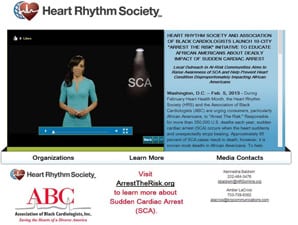 Research has shown that a large percentage of high-risk patients are not aware of sudden cardiac arrest (SCA), and are not receiving lifesaving treatments, resulting in greater mortality rates. In addition, there are significant gaps in communication regarding SCA among African-Americans and the physicians who treat them. The Heart Rhythm Society and BRG Communications sought to generate visibility around SCA including risk factors and recommended treatments, particularly among African-American audiences; drive at-risk consumers to visit www.ArrestTheRisk.org; engage at-risk communities to build dialogue around SCA and share valuable information about risk and treatments; and drive patient referrals to cardiac electrophysiologists to properly evaluate risks and available treatments.
The program engaged key physicians and medical institutions to deliver campaign messages to African American audiences; created campaign materials including consumer and physician fact sheets, created and launched a campaign website, www.ArrestTheRisk.org, to provide resources for consumers as well as a separate online media resource site with downloadable PSAs and other media materials, pitched top-tier African American media outlets and developed a national media launch including national press release, satellite media tour and long-lead media tour targeted toward women's and healthcare outlets.
The media outreach for this campaign resulted in more than 6,600 placements and more than 340 million media impressions, including more 60 million viewing the TV PSA. The campaign was particularly successful in reaching audiences through top-tier African American media outlets. More than 6,700 people went online to the website to learn more about SCA and download campaign materials, including a personal risk assessment. HRS partnered with the Association of Black Cardiologists to conduct grassroots outreach in 10 markets including Nashville, TN; Jackson, MS; New Orleans, Atlanta, Oakland, CA; Detroit, Chicago, Dallas, Washington, D.C. and Baltimore.
Honorable Mentions:
Coyne Public Relations  - Breastcancer.org: Stepping Up and Stepping Out
Global Strategy Group  - Scouts for Equality: The Campaign to End Discrimination Against Gay Scouts
Nasher Sculpter Center - Nasher Xchange
PadillaCRT and the American Physical Therapy Association - Top 10 Fittest Baby Boomer Cities
Pollock Communications - ASH and Hypertension Research Awareness Campaign
Scott Circle Communications  - 2013 Castleton Festival Media Campaign