Winner: Airlines for America – Don't Ground America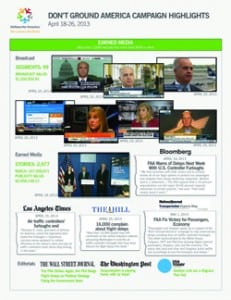 It was shaping up as the mother of all delays: The Federal Aviation Administration last April notifying Airlines for America (A4A) and airline carriers that furloughs of air traffic controllers were about to begin and that airlines should plan accordingly. With a little more than a week to prepare Airlines for America launched a public affairs campaign, "Don't Ground America," designed to get the message out about stopping unnecessary flight delays resulting from air traffic control furloughs.
The PR effort featured a microsite enabling passengers to apply pressure to Congress, the White House, the FAA and Department of Transportation via personalized messages, while a press conference, at the National Press Club in Washington, D.C., attracted 40 reporters. The campaign also engaged airline carriers to warn customers about the furloughs beforehand and encourage them to take action at the gates. It also distributed emails urging airline employees to support the campaign and participate in media interviews. A4A executives played an important role, as well, conducting interviews with ABC, CBS, CNBC NBC and Fox, among other national media outlets. Combined with a lobbying endeavor, the campaign was victorious: President Obama in early May signed legislation into law to effectively end the furloughs. The communications campaign garnered nearly 89,000 site visits in eight days, with about a quarter of visitors sending opposition letters to Washington.
Honorable Mentions:
NYU Langone Medical Center Responds to Unprecedented Natural Disaster in NYC
World Vision – Superstorm Sandy