Winner: Health Partners Plans - Doing It Right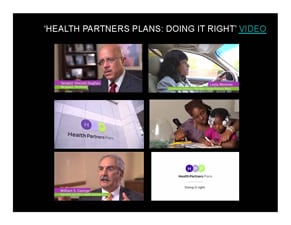 Health Partners, a 30-year-old nonprofit, managed care company, was eager to differentiate itself in the healthcare marketplace. In 2012 the company's medical plans included Health Partners (a Medicaid plan) and KidzPartners (which provides free or low-cost health insurance to uninsured children via Pennsylvania's Children's Health Insurance Program, or CHIP). The company was also about to introduce a Medicare option. The solution to bringing together all the various health plans? Rename and rebrand the company to better distinguish the entity as a "family" of plans. Working with Mangos, a Philadelphia-based branding agency, Health Partners conducted extensive research to gauge stakeholder satisfaction and perceptions about what the company represents. Informed by the objectives of the company and the research findings, a new name emerged: Health Partners Plans: Doing it Right.
The new name was kicked off with a launch event last summer, featuring the Grammy-award winning gospel duo, Mary Mary. Guests received branded hand fans and during the show and branded tote bags as they left for the evening. The launch event was followed by several moves designed to get the word about about the new name. These efforts included debuting HPP on Facebook, Twitter and Instagram, rolling out a newly branded website and distributing letters and emails announcing the name change. In addition, the employee relations program was designed to create new brand ambassadors among its 600 employees. The re-branding garnered solid returns. In just four months membership numbers across all HPP products went up while the KidzPartners CHIP plan became the fastest growing in the region. The new Medicare plan is now gaining traction at a rapid clip, a well.
Honorable Mentions:
LeadingThinkers/BFM Creative on behalf of Texas Torah Institute's 10th Anniversary Fundraising Video
Neathawk Dubuque & Packett  - It's the Time of Our Lives Rebranding Mountain Lake Lodge
Three Square Food Bank's Bag Childhood Hunger Campaign