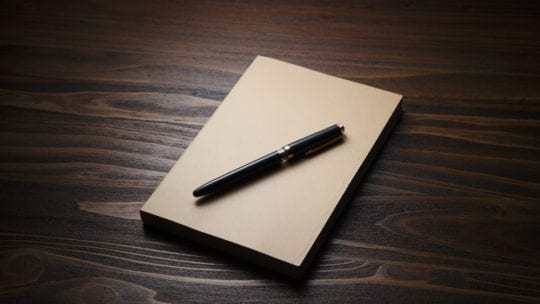 A professional bio is a bit like an auto club card, you may not need it very often, but when you do, you'll be really glad you have one. All professionals and business leaders, from athletes to CFOs to pediatricians to DJs, should have at their disposal a few well-written paragraphs recounting career accomplishments. A brief bio is indispensable for use in social media profiles, company websites, press releases, event programs, brochures, book jackets and more.
So as a PR and marketing copywriter, I'm continually amazed at how many people, even A-list actors and C-level executives, don't have up-to-date, cleanly written bios at their fingertips. And when I ask clients for their bios, to include them in press or marketing materials, they often respond with such a combination of guilt and dread you'd think I'd asked them to tell me their 401k account balance.
In reality, writing a good professional bio is nothing to be afraid of—as long as you avoid a few common pitfalls.

Writing in the First Person: Even if you're writing your own bio, take a page out of the Herman Cain/Bob Dole playbook and refer to yourself in the third person. Whoever the subject is, call them by their full name the first time you mention them and just their last name on subsequent references. (The one exception to this rule is social media profiles; the convention there is to be less formal and write in the first person).
Starting at the beginning: Like resumes, bios should generally start with the present and work backwards chronologically. The reason for this is simple: the purpose of a bio is to describe what sets the subject apart professionally. For most people, that's going to be the major accomplishments of their adult lives—not their formative years. Sure, Meryl Streep studied acting at Vassar. But so did lots of people. No one else has been nominated for 21 Oscars, though. That's why it's a good idea to begin with a summary statement that includes the subject's current position or occupation as well as their most significant recent accomplishment. Example: Robert Smith has served as president of XYZ Corp. since 2009. Over the past three years he has overseen the largest revenue growth in the company's history.
Padding: There's no need to add flowery language or extraneous information to make a bio longer. Three or four paragraphs are sufficient to describe the major milestones of most people's careers. And while some extremely accomplished people may need more than four, for someone relatively new to his or her profession or someone who has worked for the same company most of their lives, one or two may be enough.
TMI: Remember, it's called a professional bio for a reason. No one needs to know about the subject's childhood nickname, parents' occupations or favorite color. Save that for the memoir—or at least the Wikipedia entry. That said, it's fine to briefly mention a few personal details, such as college and graduate school degrees, charitable activities, hobbies, passions and family status in the last sentence or two. Example: Richardson is a past chairman of the Save the Snail Campaign. A graduate of Howard University, he is an avid skier. He lives with his wife and two children in Pittsburgh.
Lying: A bio should never include fabricated accomplishments, awards, titles or positions. Besides the obvious moral issue, false claims are easy to disprove in the digital age and the potential fallout from getting caught in a lie far outweighs any benefits of exaggerating one's achievements.
Hyperbole: Phrases to avoid: "the greatest actor of his generation," "the most innovative businessman of the past decade," "the most beloved author of all time"…you get the idea.
Modesty: At the same time, there's no reason to play down the subject's accomplishments. Remember to include professional awards, accolades, honorary degrees, titles, etc. And needless to say, never mention anything negative or unflattering.
Quotes: A short bio is not the place for personal statements about the subject's inspirations, life philosophy or artistic vision. Nor is it the place for review blurbs or client testimonials.
Humor: Avoid the temptation to be clever or jokey. Humor and irony rarely work in a professional bio. Unless you are a paid comedy writer or work in a creative field, keep your tongue out of your cheek and stick to the facts.
Avoid these mistakes and you'll never find yourself stranded by the side of the road wishing you had a better bio.
Andrew Hindes is president of Los Angeles-based PR and marketing copywriting firm The In-House Writer as well as a sought-after business writing coach and instructor. He can be reached at [email protected]. You can follow him on Twitter @inhousewriter.