Slightly more than half the consumer engagement on Facebook, Twitter and Instagram in June about the Supreme Court ruling striking down Roe v. Wade came from Instagram, according to Shareablee powered by Comscore.
Engagements, or actions, is the sum of likes, shares and comments.
In June, 53 percent of all consumer actions on social posts mentioning Roe vs. Wade, abortion or women's rights were found on Instagram. That compared with 27 percent on Twitter and 21 percent on Facebook. The Supreme Court overturned Roe June 24. A draft decision previewing the decision leaked May 2.
On Instagram, most of the top-10 pages were from media, with some public figures sprinkled in the mix. While left- and right-leaning publications made the list, there was more engagement with the liberal-leaning publications. The New York Times, The Shade Room and The Washington Post saw between 34K and 168K average actions on posts, while Breitbart News and Fox News were far less efficient, at 26K and 22K engagements, respectively, per post.
The most efficient poster was the singer Lizzo. In her single post she pledged $500K from an upcoming tour to Planned Parenthood, with Live Nation matching her pledge.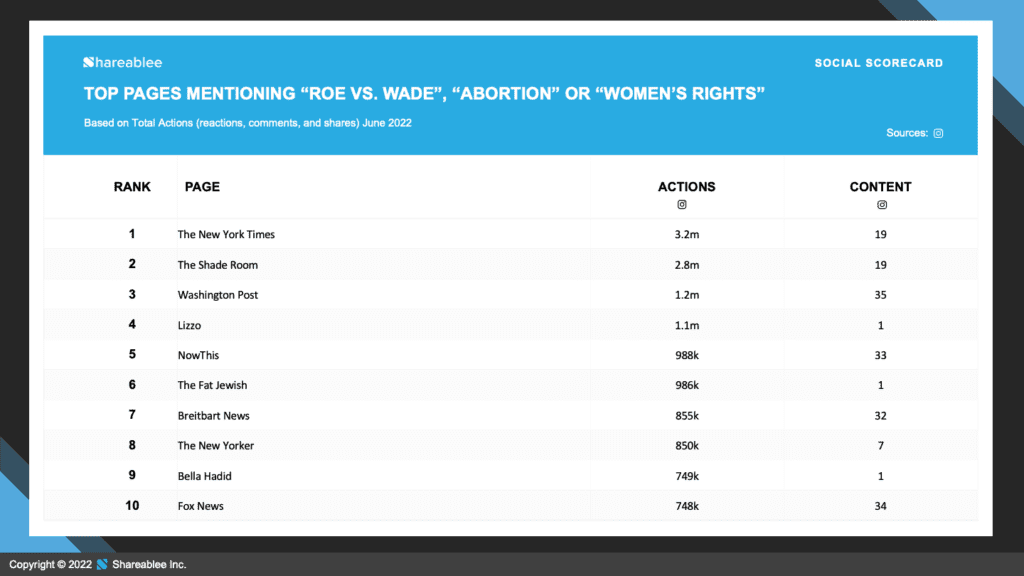 Twitter Sees Most Engagement with Public Figures
On Twitter, CA governor Gavin Newsom saw slightly more engagement than Lizzo's IG post. His sole piece of content announced that abortion will remain legal in the Golden State and that California will be "a safe haven for women across the nation."
The New York Times, which saw the most engagement on Facebook and Instagram, was not nearly as efficient on Twitter, with its content receiving an average of just more than 2.6K actions/post.
Facebook Engagement Distributed Across Parties
The conversation on Facebook, not surprisingly, was more evenly distributed between the liberal New York Times and conservative Fox News, which saw an average of 6.1K and 7.1K actions, respectively, on posts.