At biopharmaceutical company EMD Serono, winner of PR News' 2011 CSR Award for employee relations, the key elements of its thriving workplace are high energy and commitment. "EMD Serono offers ample opportunity for growth not only within the U.S. business, but around the world. The global reach of our organization creates incredible upward potential for employees who are committed, focused and exceptional performers," says Renee Connolly, VP, U.S. communications.
These growth opportunities extend to the personal and family level. "EMD Serono recognizes that employees have differing needs when it comes to welcoming a new child into their family," says Connolly. To support the unmet needs of families of all types, employees are eligible for a five-week paid leave when they give birth, their spouse or partner gives birth, they adopt or for the placement of a foster child.
EMD Serono's Back-Up Care Advantage partnership with Bright Horizons enables employees to use their paid time off for relaxation and rejuvenation, instead of having to stay home when their babysitter is sick or school is closed. "This benefit has provided a great sense of relief to the working families who have used the service," says Connolly.
To assist employees in their ability to balance their work and personal commitments, the company offers a number of programs, including flexible work arrangements, on-site convenience amenities (gym, dry cleaning, express store), bonus breather hours (bonus day off) and summer Fridays.
EMD Serono's CSR Award-winning giving program, "Make a Difference in Society," allows employees to devote two volunteer days a year without using vacation days. EMD Serono is also a sponsor of several walks and rides throughout the year, including the AIDS Walk and the Cape Cod Getaway, a two-day bike ride to support the National MS Society. EMD Serono also hosts charity dinners for employees, food, clothing and toy drives. Last year, EMD Serono contributed 4,500 hours and more than $2 million to charitable organizations.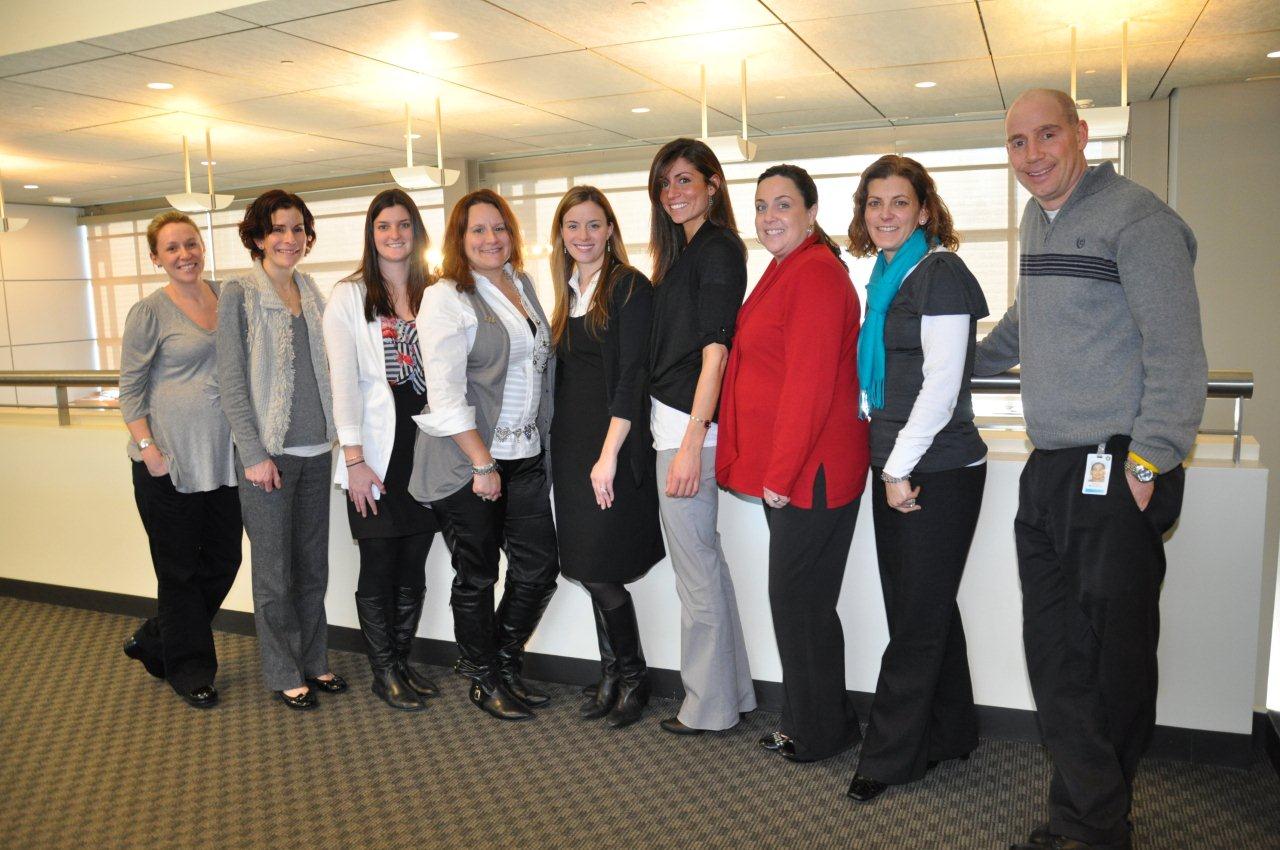 Left to right: Kate Cingolani, Heather Connor, Amber Watterson, Renee Connolly, Erin-Marie Beals, Kristen Laverghetta, Tracey Pomfret, Jennifer Bianco, Steve McGettrick.
Next Top Place to Work