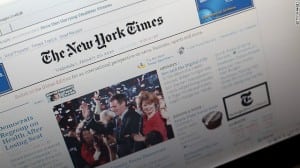 The New York Times Co., which dates back to 1851, is one of the oldest media brands in the country. It's also one of the most innovative.
Perusing NYTimes.com, for example, reveals how the newspaper brand is constantly developing new forms of digital content—and creating new media vehicles for PR professionals to pursue in the hope of landing some exposure.
Now The Times Co. is pushing ever further into the digital space. The company on Wednesday announced plans to introduce a prototype version of NYTimes.com in advance of a series of major site enhancements that will begin later this year.
The prototype will include a cleaner design; richer integration of photography, video and interactive story elements; responsive design optimized for both desktop and tablet computers; higher-impact advertising; and updated user-comment and share tools, the company said.
The prototype will be available to a randomly selected group of users outside the company. Here's a preview.
As the Times prepares to roll out the redesign for NYTimes.com later this year PR execs have an opportunity to examine the pending changes and reflect on how the alterations might create a new opportunity.
By thinking along with journalists as they redesign what they do, communicators get a valuable insight into how media companies view what's important to their readers. And if they understand that, they're a step ahead in getting stories placed.
So the changes at NYTImes.com are a reminder that, as the Web evolves, the onus is on communications professionals to stay abreast of every website that matters to their audiences. And the NYTimes.com is an especially tough nut to crack.
Matthew Schwartz: @mpsjourno1