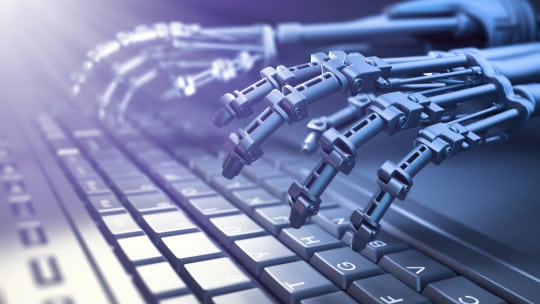 Some newsrooms are getting smaller, but they are changing in other ways, too, including using artificial intelligence (AI) and analytics. Recently a group of journalists from the Associated Press, Recode and Wibbitz discussed how these changes may influence how media relations professionals do their jobs. Below are some key takeaways:
AI bots writing news articles = learning how to write media materials for AI bots.
Increasingly, bots are writing sports, earnings, political, local news and other articles. As a result, media relations teams need to know how to optimize content for AI programs writing the articles. Sound familiar? It's like the shift from writing press releases for editors to writing them for search engine algorithms.
Stories that are audience specific = media relations teams making more use of analytics tools.
Newsrooms are using AI to define audiences and figure out what news and stories will be best to inform them. There are similarities to how we target social content to specific audiences. Part of the PR pro's media relations tool set may include using the same data-driven tools editors use. We can then develop media pitches in line with what newsrooms are seeking.
A potential shift from audience-specific to personalized stories means learning how to develop personalized story ideas without losing context.
As mentioned above, AI already is used to write sports articles for fast updates on games. The headline and lede paragraph for Chicago fans in a Cubs vs. Reds game is that the team hit well but lost. Meanwhile, a Cincinnati Reds fan starts the article reading about how the Reds won. Both articles cover the same game, of course. While they start with information catering to different audiences, they do so without changing the core truth: the Cubs hit well but lost; the Reds won though the Cubs hit well.
Newsrooms' appetite for data to feed AI software means a potential shift from thought leadership materials to thought leadership databases.
To develop stories, newsrooms feed databases into AI programs that uncover insights. As this use of AI increases, communicators may see journalists shift from looking for thought leadership materials they refer to in articles to databases they can connect to their AI programs. Media, research & analysis and innovations teams can collaborate to develop a tool or database that journalists can connect to via an API (application programming interface). The challenge will be to develop thought leadership databases and tools that will show AI-driven insights that are complementary to the attributed brand.
Great stories and subject matter expertise matters more than ever.
The types of articles AI writes are the kind junior journalists usually are asked to handle. As a result, newsrooms may look for more subject-matter expertise from journalists. It may be more effective to hire a scientist out of college and train her to write in a journalistic fashion to deliver the type of high-value stories that AI can't handle. In the past, journalists may have called PR contacts for a briefing to learn about a topic. In the future, the journalist may have equal or greater expertise than the executive briefing them. Communicators always should be improving their storytelling abilities and deep subject matter expertise. This will increase in importance should more journalists be deeply educated in the subjects they cover later.
Relationships, relationships, relationships.
People, not AI, will continue to make editorial decisions and choices on headlines and lede paragraphs. They'll also continue to be responsible for in-depth, high-impact reporting. People bring a nuanced touch and understanding to news reporting. This touch provides a high confidence level when it comes to making sure facts appear in the right context. In other words, despite all the above, the most important parts of journalism will continue to be a people-first affair. Relationships matter. Always have. Always will.
We're early in the adoption curve of AI. The above are areas where newsrooms themselves are changing. As communications professionals we need to continue to invest in skills, tools and approaches. Doing this correctly ensures we are delivering the most appropriate and impactful insights, story ideas, content and value to our executives and journalists.
Ephraim Cohen is general manager of FleishmanHillard NY and a member of  its AI Think Tank.