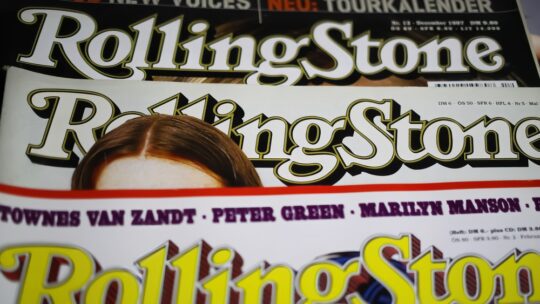 Earlier this month, Rock & Roll Hall of Fame Foundation board member and co-founder of Rolling Stone magazine Jann Wenner was interviewed by The New York Times to promote "The Masters," his new book of interviews. During his interview, he made multiple remarks that have been widely criticized as racist and misogynistic. Just one day after the interview was published, Wenner was swiftly removed from the Rock & Roll Hall of Fame board.
A subsequent headline from The New York Times says, "Jann Wenner's Rock Hall Reign Lasted Years. It Ended in 20 Minutes." While a media engagement ultimately sunk the reputation and potentially the future career of Jann Wenner, I'd argue that the fundamental issue in his case isn't a communications issue, but a core beliefs issue.
Regardless, communicators can learn from his fall from grace. Clearly, media interviews and high-profile public speaking opportunities can have real consequences for public image.
Media training is a critical tool to help leaders maximize public-facing opportunities and minimize any associated risk.
What is Media Training?
What exactly is media training? Media training is a form of coaching that helps individuals and organizations communicate effectively with the media. It improves a spokesperson's ability to manage interactions with media, including conveying key messages and properly fielding questions.
Media training is particularly valuable during times of crisis. Key features of media training include message development, interview techniques by media type, media "do's" and "don'ts," on-camera best practices, and video-recorded mock interviews. An effective media training session will produce a spokesperson who can confidently engage with the media to manage their public image, while adhering to ethical and strategic communication principles.
What Media Training Is NOT
Unfortunately, like in the case of Wenner, even the best media training session can't cure racism or misogyny. What it can do is illuminate where there are potential areas of exposure for an individual or brand.
Media trainers don't tell a spokesperson what they stand for or who they should be. As a media trainer, I'm not there to pass judgement on what they want to accomplish or how they want to be perceived—I'm there to help them understand how their answers may come across to the public. And if they don't like the current result, I help them get to their desired outcome.
I explain to my trainees—"Don't say anything you wouldn't want to see in the headline." It's up to them to determine what might make a problematic headline for their organization.
That being said, I personally would not work with a leader if it became clear that they were likely to share dishonest messaging in an attempt to deliberately mislead the public.
Key Principle: Setting Your Intention
One of the most critical best practices that I teach during media trainings is "Setting Your Intention." This is a two-part process that I encourage spokespersons to undertake before every public opportunity.
Part I:  What goal are you trying to accomplish?
During the preparation process, I ask that spokespersons clearly verbalize why they've agreed to participate in the opportunity at hand. The answer shouldn't be, "Because my communications team has asked me to!" It should be goal-specific, and could include combatting a negative sentiment that their industry or organization is facing, making a company announcement, promoting a positive result, or debating a specific issue.
Part II: How do you want to be perceived?
Next, I ask spokespersons to articulate exactly how they want to be perceived as a result of the opportunity. I ask that they think about this from their individual perspective as well as the organizational perspective. This expression can be anything from "trustworthy and stable" to "passionate and visionary."
If Jann Wenner had gone through this exercise, I can guarantee you he wouldn't have wanted to be perceived as "racist and misogynistic."
Throughout the preparation process, I encourage spokespersons to keep this two-part intention in mind and scrutinize every response to make sure it's aligned with their pre-determined intention.
Key Takeaways for Communicators
How can communicators put key media training techniques like this one into practice?
When working with a key client or your company's most senior leaders, it can be tricky to provide a candid, opposing viewpoint.
I find it to be incredibly helpful to establish a clear intention from the start. That way, if a spokesperson makes a comment in media preparation that could be potentially damaging, you can refer to that established intention. Here are two examples of responses that work well:
"You indicated that you wanted to be perceived as fair and authentic. How do you think [Statement X] will be perceived by [Key Audience A]?"
"We determined our overall goal is to promote our company's latest research results to establish [Company Name] as an expert in [Topic X]. Does discussing [Problematic Topic Y] get us closer to reaching that goal?"
Effective media training isn't meant to disguise a spokesperson's true colors—quite the opposite. It's meant to help leaders illuminate their desired public image and engage in public opportunities with intention.
Sarah Brown is founder and principal at Brighton Media