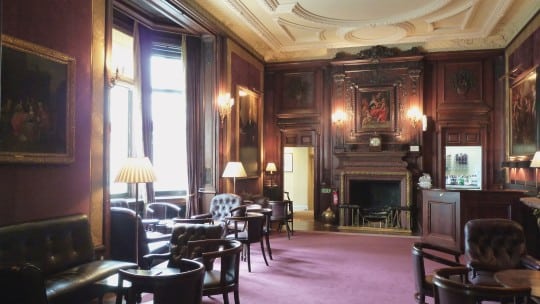 Wells Fargo became part of a club Sept. 9 that it had no interest in joining. For want of a better term, we'll call it a crisis club, although the media and PR practitioners use that word too loosely when describing smaller issues and dilemmas. Full disclosure: The crisis club exists only as a conceptual construct. It's fake, phony, but Wells Fargo seems lately to have an affinity for fakery, so it should feel comfortable. Speaking of fakery, Volkswagen diesel autos are the club's official car. Chipotle is the caterer. Mylan used an EpiPen to sign its membership papers just weeks ago. The club features Theranos blood-testing equipment at its free walk-in clinic. Hey, what's not to like?
Among the many items club members receive are multiple pairs of sunglasses, so they can shield their eyes from the klieg lights that will be shining on them and their brand. The shining lights (microscopes also are used; sorry, club members are not provided lab coats) mean nearly everything that happens with the brand, newsworthy or not, directly related to the brand or not, gets covered and covered and covered and…you get the idea.
For example, a top marketing executive from a brand is indicted for being part of a drug-smuggling operation. Newsworthy? Maybe a small item buried in the back of the business section. But since it's a Chipotle executive who's involved in attempting to resuscitate the brand's good standing, the item becomes a newsworthy story. Welcome to the club.
Fortunately for the club's newest member, Wells Fargo, a side issue occurred before news of the 5,300 rogue employees were sacked for starting fake bank and credit card accounts went public Sept. 9 (an interesting choice of descriptor for more than 5,000 people).
Yes, club membership entitles brands to have nearly every bit of their dirty laundry displayed in public, courtesy of their good friends in the media (yes, PR News Pro, our weekly subscription newsletter, included). Regulators and social media help where they can with laundry chores.
In this case, the bank, to publicize its Sept. 17 Teen Financial Education Day, posted ads suggesting to teens that their aspirations to be artists, such as ballet dancers or actors, were silly adolescent pipe dreams. Careers in science and technology are the preferred route, these ads said. (There's a novel way to encourage youth to become interested in science and technology: instead of highlighting the interesting work of scientists, take the indirect route and dump on the arts.)
Artists, including several celebrities, blasted Wells Fargo and the ads. The bank, to its credit, relatively quickly pulled the ads and issued an apology Sept. 3. Actually, it was a warmer apology than the bank issued Sept. 9 for the malfeasance of 5,300 ex-employees. That apology left more than a few observers wanting.
But Wells Fargo should not worry. As club members know, there are bound to be far more opportunities to craft apologies since there undoubtedly will be more side issues.  Well, you can call them side issues, others won't. Exhibit A: Carrie Tolstedt, who retired from the bank over the summer. Huh? Someone retiring is newsworthy? Retirements occur every day, right? Yes, but Wells Fargo now is a member of the crisis club, so there are new rules.
Tolstedt was in charge of at least some of the 5,300 rogues (yes, we like that descriptor). It appears she was allowed to retire or be forced out. But that's not the best part. Her golden parachute was the real eye catcher; its price was $125 million. Not only that, Fortune says her departure  included a statement to bank colleagues from Wells Fargo CEO John Stumpf. He described Tolstedt as a "standard-bearer of our culture" and "a champion for our customers."
Yes, you're permitted pause for a moment so you can relieve your sympathy pains for current and future Wells Fargo communicators.  And you might experience residual pain for board members and senior leadership at the bank, some of whom, we have to conclude, knew about this convenient retirement for Tolstedt, not to mention the millions of phony accounts. Do you think there will be more departures? Sure, but it's likely they'll receive far more scrutiny. By the way, you guessed it, scrutiny is another member benefit of the crisis club.
The bank, for its part, said Tolstedt's retirement date was based on "a personal decision" to depart after 27 years on the job.
What other benefits can Wells Fargo expect upon being inducted into the crisis club and for many, many years? Oh, come on, let's allow the newest club member and its communicators to have at least a few surprises.
Follow Seth Arenstein: @skarenstein