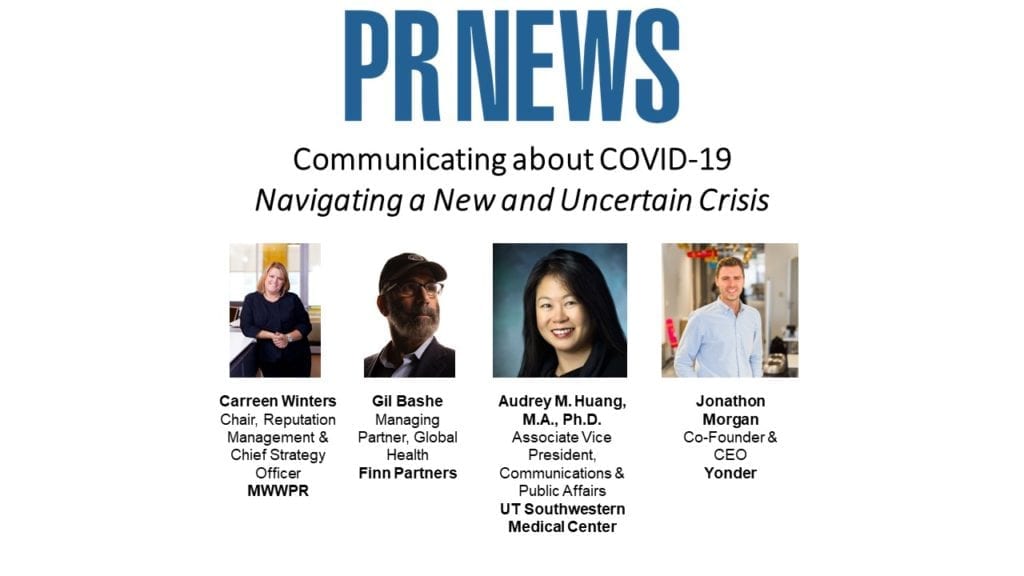 In just days, the COVID-19 pandemic has led to shifts in the way communications is practiced across all industries and sectors. This includes traditional brand messaging and how employers are disbursing important information to staff and governments to constituencies.
A panel of senior communications professionals, including Carreen Winters, chair, reputation management & chief strategy officer, MWWPR, Gil Bashe, managing partner, global health, Finn Partners, Audrey Huang, AVP, communications & public affairs, University of Texas Southwestern Medical Center, Jonathon Morgan, co-founder & CEO of Yonder, and PRNEWS editor Seth Arenstein gathered virtually March 25 to discuss PR in these unprecedented times.
The vehicle was a PRNEWS webinar, "Communicating about COVID-19 — Navigating a New and Uncertain Crisis." Yonder sponsored the webinar.

Employers Become Central Message Centers
Since many staff are looking to employers as trusted sources of information, the stakes for internal communication have risen significantly, Winters said.
"So much of our profession has been centered on advancing our message," Winters said. "What's the right message? How do we use the right channels? How we get to the right stakeholders? In this moment, it is not about our message. It's about the needs of our constituencies. What do they need or want to know? This requires employers to put employees first, as the most critical audience. Rollout to stakeholders will follow." 
In this stressful moment, business leaders, Bashe said, must reach employees on a more personal level than normal. Successful communication around COVID-19 needs to be emotional, he added.
Corporate communications leaders are no longer just running businesses; [they] are running virtual communities, Bashe said. His example was Marriott CEO Arne Sorenson's impassioned video (see PRNEWS' March 22 update).
Similarly, with the majority of employees working remotely, physical separation has led to a decentralized feeling. This has fed a hunger for information, Huang said.
"We've shifted our focus from just external to mostly internal,"Huang said. "We have 20,000 employees on front lines of pandemic, and we're trying to manage the flow of information. We've tried hard to include an empathetic and understanding voice, which may not have been primary focus in past, but it's what we are doing now."
Agenda-Based Online Groups Skewing Conversation 
Agenda-based groups are co-opting "well-intentioned, factual communications," said Morgan, Yonder's co-founder and CEO.  A Yonder study shows that five percent of online posts about the pandemic originated from agenda-driven groups looking to capitalize on fear and uncertainty.
"Organizations need to know how to verify authentic engagement in order to be a credible source of information," he said. Morgan noted that communicators can maintain credibility by knowing their facts, being informative and connecting authentically with consumers.
Heartfelt Messaging is Needed
While the unknown information of the virus may strike panic and fear into many, the communicator's job is to provide their constituents with factual, timely information, delivered in a thoughtful way, that they themselves would want to receive. Bashe noted that "Great communications not just about information, but creating positive experience, even under difficult circumstances," and that PR pros can start by thinking on a micro level. 
"[Ask yourself,] how would I feel? Great communicators think of needs of many, but also needs of individual. In biblical times we saw the center of reason wasn't the brain, it was the heart, and communicators are navigators of this system. We are responsible for the head, heart and gut of the economic and social infrastructure of a system. Listen and find a convergence of the three." 
Additional tips from the panelists:
Be transparent and speak to the needs of the community. Consider employees' points of view.
Urge leaders reach out personally to employees.
Leaders should hold town halls regularly to respond to employee questions and concerns.
Create videos of encouragement from senior executives.
Develop an email alias for questions to filter through to leadership, and have HR create FAQs and tip sheets for managers.
External Communications
Brands that are offering support and assistance, or some other type of value, have permission to continue pitching.
Remember who you are and who your audience is. How you speak and what your values are are critical in this environment.
Adjust and adapt messaging to maintain trust.
Communicators can work with reporters to build and maintain relationships with content creators.
Make sure those pitching or reaching out are doing so with respect.
Communicators need to think of the needs of the many, but speak to individuals.
Successful communications is not only about information, but creating positive experiences, even under difficult circumstances.
Create content that feeds off of people's joys and dreams. Do so with visual imagery that invokes emotion, but be cognizant that it doesn't appear overtly commercial.
Social Media
Though people enjoy social connections associated with events, galas and fundraisers, digital meet-ups may become the norm.
Video is one of the most effective social tools now.
If your organization is considering moving into social, now is the time to experiment.
The webinar can now be viewed for free, on-demand. In addition, during the coming days PRNEWS will publish answers to questions attendees submitted. If you have ideas about topics you would like to see PRNEWS cover, email: [email protected]