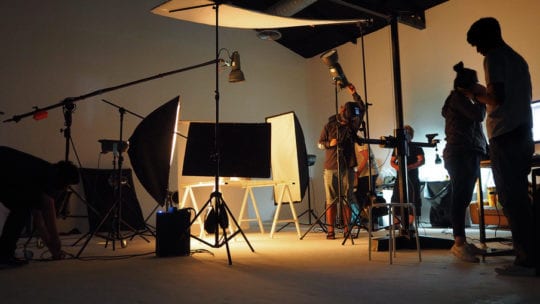 The video begins. We see a woman dressed in black. She's sitting in a white leather chair in an all-black room.  Soft music plays in the background. The screen fades to black, and then the words, "Conversations That Matter," appear in a thin, white font. In the next frame the woman returns. "I love really, really well," she says with sincerity, but not overly emotionally. "I know how to love...whether it's loving my neighbor or the supermarket cashier, I give love a lot." It's a tantalizingly human experience. And it's a recruiting video…for a law firm.
The Issue
Is anything growing faster on social than video? You likely have seen the prediction from Cisco that video will be 82 percent of all social traffic in 2020. With so much content available, how does your brand's video stand a chance of breaking through the field?
That was the problem for Thomas Choberka, chief marketing & business development officer at Kelley Kronenberg. The law firm has offices in Florida, Atlanta and Chicago.
Prior to the recession of 2008, law firms didn't do a lot of cutting-edge PR or marketing to recruit lawyers. In that sense, law was unique. Not long after, though, things began to change. "Competitiveness in the market was something law firms hadn't seen in 100 years," Choberka says.
"Ultimately my job is firm growth," he says. The firm sees growth "as a brand issue…and a sales process…we have to sell [lawyers] on what value we can add to them."
He's been successful. In six years at Kelley Kronenberg, the attorney roster has doubled.
The firm's recruiting target is specific. "We want to find people who are not just motivated by money," he says. More than that, Choberka's trying to attract attorneys "who may not be looking to leave" their current situation.
Once money gets discussed during a recruiting conversation, he says, another oft-mentioned topic is culture. "Culture's a big word and it gets thrown around a lot," he says. Choberka decided to focus on communicating the firm's culture as a differentiator.
Hurdles
Choberka did his homework. To research culture, he visited the top 200 law firms' career sites. "I watched their videos. They all seemed the same." For example, everyone was in a suit. They were devoid of emotion.  "Even as a marketing guy, I had trouble getting to the end of [the videos]. And it was my job to watch them."
When the videos discussed culture, "again, they were all the same." Most listed what the firm does for diversity and in the community.
Choberka understood one of the biggest hurdles would be getting potential recruits "to pay attention [to a video] for a few seconds." He resolved the firm's videos would be different.
Tactics
The birth of "Conversations That Matter," the resulting video series, began with another video, "The Path: A Story of Leadership."
In that 2-minute, 20-second video, one of the firm's owners, Heath Eskalyo, is shown training for a triathlon. His effort resulted in pledges of $40,000 to a charity. The video segues between shots of Eskalyo training and footage of him working at the firm. There's no dialogue, just the sounds of Eskalyo training and ethereal background music.
It's cinematic and inspirational. It looks expensive, like a Nike commercial. Choberka admits it's not inexpensive. Eventually, though, it became a recruiting video. At the video's end is a brief note about recruitment. It became the model for the Conversations series.
Choberka pre-interviewed the 19 lawyers he chose for the series prior to shooting. Questions were designed to elicit passionate responses.
On the day of the shoot, however, the lawyers had no idea what questions were coming. Each attorney was filmed for 45 minutes. Most of the finished videos are one minute in length.
The goal was authenticity. "What I didn't want was a polished answer. That's the safe route…I wanted them to come off as people, not as disingenuous lawyers blowing smoke. I wanted them to communicate a feeling." Several cried during filming.
The firm markets the videos on social media and with paid and organic campaigns.
Outcome
The series garnered notoriety, winning several awards from legal marketing groups. But was the series an effective recruiting tool?
Using Google Analytics to measure, traffic to the firm's careers page has gone up 500 percent since the videos launched.
"We are working with our recruiting director to figure out how to quantify the number of people who are coming in to talk with us based on the videos," he says.
"Almost everyone who comes in for an interview tells us they've watched the videos." But are the videos a chief reason why attorneys are interviewing at Kelley Kronenberg? "This is something we're trying to determine now," he says.
Lessons Learned
Changes in Real Time: Using data, Choberka is tweaking operations on the fly. "If you're running a digital campaign and not paying attention to it every second and making changes, you're doing it wrong," he says.
For example, data has resulted in the firm using closed captioning and consider shorter videos.
Don't Worry, be Happy: "Every project we do, I put my job on the line…I take so much risk that if it goes wrong I could lose my job…I remember thinking if these videos come out badly or cheesy, I could get fired."
Choberka believes a lot of communicators and marketers get to this moment. Many go backward. "My takeaway is I shouldn't have been so stressed about it…if you're doing something so different, you have to really believe in it."
Begin at the End: "We fought to the death" on production costs. "If you're putting the brand out there and laying your neck on the line…you have to pick the best (vendors) or nothing…people cut corners and then wonder why the product is bad…."
He couldn't afford top-notch videographers. "We identified what we wanted to communicate and worked backward," he says. When Choberka realized he wanted to work with a particular videographer, he tried convince the person "to work with us on this." Alternatively, he shuffled budgets from project to project.
"If you approach it from 'This is too big for me,' you'll never be able to do it. Start with a huge idea and then figure out later how to get it done."
NOTE: A version of this content appeared in PRNEWS, Nov. 2018.  For subscription info, please visit: http://www.prnewsonline.com/about/info
Seth Arenstein is editor of PRNEWS. Follow him at: @skarenstein