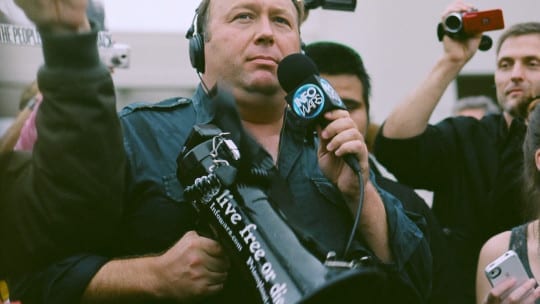 Twitter has finally banned conspiracy theorist and Infowars host Alex Jones from the platform, citing violations of its abusive behavior policy.
There are still many questions directed at the social media site, which has been criticized over the past month for allowing Jones to remain active on Twitter despite evidence of previous policy violations, around how the policies actually deal with hate speech and plan to do so going forward.
Jones has a reputation for spreading hateful rhetoric and misinformation on the internet. Since the infamous 2012 shooting at Sandy Hook Elementary School, he has maintained that the incident was a hoax perpetrated by crisis actors. He is currently facing multiple defamation lawsuits by grieving parents of Sandy Hook victims, who have suffered death threats and harassment by Jones' followers because of his claims.
This is not the only conspiracy theory Jones has espoused that has provoked harassment, and sometimes violence, by his fans. But for years he was allowed to remain on major platforms, spreading dangerous conspiracies, misinformation and dehumanizing comments about certain racial and political groups. Until last month, that is.
Over the course of the days of Aug. 5 and 6, multiple tech companies—including Apple, Google, YouTube, Facebook and Spotify—removed or banned Jones' content from their platforms, citing hate speech and the glorification of violence by Jones. This prompted outrage from conservatives, who claimed that this was the beginning of their content being censored, and Jones himself claimed that being blocked from these sites would only bring him more traffic from likeminded followers (this turned out to be false).
Twitter refused to be swayed by the actions of its contemporaries in the tech industry, however, and allowed Jones's profiles to remain on the site. In an Aug. 7 tweet, Twitter CEO Jack Dorsey explained that the company elected not to suspend Jones because "he hasn't violated our rules." Dorsey also suggested that this action was (or rather, wasn't) taken in order to "promote a healthy conversational environment" on the platform.
This immediately drew ire from critics, and an Aug. 9 CNN investigation found seven tweets from Jones' pages that clearly violated Twitter's rules against abusive behavior. Jones and his team immediately took the Tweets down after the CNN report was released, though, leaving the company unable to use them as a reason for banning Jones.
Just a few days later on Aug. 14, Twitter did ban Jones temporarily following a video he posted "calling for supporters to get their 'battle rifles' ready against media and others," according to the New York Times. The ban lasted only seven days, and it seems that Twitter hoped Jones would learn his lesson from the incident.
Apparently, he didn't.
On Thursday, Sept. 6, Twitter permanently banned Jones' personal account and the Infowars accounts after he tweeted a video of himself verbally attacking a CNN reporter. Jones attended a hearing on Sept. 5 where Dorsey and Facebook COO Sheryl Sandberg answered questions from a congressional committee about the platforms' policies.
During this hearing, Jones harassed CNN reporter Oliver Darcy and posted a video of the incident on Twitter, which allegedly led to him being banned (in addition to "previous violations," according to the Twitter Safety account.)
Today, we permanently suspended @realalexjones and @infowars from Twitter and Periscope. We took this action based on new reports of Tweets and videos posted yesterday that violate our abusive behavior policy, in addition to the accounts' past violations. https://t.co/gckzUAV8GL

— Twitter Safety (@TwitterSafety) September 6, 2018
Not everyone believes this. Comedian Nick Jack Pappas tweeted, "Alex Jones was allowed to harass Sandy Hook Parents for six years with no repercussions. He harassed Jack Dorsey for one day and was banned from Twitter." That tweet currently has over 60K likes.
This brings up the question of why it took Twitter so long to remove Jones, especially after the company acknowledged its awareness of his past policy violations. Dorsey has spoken before about his hesitance to remove controversial viewpoints because it may constitute censorship and keep users from across the political spectrum in their proverbial echo-chambers if they only hear points of view that they agree with.
It's also important to note the lack of governmental regulation around social media sites, meaning that if a personality like Jones does incite violence or use dehumanizing speech about swaths of the general population, the only repercussions can come from the sites themselves.
So where does free speech start and censorship end? After all, free speech does not include hate speech or clear calls for violence against a person or group, which Jones has perpetrated for years. Therefore, Twitter finally taking action against him seems less of a move to protect its users and more a PR move to protect its reputation.
Follow Hayley: @that_hayley