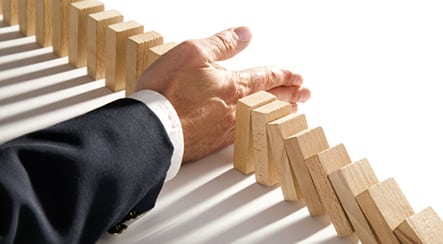 By the time a PR crisis hits, ideally you should have a crisis plan in place along with a way to quickly assemble the crisis response team. Making up a plan when the crisis hits and starting from scratch on a team will leave you several steps behind as the crisis escalates.
Here is how a crisis PR team should be structured to be ready or get ready in minutes:

An in-house PR Director with Crisis Know-How
This director needs to be a seasoned media relations executive, preferably with experience dealing with PR crises. He or she should know how to respond quickly and calmly to the rapid pace of a crisis and the ensuing media barrage. And he or she should know how to direct an entire crisis team.

Two or Three Key in-house Company Executives
These top executives at your client or your company need to be able to work well with the PR Director on a crisis, help formulate responses to the media, be available if the decision is made to make one of them a spokesperson, and also to keep things calm internally at the client or company facing the crisis.
A Crisis PR Agency or Crisis PR Consultant
PR agencies or consultants specializing in crisis communications can be worth their weight in gold in a crisis. Have a few in your rolodex that you know ahead of a crisis and then quickly interview them, getting not only the best rate (they can be expensive) but also an agency or consultant with the right kind of experience for your crisis. They will be able to help guide you and minimize damage from a crisis as best as can be expected and also know the right media buttons to push.
Consider a Web Site for the Crisis With a Designated Webmaster
You may need one of these if you can tell it's going to be a major, lengthy crisis. In having one of these, you also need not just a webmaster but someone who can be available to keep the site updated on a continuous basis. If your crisis web site is not current, it will be useless. Make sure it has all appropriate contact information for the media, background facts and bios, links to positive media coverage, social media channel links and press statements, and any video links that can help your cause. 
Social Media Channels for the Crisis (along with a social media guru)
Hire a social media guru to create, bulletproof and use your social media channels for the crisis. Besides getting your social media crisis message in front of the right audiences and followers, also make sure your social media guru uses video on YouTube and Vine as part of the mix. And like the webmaster for the crisis, your social media guru will also need to be available to keep a continuous social media flow going.

A Media Trainer
Hire a media trainer with experience doing training in connection with crises. He or she will make sure the PR people and executives dealing with the crisis are well equipped to handle a media feeding frenzy. Without this key person your crisis response team is dead.

A Media Clipping Service
If you don't have one of these, get one. If you have one, talk to your dedicated account executive at the service and set up a separate search and report just for the crisis. You need this kind of monitoring and reporting on coverage of the crisis so you can assess it and respond to it properly and quickly. A major crisis can lead to 10,000 media hits; ask your account executive for the best format and rate on tracking for this scale.

A Consistent Person Available for the Media
Make sure your crisis response team has one main spokesperson consistently available with a consistent message. Have a backup person as well but make sure whoever it is does not act as a loose cannon and is available when media calls seeking comment on a new development.
If you don't have the right crisis response team and PR infrastructure set up you are likely to be engulfed by the crisis.
Andrew Blum is a PR consultant and media trainer and principal of AJB Communications. He has directed PR for professional services and financial services firms, NGOs, agencies and other clients. As a PR executive, and formerly as a journalist, he has been involved on both sides of the media aisle in some of the most media intensive crises of the past 25 years. Contact him at ablum@ajbcomms.com or follow him on Twitter: @ajbcomms